Maud Lewis is a Canadian Folk artist who hails from my neck of the woods, Nova Scotia. Her childlike landscapes depicting life in the maritime provinces are loved all across Canada. I love introducing not only Lewis but Nova Scotia to my So Cal students who are always impressed when they hear her story of  hardship.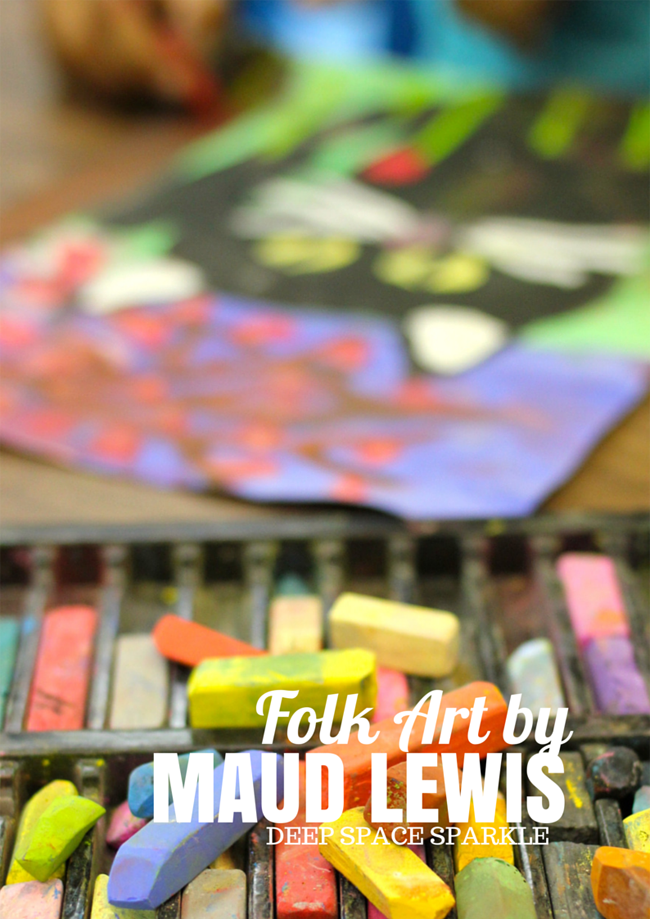 I've been doing Maud Lewis art lessons for years. I love teaching the basic techniques of layering and then allowing children to create their own Lewis-inspired winter scenes and lighthouses. Up until now though, I haven't really detailed exactly how I approach these lessons.
---
OPTION ONE: Maud Lewis Folk Art Scenes
If you have 15 minutes, I encourage you to watch this video of an elementary school in Halifax, Nova Scotia creating a group mural in the style of Maud Lewis. it's absolutely wonderful! Listening to the children and the visiting artist speak reminds me of home.
I was born near Halifax in a small community called Pictou. I love the accents!
Calendar and Visual
Whenever I go back home to Prince Edward Island, I pick up my annual Maud Lewis Calendar. It's very useful to have these colorful images to show students. I set out my sets and have students select which Maud Lewis painting they like most. This way the lesson truly becomes personal to their own tastes.
What You'll Need:
– 12″ x 18″ white drawing paper
– Tempera paints
– Paint brushes and water containers
Painting
I use tempera paints in my classroom but acrylics would be great and would give the teacher an opportunity to teach acrylic techniques.
The basic technique for creating a Maude Lewis style painting is "layering". I discussed the background and foreground with the kids and explained how Maude Lewis might have gone about painting these scenes.
Once the children sketched in the background, they painted all the base colors (land, sky, ocean) and then added all the small details on top. Some larger details like animals, houses and larger trees were drawn in first and painted around.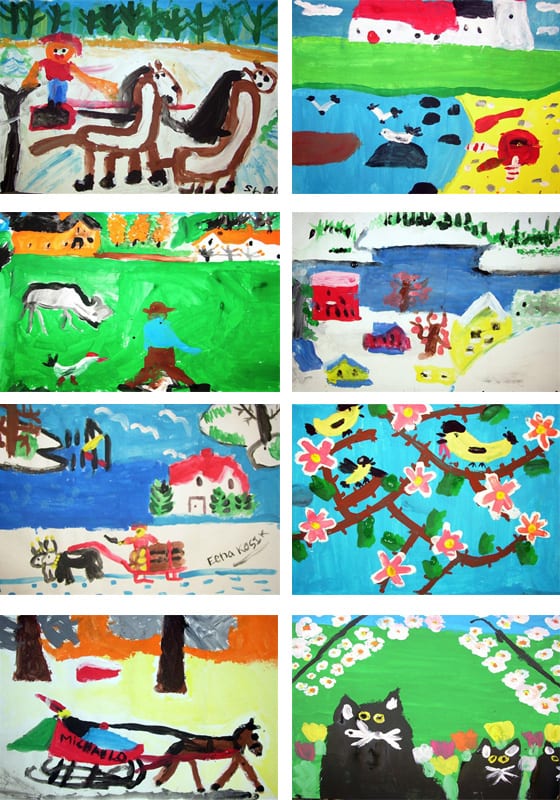 ---
OPTION TWO: Maud Lewis Lighthouses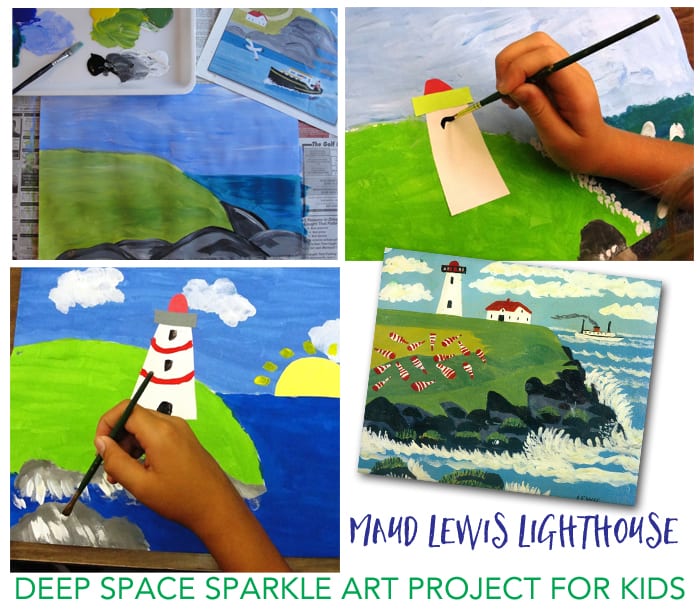 The Maud Lewis Folk Art Project PDF teaches children how to paint a colorful seascape, a cute cat and a fluffy bird…all in Lewis's iconic style.
For this lesson, I speak of fishing dories, lobster boats and traps, colorful buoys, and of course, lighthouses. I also share stories of how Maud created her paintings with limited use of her hands plus working through the disadvantage of being very poor.
What You'll Need:
– 12″ x 18″ white drawing paper
– Pencil
– Tempera paints: light blue, white, dark blue, green, yellow and black
– Paint brushes and water containers
– Printed craft paper plus solid colored paper
– scissors
– Glue sticks
Create the Background
To begin the lesson, I hand out 3 photocopies of Maud Lewis' works from calendars that I have purchased. I chose three of my favorite images, focusing on lighthouses and the Atlantic Ocean.
I demonstrate how to draw the hill, the horizon line and perhaps a few rocks. All other details such as the lighthouse, buoys, etc. will be added in the second stage of this lesson.
Using the light blue paint, I show the kids how to apply the paint and then, while its still wet, add white paint to create a light sky.
After the sky, paint the hill (mix green with some yellow) and then the ocean Mix dark blue with black for a deep navy or dark blue with green for a brilliant turquoise). After painting the ocean, the sky will probably be dry enough to add another layer of white for clouds.
For the rocks, dip a small paintbrush in the black paint and paint along the outside line of the rocks. Then, dip the paint brush into the white paint and mix together to create a grey.
Making the Lighthouse
Using a variety of printed craft or solid colored paper, cut out light houses, small houses, dories, fish, a setting sun, etc. I demonstrate the technique of using just scissors to create shapes. If the kids get out pencils, the subject they are trying to create usually ends up being much too small. Seriously! Stick with scissors!
Let the kids use their imaginations for how they want to decorate. Some kids will go a bit crazy, but that's okay. Some will be Maud Lewis muses a channel her love of the ocean. Either way, I think they'll enjoy this project.
Some details such as the small windows and doors on the lighthouses can be applied with paint.
This is a good time to add splashes of white paint to well, create splashes.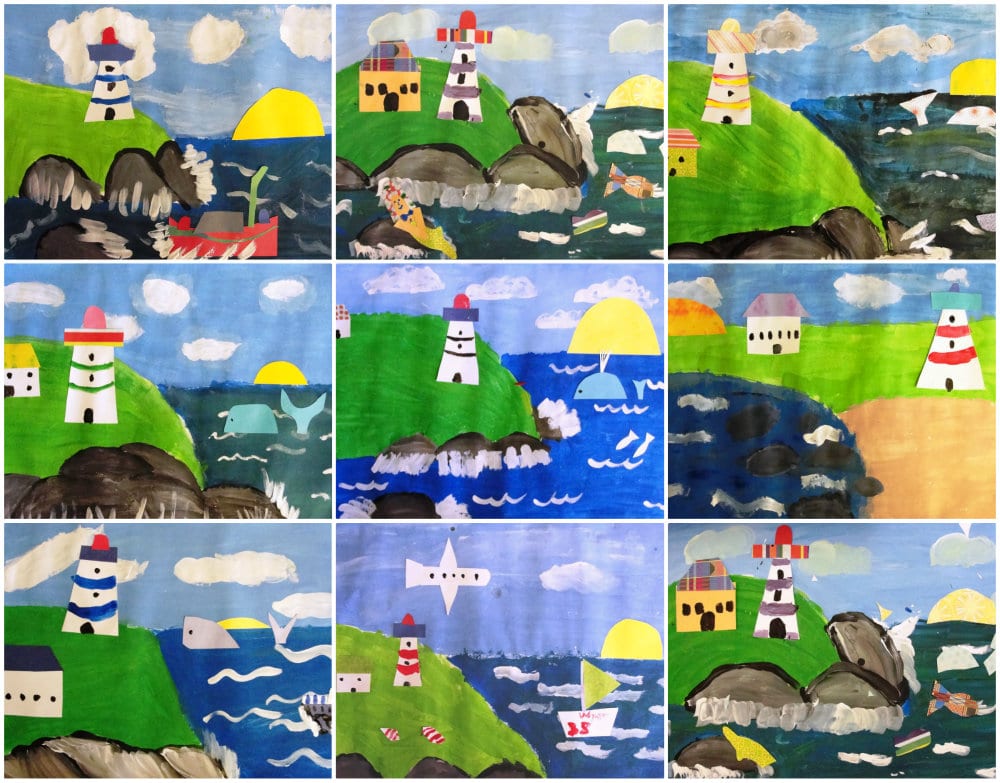 ---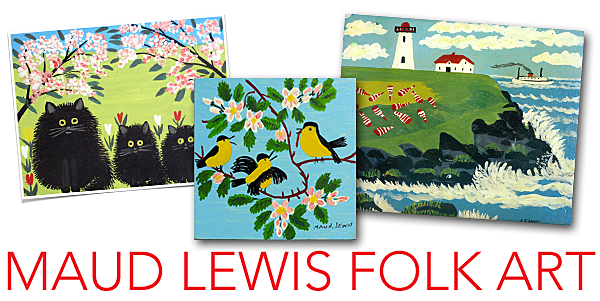 Related Posts:
Ted Harrison & Lawren Harris Northern Landscape