Modigliani portraits have become an art room staple, thanks in no small part to Kathy over at Art Project for Kids for providing a simple, foo-proof technique for imitating the elongated faces famous to Amedeo Modigliani. I copied Kathy's project a couple of years ago with my sixth grade students where we created the Modigliani self-portraits in oil pastel. This year I wanted to try chalk pastel after seeing an expressive Modigliani Portrait on A Faithful Attempt blog. The students used charcoal to add deeply expressive lines which really adds to the piece.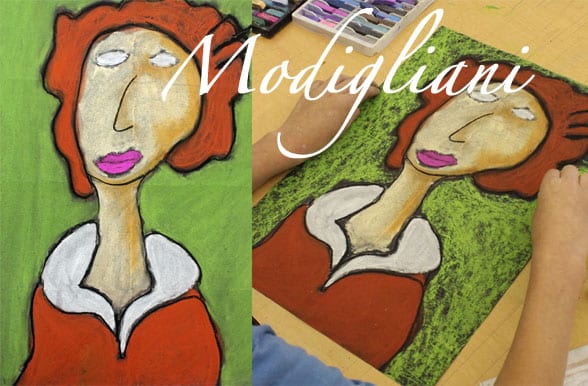 About Modigliani
An Italian artsist working in Paris, Modigliani is famous for painting wonderful figures. I love his portraits of the women in his life and I wonder what he was thinking when he purposely omitted irises and pupils in his eyes. Instead, the faces are strangely mask-like. He drew his figures with the graceful lines of a fashion model, with gentle oval faces and elongated necks. The colors he used were mostly warm and earthy. Here is a link that gives more information on Amedeo Modigliani.
---
DOWNLOAD A FREE ART RESOURCE: THE SCOPING & SEQUENCING OF PORTRAIT MAKING
---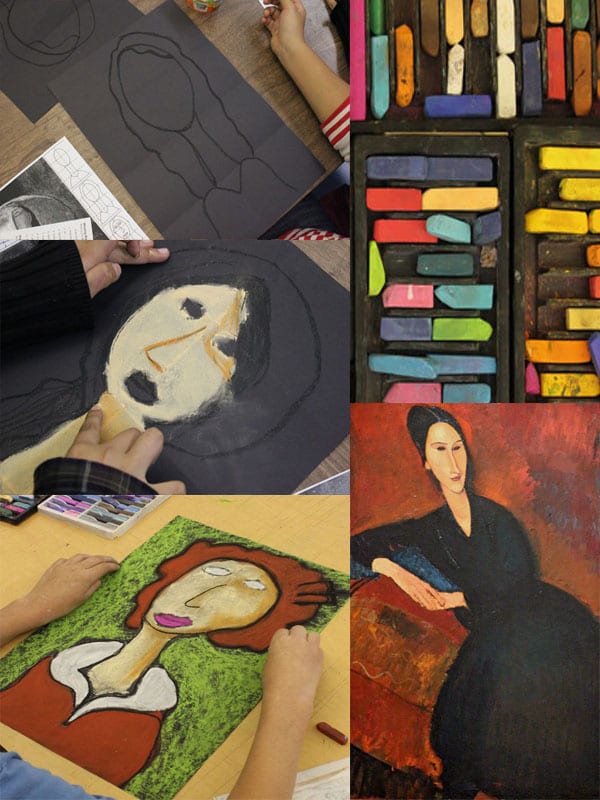 Instead of Kathy's technique of using a ruler and pencil to divide the paper, I took a short cut and folded the paper in half lengthwise, then crosswise. Two more crosswise folds from the top towards the middle crease and the bottom up towards the middle crease and a grid was formed. This is far easier and takes up a lot less time than pencil lines. Just be sure not to form deep creases; a light fold line is all you need. Using Kathy's drawing aids, we drew the outline, colored in the face and neck, then the hair and finally the background and clothes. I pointed out the use of warm, soothing colors for the portraits but didn't limit the kids if they wanted to choose a bright color. The same with the eyes. We talked about how Modigliani painted "mask-like" faces with almond-shaped, empty eyes but if that was too creepy, they could add irises and pupils. As a final detail, I encouraged the kids to outline their shapes with a black chalk pastel. I demonstrated some blending techniques which some children really got into while others were a bit timid. Either way, the portraits came out lovely. Have you tried this lesson of the Modigliani Portraits? Anyone use paint before? I'd love to hear if you used a different media other than oil pastel or chalk.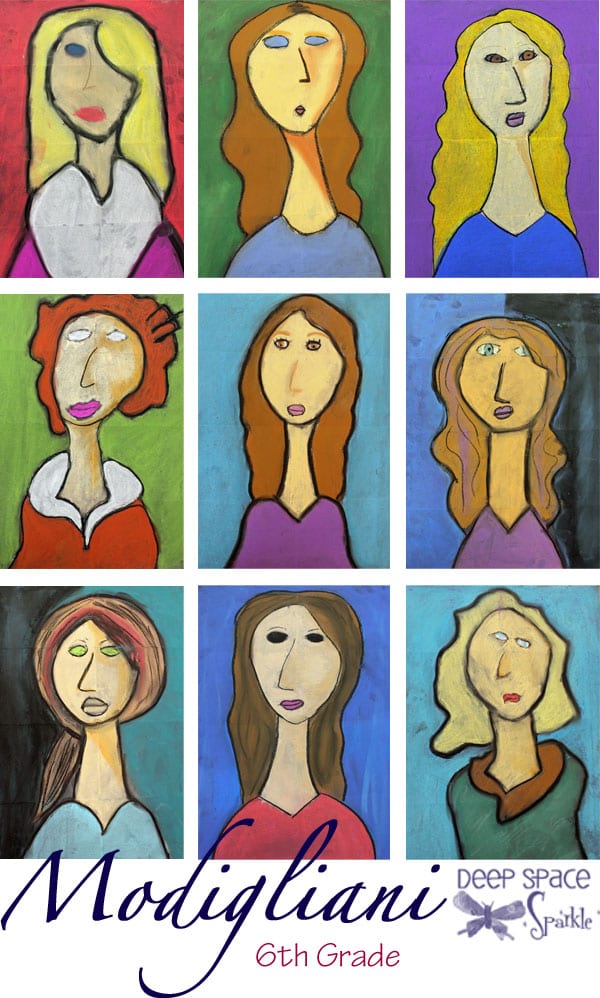 ---
DOWNLOAD A FREE ART RESOURCE: THE SCOPING & SEQUENCING OF PORTRAIT MAKING