Monsters are always a popular subject for my younger art students. My go-to monster lesson for this age group has always been Where the Wild Things Are, but this year I looked for a new source of monster delights.
Enter Monsters Love School by Mike Austin. In the running for a monster related story was If You're A Monster and you Know It by Ed and Rebecca Emberley.
But in the end I chose Monsters Love School art project because the little monsters on the cover were just so cute!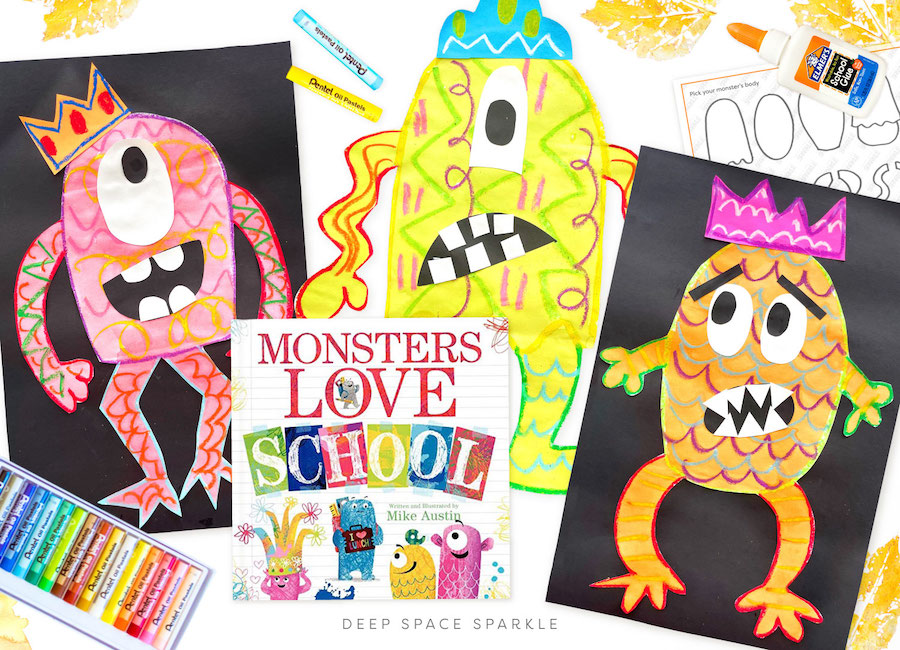 Click the button below to download my free drawing guide for the Monsters Love School art project:
This lesson as well as hundreds more can be found within the Sparklers' Club; a monthly subscription of art lessons, teacher resources, lesson videos, trainings and more! Click HERE to join the waitlist and be notified of our next enrollment.
WHAT YOU'LL NEED:
– 12″ x 18″ white sulphite paper
– 1 colored piece of 12″ x 18″ sulphite paper (I use black)
– Colored oil pastels
– Liquid watercolors (just 2 or 3 colors is fine)
– Scraps of colored and printed paper, including a small amount of white and black
– Scissors and glue
THE PROJECT
To prevent first graders from drawing teensy-weensy monsters (you know they will!), do a little paper prep first and fold the paper into thirds.
Yes, kids can do this but it will literally take you ten minutes to walk this age group through this folding exercise. Just take 5 minutes and do it yourself (stack 3-5 pieces of paper and fold at once. Saves a lot of time.)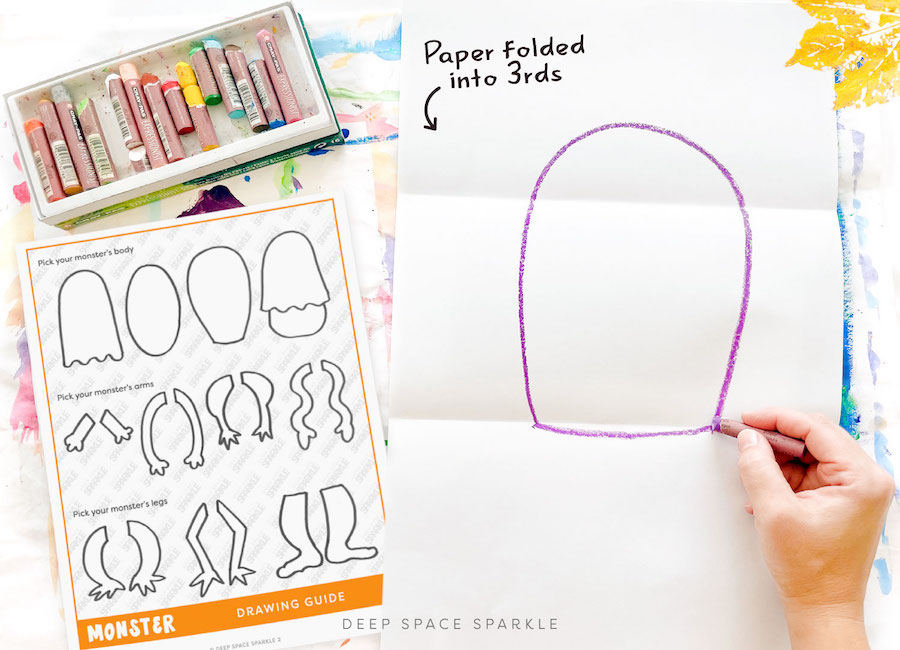 Hand each child the drawing handout and ask children to select a body shape that they like. They don't have to copy the body shape exactly but this just helps ignite their imaginations.
Starting at the TOP FOLD LINE, draw the body all the way down to the BOTTOM FOLD LINE. The fold lines ensure that the body will be big. It won't ensure the body will be think, but we'll leave that challenge for another day.
From the handout, select ONE SET OF ARMS and ONE SET OF LEGS.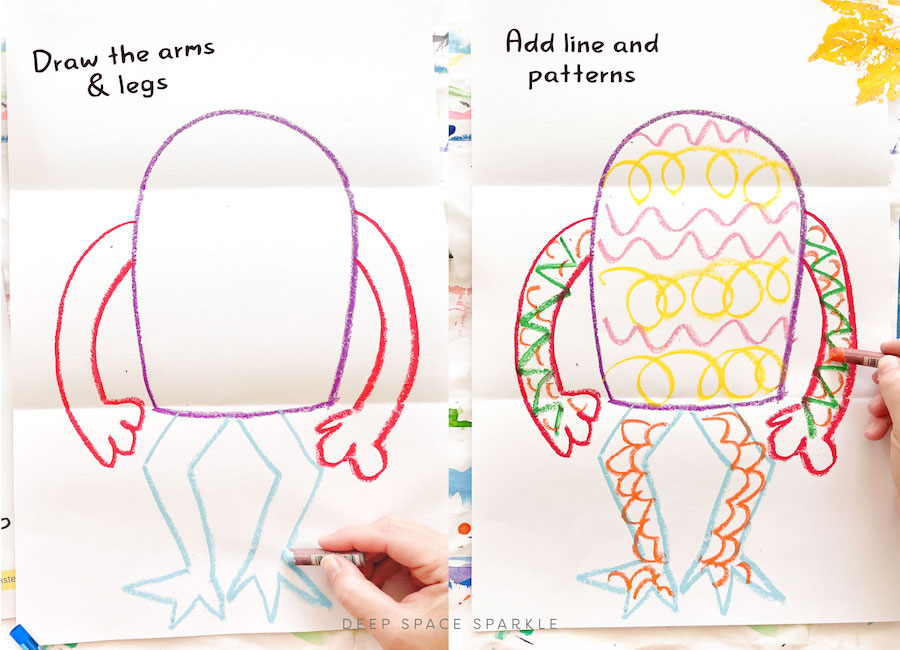 At this point, the kids get the idea. Encourage them to add patterns, stripes, squiggles or any other desired lines to their monster parts.
You will have to remind the kids not to color with oil pastels as the paint is coming.
PAINTING THE MONSTERS
Set a tray of liquid watercolors on each table (read about liquid watercolors here).
Set one container of water and as many brushes as you need on each table.
The trick to using liquid watercolor on sulphite paper is to work fast and despite how tempting, not to brush over the same area more than twice. The sulphite paper will soak up the paint making it look streaky, but it will dry just fine.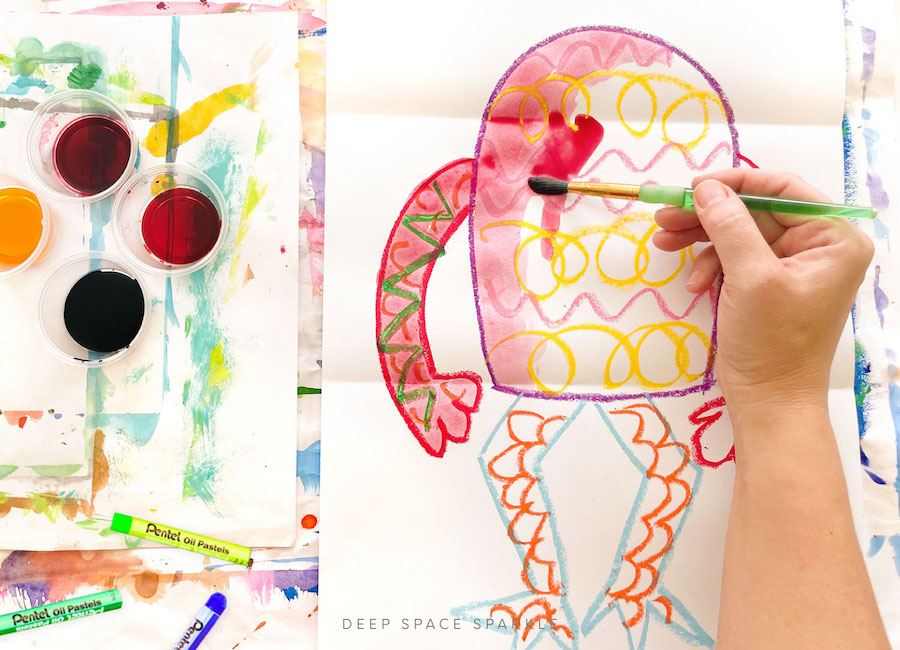 At this point you will be done for the day (40 minutes) so place the monsters on a drying rack until next time….
DECORATING THE MONSTERS
Make life easy on yourself and place random scraps of paper in a small tray on each table so kids can pick their own pieces. On the whiteboard I demonstrated how to draw different shapes for monster mouths and gave the kids a choice to add one, two, or even four eyes to their monster.
Hand back the dry monsters and begin cutting out the monster shape. Hand each child a piece of color paper (I used black) and use glue to mount monster to paper.
Onto the monster eyes…
We used black paper for the mouth and white paper for the teeth and white and black paper for the eyes. Notice how each eye is amazingly big? This is because the kids traced a small plastic condiment cup. I have hundreds of these in my classroom and they are the perfect monster-eye size.
A GLUEY SOLUTION
One trick I have used for years with my little ones is to mix white school glue with a bit of water and stir to achieve the consistency of ½ & ½.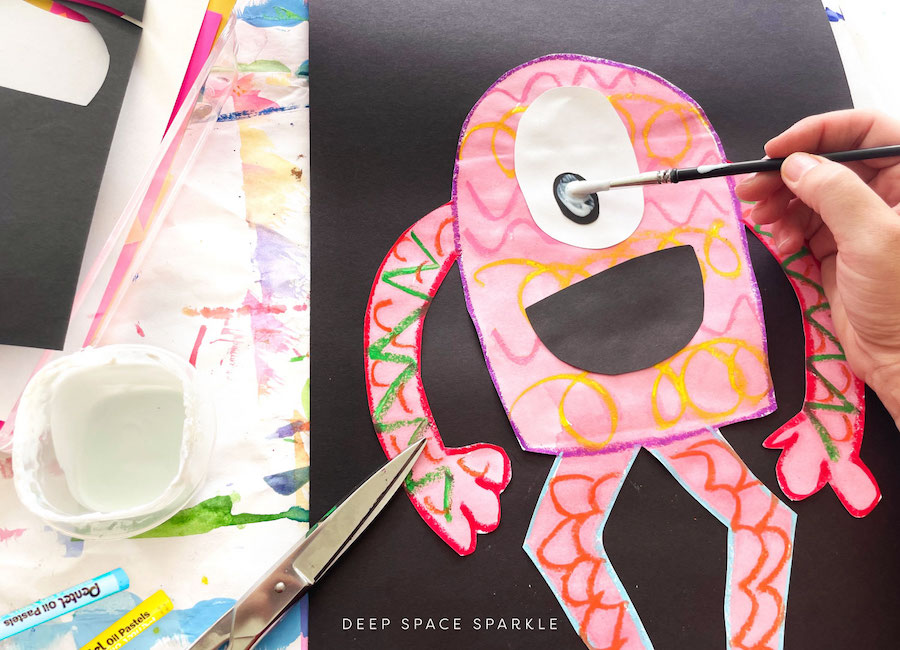 Stick a few brushes in the container and now kids can brush glue onto their monsters instead of dealing with sticky glue sticks and messy glue bottles.
Leftover paint is saved by using a plastic cover.
Place brushes in a dish of soapy water until you get a chance to clean them.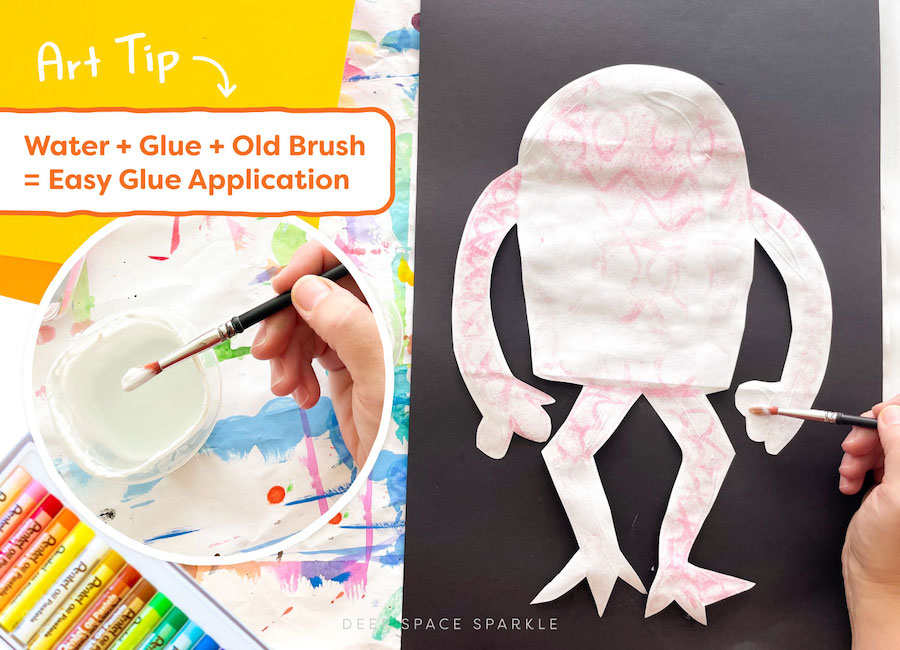 Add a crown or hat to your monsters head by cutting up scrap paper and with oil pastel, create patterns and colors for detail.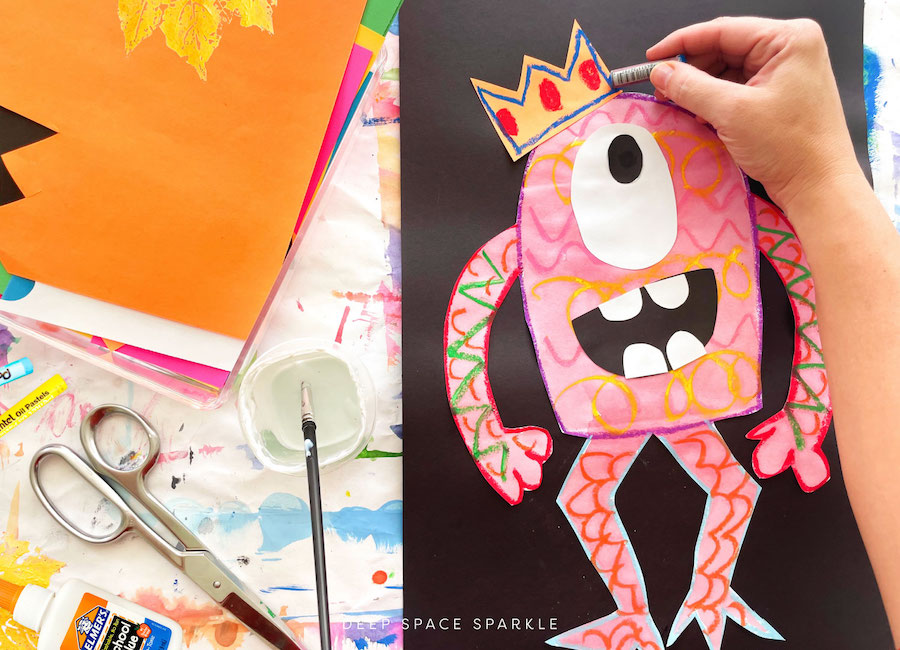 First grade Monsters Love School students art projects… I don't know about you, but I'm in love with these adorable monsters!