Based on "Folk Art Lesson" in the book Art Projects from Around the World (Scholastic 2006), I adapted the images to create a very cool "bark" painting for fourth grade.
What you'll need:
– 6 x 9″ brown or tan paper (paper bags or craft paper works well as does construction paper)
– Tempera paints in red, white, yellow, green and blue (to make regular tempera paint stand out against the brown paper, add a bit of white to the green, yellow and blue. It'll brighten it just enough)
– Black "Sharpie" marker
I began this lesson by talking a bit about Amate Bark Paintings used by the Otomi Indians of San Pablito, Mexico. If you've ever made home-made paper before (I did when I was sixteen!), you'll know that you can put almost anything into a blender, whoosh it up, smooth it out and strain it. Once it dries, you have paper. It's the same for bark painting. The kids seem amazed that tree bark can actually turn into paper!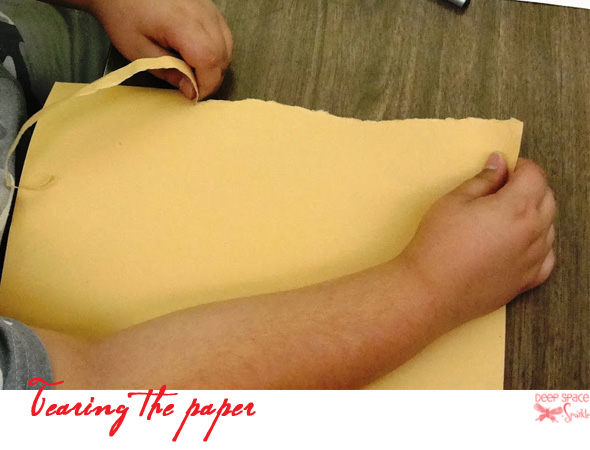 Anyway…instead of mushing bark into pulp, we tore the edges off a piece of colored construction paper. I demonstrated the proper technique for ripping paper: use thumb and pointer fingers on both hands and slowly tear. If you don't have colored construction paper, use craft paper or even paper bags.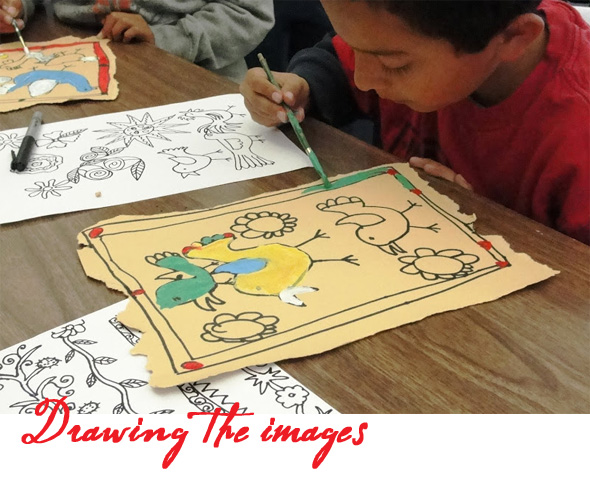 Using images I found on the Internet representing Mexican Folk Art, the kids drew a border around the paper then added fanciful birds, Mexican suns and flowers to the middle. I used the rule of three to encourage repetition: 3 of the same birds (can be different sizes) or three of the same flower, or one large sun and 2 birds of equal size. It mostly worked but many kids still tried to fit every image onto their paintings. Oh well, it's all fun!
After the drawing was done, it was time to paint. I used tempera paints, but if you have fluorescent tempera paint, now is the time to pull them out.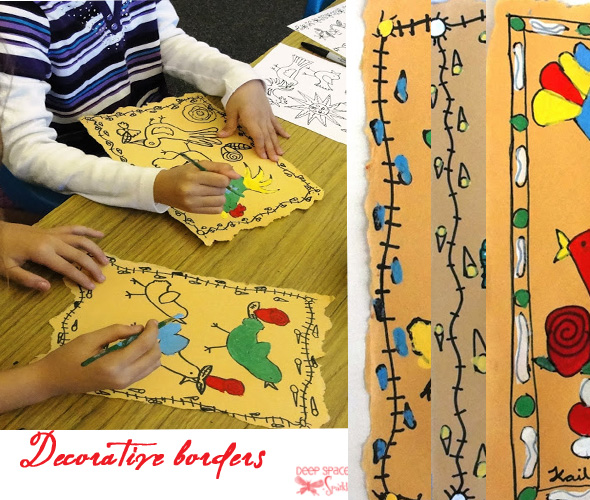 Before the children paint, review the difference between a LINE and a SHAPE. Paint inside the shapes, but not over the lines. It helps.
Once the paint is dry, the kids can add details with a black pen and go over all their lines (we didn't do this yet).
Note from Patty: After many requests, I included the full version of this project (and drawing handouts!) in my Around the World Art Lesson Plan Booklet
Fourth Grade Amate Bark Paintings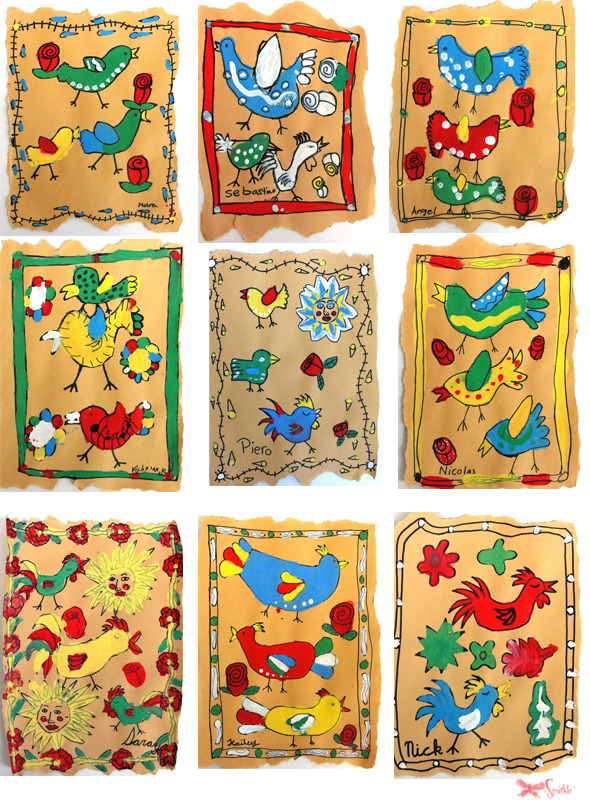 ---