This is a favorite art lesson of mine for spring time.  I typically do this lesson with my third-grade students but the results would be fantastic at any age.
Supplies:
– Colored Paper (I used some leftover "Eric Carle" painted paper from earlier in the year.)
– White paper (this is 9″ x 6″ but a larger size would work equally as well)
– Scissors & Glue
Instructions: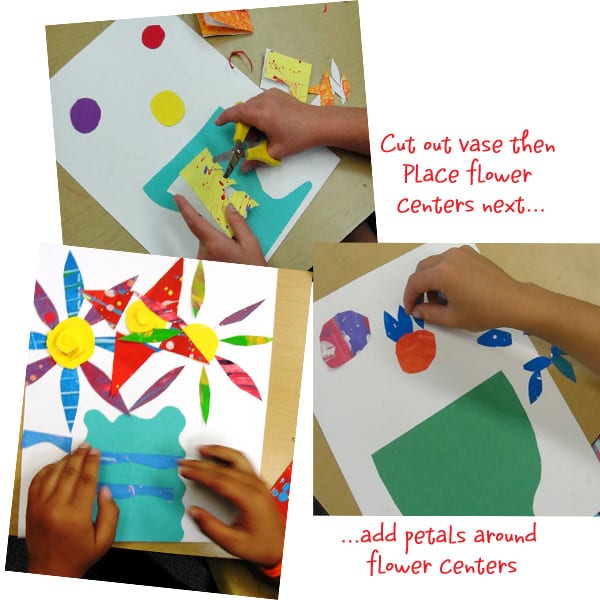 For ease of set-up, I set out pre-cut squares/rectangles of colored construction paper, a white background paper (although a black background is quite effective), scissors, extra paper and glue sticks.
Even though most of my students have made a symmetrical vase before, I demonstrate the process again because it remains a challenge. (Fold paper in half, hold the folded edge, cut vase shape)
After pasting on the vase, the kids paste paper circles for the centers of their flowers. Because our paper size for this project was small, three centers seemed to make the best composition. Next, demonstrate how to make different types of petals…heart shape, standard shape, abstract, etc. Leave it up to the kids to come up with clever ways to make petals. Stick petals underneath flower centers and glue.
Some kids will finish before others so they can decorate their vases if they choose.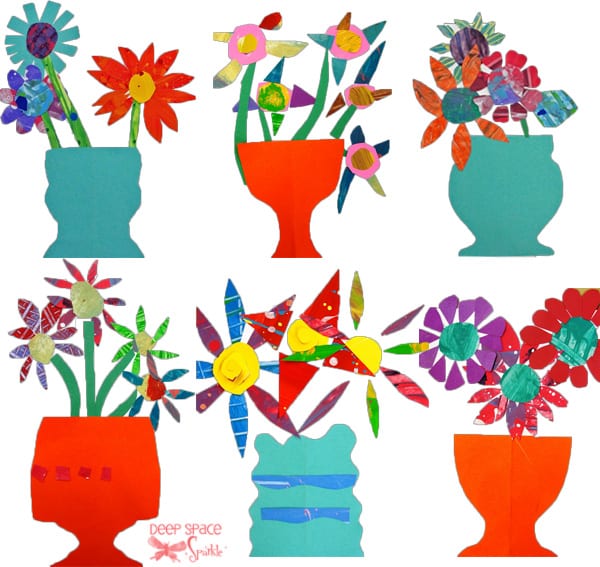 Related Posts: How to Make Painted Paper