If you are looking for an expressive, easy and impressive penguin art project, look no further! These adorable penguins are quite easy to complete in two, 40-minute sessions and use simple art supplies. I've seen so many adorable penguin art projects, but my favorite are these. Thank you Mountain Color!
Watch the full video tutorial here…
DOWNLOAD my templates for these happy penguins in the December Freebie Pack below…
WHAT YOU'LL NEED:
18″ x 12″ white sulphite paper
Blue chalk pastel
Embellishments
Glue
Scissors
Cake tempera paints
Large flat brush
White splatter paint
White, black, & yellow paper
MAKING THE PAINTED BACKGROUND
To start, paint a 12″ x 18″ white sulphite paper with cake tempera paints. I use puck tempera paint purely for the ease of prep. You can set the palettes on the table and whisk them off after the lesson is done…no cleaning or wasting paints.
I asked the children to create a colorful background for the penguins but didn't give them any guidelines other than they could use as many or as little paint colors as they liked. In my demonstration, I used all the paint colors and painted horizontal stripes. So many children copied me, but many children created dots, patterns, full colors, etc.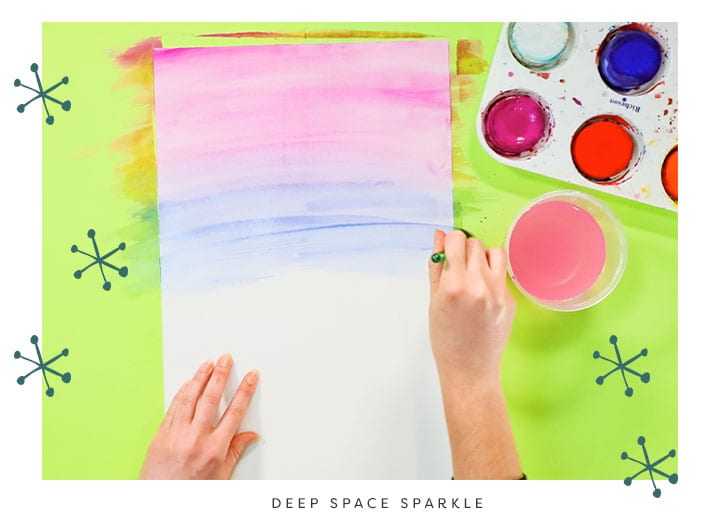 MAKING THE PAPER PENGUIN
To make the penguin, I gave each student a piece of black and white sulphite paper. I showed the children how to make a large letter "U" on the back of the black paper. I cut it out and made a smaller letter "U" on the white paper. Cut out the white paper and place white paper on black paper.
For the wings, I showed the children how to fold a piece of black paper in half and draw a skinny letter "D". They cut the double paper out for the two wings.
And lastly for the feet, the children draw two squares with zig-zags on the top and cut out both shapes. You can use my templates in the handout above to make all the shapes for the penguins body.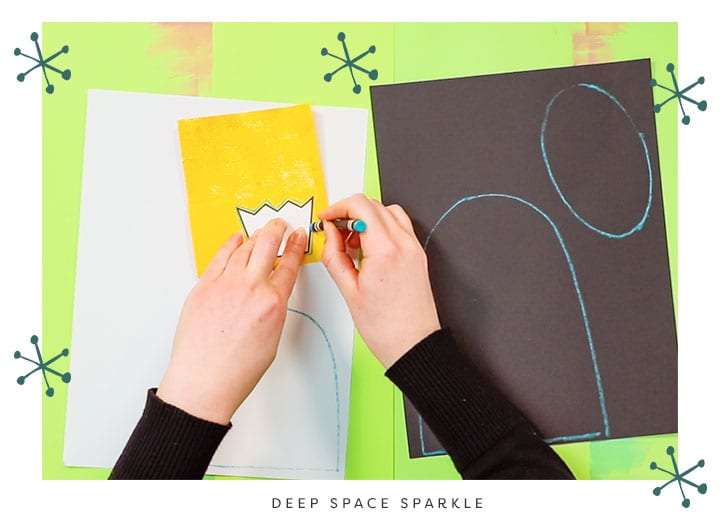 On the second day of this lesson, the children drew an iceberg on white sulphite paper using a blue chalk pastel. They cut the iceberg out and glued it to the colorful background. Once the iceberg is in place, the penguin can find it's home on the iceberg.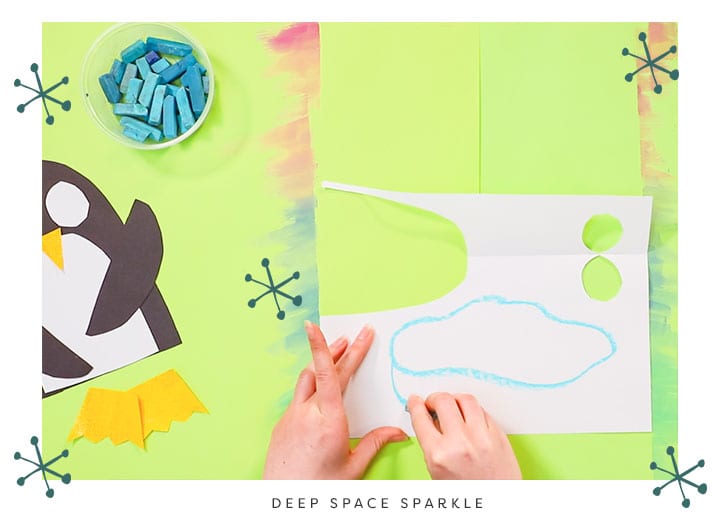 Now comes the truly FUN part, decorating!
I set out scrap paper, scraps of burlap, buttons, oil pastels, yarn and palettes of white paint and q-tips. The children made hats, mitts, snowflakes, purses, scarves and all sorts or wonderfully creative things.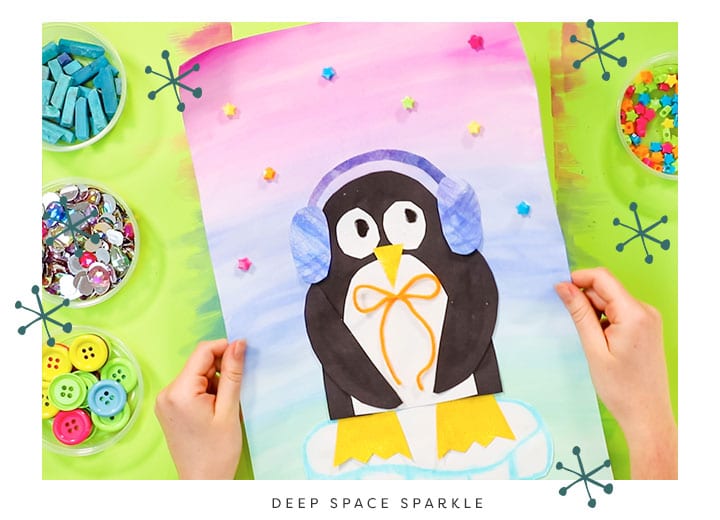 To add an extra detail, take out your Splatter Box and have the children create snow. If you've never done splatter painting with your students, you are totally missing out!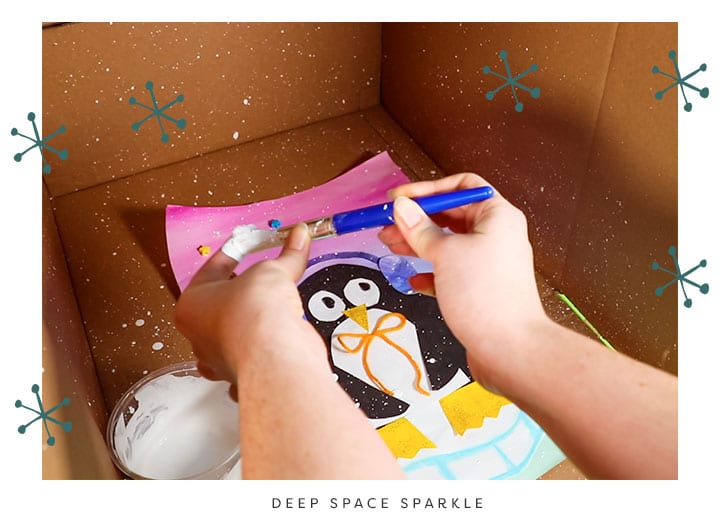 It's so rewarding to walk around the art room and see busy little hands and happy faces. I couldn't believe (honestly) that the children were able to compete this project in time, but they did. After thinking about it, I decided that because the skills required were not too challenging and because the project was quite simple to start and fun to finish, the children never lost concentration.
I hope you give this one a try…it's a keeper! Aren't my first graders an artistic bunch?
Click the image below to DOWNLOAD the December Freebie Pack along with other fun lesson guides: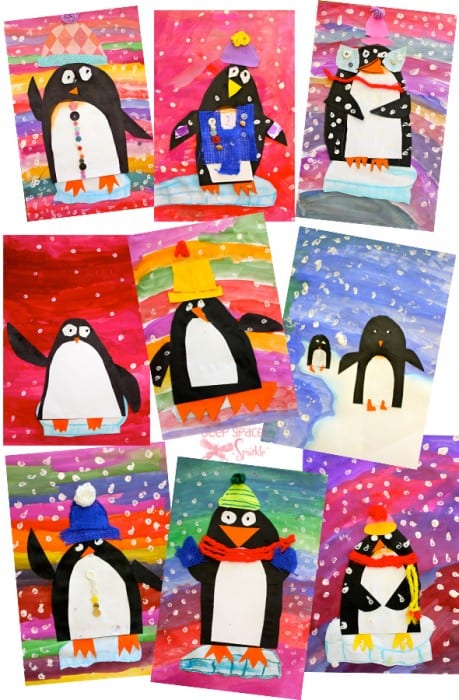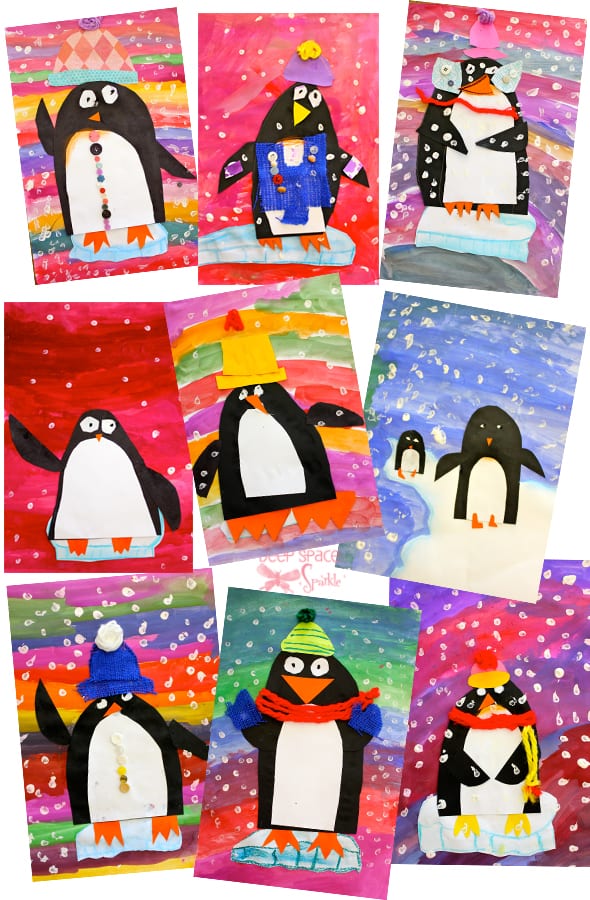 Click HERE for more winter themed art lessons.
*This post contain affiliate links.