Introducing artists through picture books has always been my favorite way to transition into the art room. Children can settle down as you read or flip through the book and gather their own interpretations of the artist, subject or art.
Here are a few of my favorites picture books to read to your students during Black History Month and beyond…
BEAUTIFUL BLACKBIRD by Ashley Bryan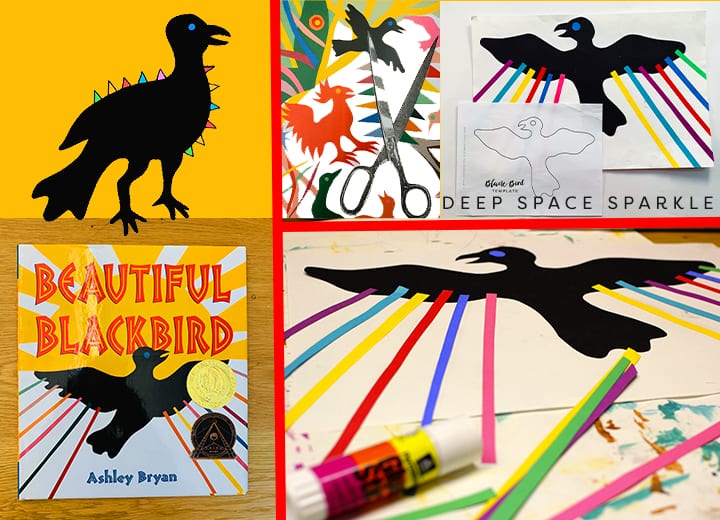 When Team Sparkle generated lesson ideas for our Black History Month Bundle inside The Sparklers Club, we knew we had to have a lesson based on Ashley Bryan's book, Beautiful Blackbird.
It tells the tale of a blackbird who was voted most beautiful bird in the forest. The colorful birds were so envious they begged blackbird to add a touch of black to their feathers.
For our Sparklers, our lesson offers young students a chance to draw a beautiful blackbird or trace a template onto colored paper. Then we add rainbow paper stripes to fill in the background.
The Blackbird project and book is perfect for ages 5-7.
Beautiful Blackbird, Ashley Bryan
Purchase this lesson in the DSS SHOP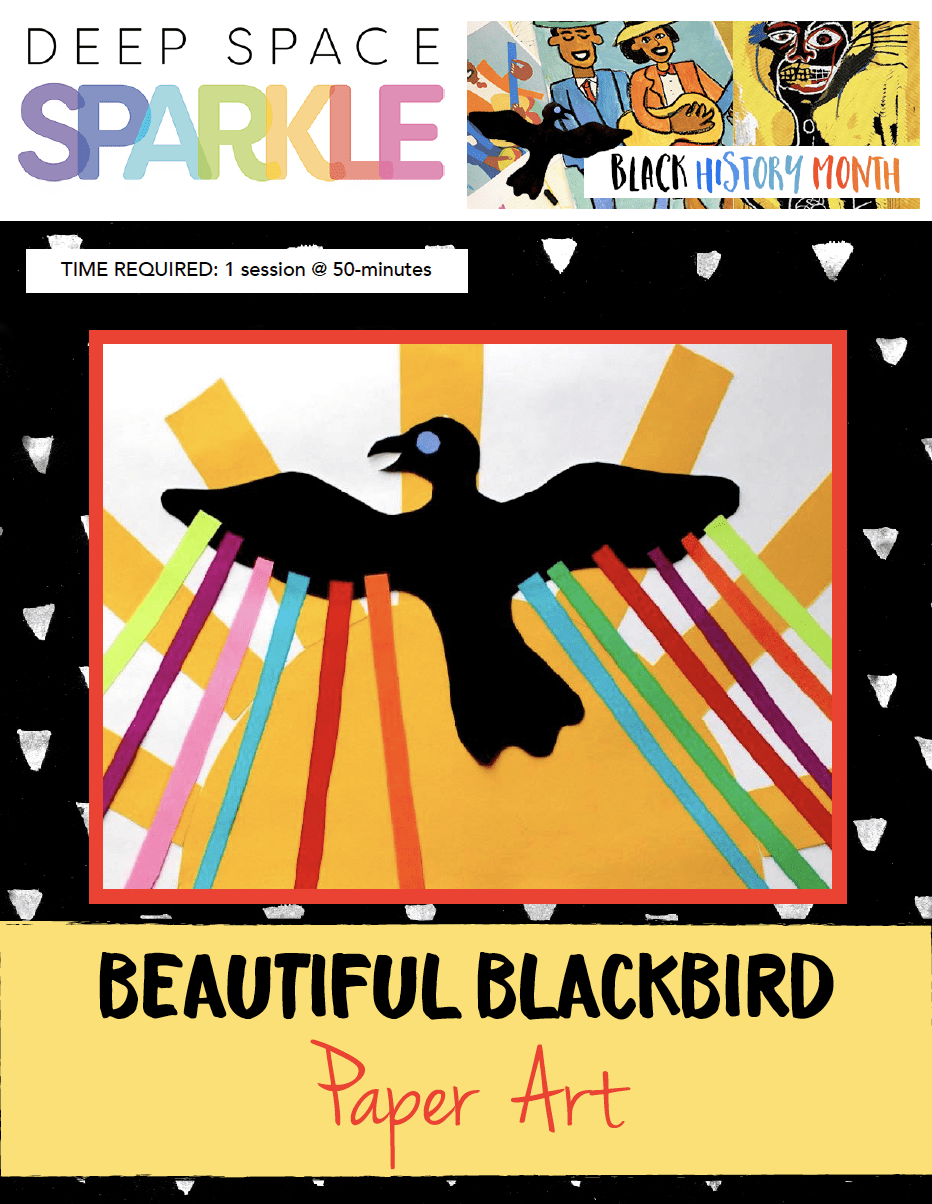 TAR BEACH by Faith Ringgold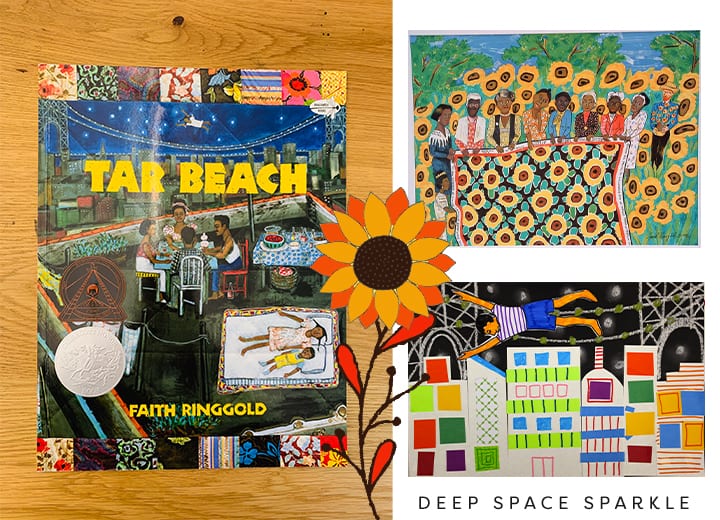 It's hard to have a favorite Black History Month picture book list without including Faith Ringgold's Tar Beach.
This lesson takes the book's heroine, Cassie, on a journey over the Harlem rooftops created with paper and pastels. This lesson is available in the Sparklers' Club in the Black History Month bundle.
The Tar Beach project and book is perfect for ages 7-10.
ART FROM HER HEART| Folk Artist Clementine Hunter by Kathy Whitehead and Shane W. Evans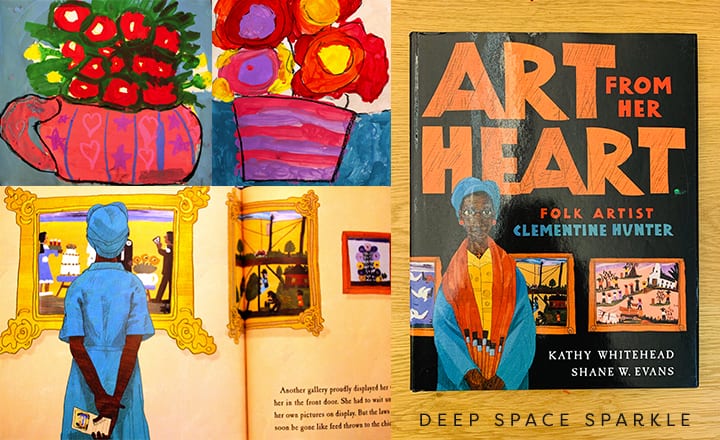 I loved this book from the moment I read the title. This is a powerful story of self-taught artist, Clementine Hunter who painted the scenes of everyday southern farm life during the 1950's and 60's.
The story details how Clementine, who became the first African-American woman to be featured in her own gallery show, wasn't allowed to view her art alongside the public.
The illustrations and story are absolutely perfection.
We created two lessons based on her most popular subject: zinnias. Children in any grade level learn how to draw a pot and fill with colorful round orbs just like how Clementine painted them.
I used Clementine Hunter's still-life flower arrangements as one of my lessons in my book, Draw, Paint, Sparkle.
Art From Her Heart, Clementine Hunter
MAGIC TRASH | A Story of Tyree Guyton and His Art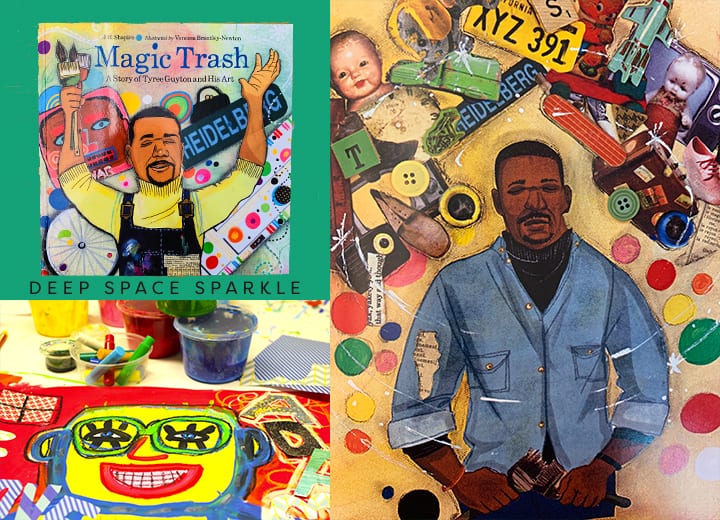 This book is a winner for both Black History Month and Earth Day. Guyton's art is influenced by his desire to make his Detroit neighborhood transform into a place of beauty and art.
In our membership, we used paper scraps, paint, pastels and recycled bits to re-create one of Guyton's most famous pieces.
This project is an expressive piece that offers each child the structure to create a base portrait and then make it his own using a variety of media. Perfect for kids who love to stand up, move around and explore what different media can do together.
IT JES' HAPPENED | WHEN BILL TRAYLOR STARTED TO DRAW by Don Tate and R. Gregory Christie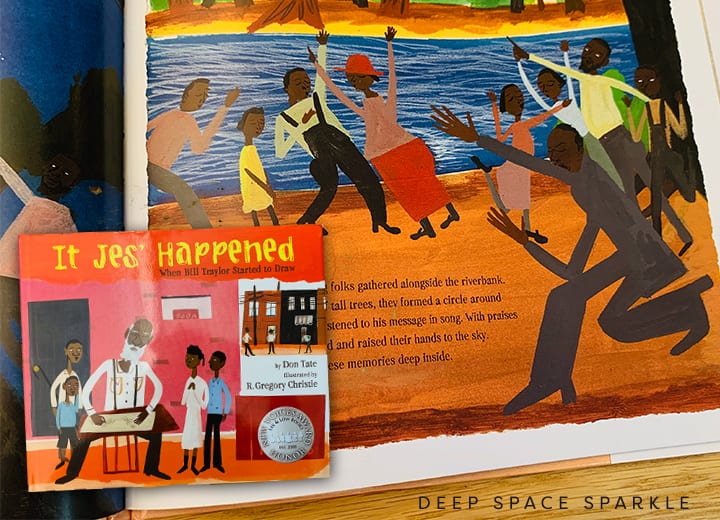 While we didn't create a lesson for this book, it still deserves a place on your art room library shelf.
It tells the story of Bill Traylor who after growing up an Alabama cotton farm, found art when he was 81 years-old. His memories of his enlsaved youth sprung up and blossomed into pictures.
Today, Bill Traylor is considered to be one of the most important self-taught American folk artists.
It Jes' Happened When Bill Traylor Started to Draw, Don Tate & R. Gregory Christie
DRAW WHAT YOU SEE | THE LIFE AND ART OF BENNY ANDREWS by Kathleen Benson with illustrations from Benny Andrews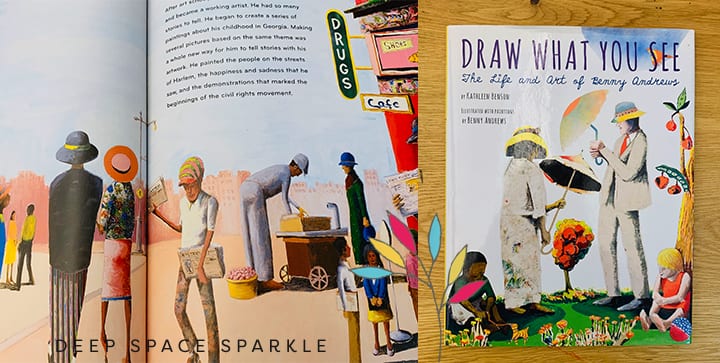 Another one of my favorite books to read to older students, Benny Andrews dreamt of life beyond the back-breaking labor he was subjected to.
He ultimately became one of the most important African American artists and opened the door to many other artists of color.
This is a book about possibilities and breathtaking art.
Draw What You See: The Life and Art of Benny Andrews, Kathleen Benson
RADIANT CHILD | THE STORY OF YOUNG ARTIST JEAN-MICHEL BASQUIAT by Javaka Stpetoe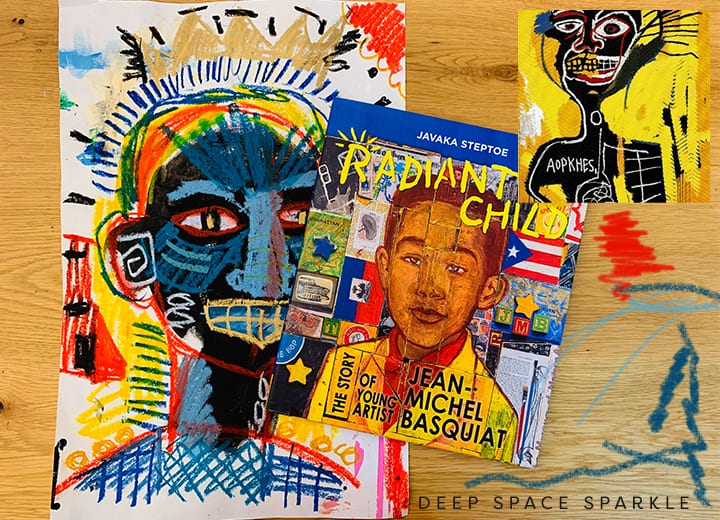 This is an absolute MUST READ for elementary school kids. Before Jean-Michel's art became a cultural phenomenon, there was a boy who saw art everywhere. This book illustrates Basquiat's experience that art doesn't have to be neat and clean.
This book is perfect for kids ages 9-15.
Radiant Child: The Story of Young Artist Jean-Michel Basquiat, Javaka Steptoe
LITTLE LEADERS | BOLD WOMEN IN BLACK HISTORY by Vashti Harrison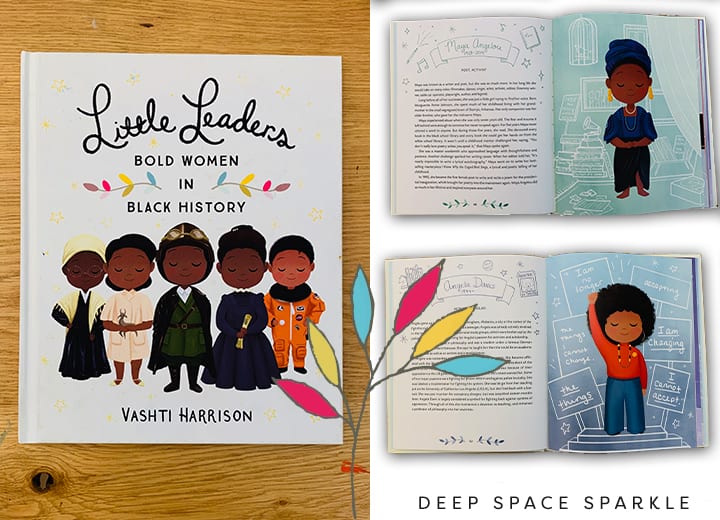 This book is a great book to offer during free choice time. It explores the life of 40 trailblazing black women in American history.
Readers will find women who did extraordinary things in the fields of athletics, science, literature, film and more.
I'm still holding out for a project based not his book, but so far nothing has come to mind. But that doesn't mean the perfect idea isn't floating around somewhere. Have you done a lesson based on this book?
The projects based on these books are located in The Black History Month Bundle
Little Leaders: Bold Women in Black History, Vashti Harrison
---
Download a full list of our top 30 books to include in your art room!