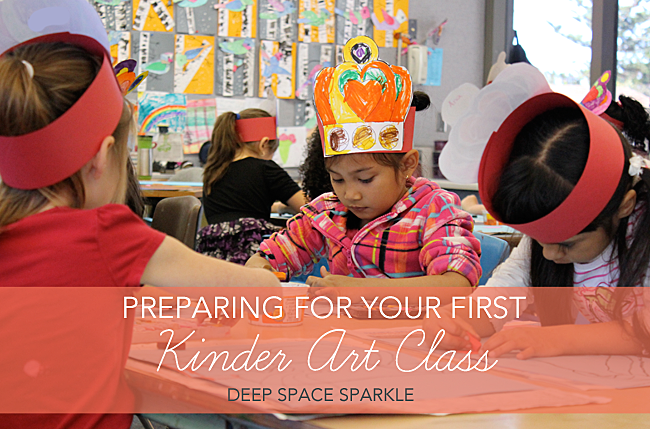 I received a question from a reader yesterday asking for advice. She teaches upper elementary and middle school but now will welcome Kinders into art class for an hour each week. Not feeling very comfortable with potential squirminess, she wondered how she might schedule or organize the class so that everything goes smoothly.
First of all, this reader must know how much I love my Kinder classes. Everything about 5 year-olds is really endearing to me. This is partly because my own babies are in high school and college and partly because these little munchkins are someone else's babies. It's a circle of life type of thing: caring, creative teachers taught my children and now I get to do the same.
So now that we set the stage, let's talk about Kinders.
Characteristics of Kinders
Have a huge range of fine-motor skills from being able to hold a drawing tool to really not at all
Art is a natural form of expression for Kinders but learning techniques is counter-intuitive
Girls will love most everything you do and will be prone to offering many hugs
Negative self-talk is almost nonexistent at this age, but will solicit approval at an annoying rate.
Boys are squirmy and will break out in karate kicks at random moments
Love routines and have more stamina than you think
Once you have a couple of years of teaching Kinders under your belt, you will realize that more than any other grade level, Kinders are the most consistent in behavior. Sure, you can have a high-level Kinder art class ( I did two years ago) but mostly the characteristics are the same.
Let's take a look at each characteristic above and show how you can manage and embrace these traits in class. And then last we will look at different ways to schedule the class.
Fine-motor skills
Both boys and girls will have a huge range of fine-motor skills. Last year I had the sweetest, most adorable kid who on the first day of art class, looked at my bowl of scissors and told me that we shouldn't be using such dangerous tools in art class. It was pretty clear his mom didn't allow scissors near her boy (totally fine) so the scissors were a foreign object. No idea how to hold it. No idea what scissors were for. I'm thinking, really?
How would you handle a child not knowing how to use a specific art tool? Would you become frustrated? Rush him through the process? No, you wouldn't. You'd probably sit next to him and show him some tricks and tips. The idea here is to take it slow with Kinders. Many things will be new to them and the exploration alone is quite fun to watch.
The opposite is also true. Many Kinders, especially since the enrollment age is creeping up, will know how to cut with scissors, how to use a paint brush and will know how to read. These kids have been in amazing pre-schools or maybe even Transitional Kindergarten and will be ready for anything.
My strategy is to teach a lesson with skills based somewhere in the middle. If a child or most of the class doesn't know how to cut with scissors, teach 2-3 lessons on cutting alone. The low-skills will flourish (and fast) and the high-skills will create amazing pieces.
Never painted with Kinders before? Read this post on Painting with Kinders.
Natural Expression
I think it was my third year of teaching Kinders that I realized that creating art is a natural form of expression for Kinders. They think less and paint from their heart. This is when you can see the differences in paint strokes and textures. You can see how important art is to them by watching closely. I love watching for the tongue that sticks out from pure concentration.
Because of this innate ability to create, Kinders are far more focused than you think. Sometimes you need to let them run with their creativity instead on interjecting how to paint properly or some other technique-driven statement. And for heaven's sake, please choose fun subjects, bring out the paints and clay, don't talk forever about an artist whose name they won't remember and don't tell them the technical terms of every technique.
It's your goal to teach from a child's point of view.
This doesn't mean you shouldn't use strong vocabulary, show pictures of artists and talk about techniques, just keep it simple and to the point.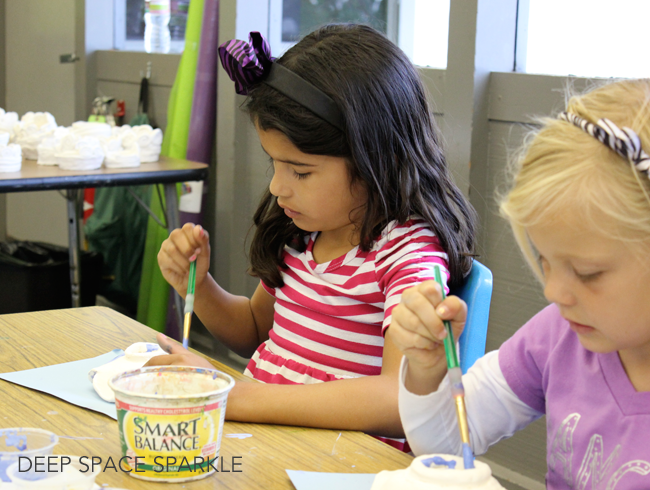 Girls and LOVE
Girls will mostly love everything you do. They sit in front of me and admire my sparkly deck shoes when I'm reading a book. They will tell you how much they love your new haircut and will tackle you with hugs when they see you outside the art room.
They are all love.
So it's your job to keep the love going. Kinder girls love conversations about their art. They LOVE individual attention and will sometimes go to great lengths to solicit attention. Try very, very hard to be equal and fair with your attention. Girls are extremely astute with attention fairness so you need to be one step ahead of them.
Boys on the other hand are different….
Karate kicks
Boys are not girls. Most do not have the affinity to listen to the teacher talk for long (think of your husband and you will know what I mean). Boys want the instructions and then get on with it. They may rush through the art lesson but you can slow them down by showing them different options or by engaging their imaginations. Boys love quick answers and jokes.
But some boys are sensitive so be careful about the quick answers and jokes.
Some boys will look like they are doing fine and then will break out into a karate kick. My answer to this is to let them. Push the chairs away and let them stand. Sitting for boys can be too restrictive. Girls, on the other hand, like to sit.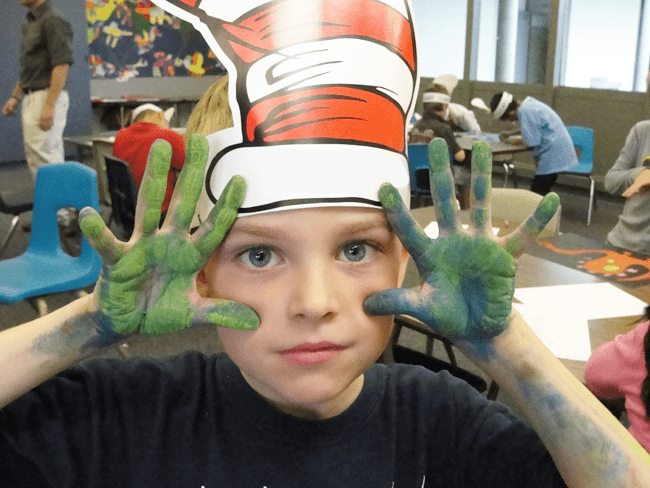 Routines
Kindergarten teachers do an amazing job of establishing routines for little ones. When they come into my art room, they already know what to do. I think it's important to become familiar with how a homeroom teacher manages her class because when they come to you, you will either have to work hard to establish a routine or it might be effortless. In my situation, I hardly have to do a thing.
But here's what I try to do for Kinders:
Begin a fun painted paper lesson on the first day so kids won't think art class is just another class with rules
Teach rules as they come up and not rely on posters (which are fine but I find them distracting)
Be relaxed about spills, mess-ups, behavior problems as they all are part of art and school
Assess a class after the first couple of weeks of school. Some Kinder classes will be able to do projects of a different scope than others. Don't feel like you have to do the same lesson with every class, or at least the same subject or technique. Teach for the class, not the grade.
Keep clean-up super easy: Paper on rack, supplies in tray, water in sink, stand behind chair/line-up
Art Class Timeline
You may think that one hour is too long for a Kinder art class. While it's not too long, you can certainly conduct a great art class in 30 minutes. But if you have an hour, you have tons of options:
When children come into art class, be prepared to read a story. Here is a BOOK LIST that combines art and literature. Also here is my Pinterest board for Inspiring Book for Kids Art. Plan to use 15 minutes to read the book, stopping at the illustrations that prompt ideas for the art lesson.
While the kids are still sitting on the floor, do a short demo of what project you will do. Give an overview and try to break the project down into at least two steps: drawing and painting, or creating the form and painting, etc. I like having Kinders-second grade sit on the floor while I'm doing the demo as it gives a more personal connection.
Children head back to their table to do the first part of the lesson as directed by the particular project.
If you have time (which you will with an hours lesson) get children to sit back on the floor for part two of the lesson. Do the demo and have the children proceed to step two.
If children finish the project and have some time at the end of class, you can introduce the opportunity to do free-choice drawing in either a sketch book or recycled paper. Children will free-draw FORVER, so it's a wonderful way to fill in the gap between kids who are done and kids who aren't.
Clean-up, line-up and you're done!
So now it's your turn.
How long to you have with your Kinders?
What is their behavior level like?
What does your schedule look like?
Go ahead and add your comments below…
Thanks,
Patty
---
New to teaching art in the classroom? Download my free classroom art teachers toolkit by clicking the yellow box below!