Have some cardboard lying around?
Of course, you do! I make it a point to keep a stack of trimmed cardboard pieces to use in the art room. I find many uses for cardboard: for printmaking, scraping paint, to act as looms for weavings and my personal favorite, to paint on.
And these painted Tropical Fish are simply the easiest and most colorful projects to do.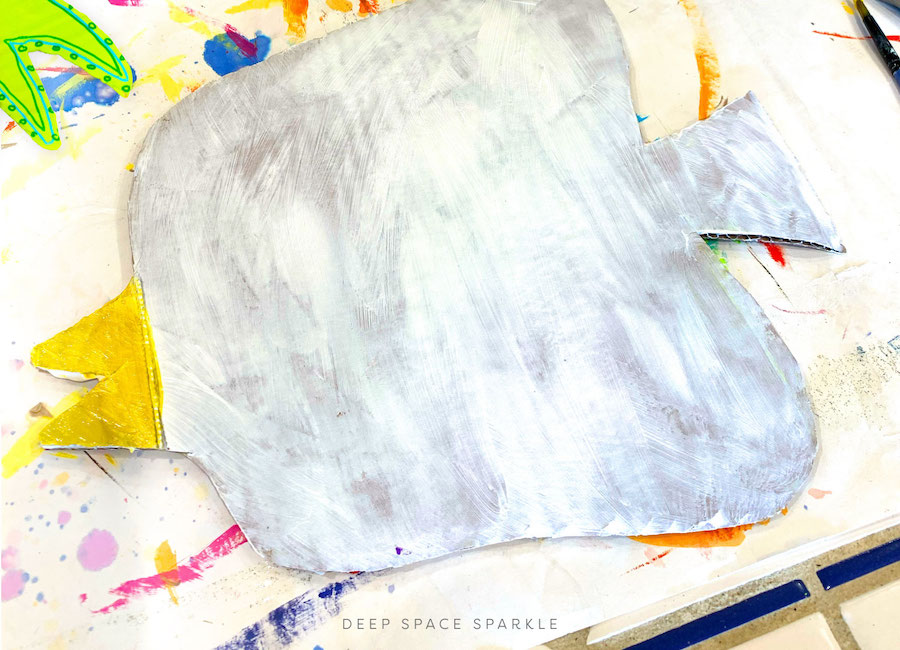 Here's what you'll need:
– Cardboard pieces about 10″ x 12″
– Oil pastel or crayons
– Assorted colors of acrylic paints (I like Crayola Acrylics for classroom use), including white or GESSO
– Scissors
– White school glue
– Small and medium brush
Watch Patty's Facebook Live tutorial, demonstrating how to teach this lesson to your classroom of students. This video has been edited from the original Facebook tutorial.
To make this project easy for younger students (ages 6-7), I would encourage you to photocopy the Tropical Fish Template (included in the free download below) then allow kids to trace the templates onto the cardboard.
Or, for even younger kids, cut out the simple fish shapes for them. That's what I did when creating a similar owl and fish project for Kinders.
For older kids (ages 8-over), provide simplified illustrations or drawings (I have a free drawing guide in the PDF below) so kids can draw their own fish.
Be sure to draw the fish as large as the cardboard. I would try and cut the cardboard pieces no smaller than 5″ x 7″. It's easier (and more fun) to paint a larger fish.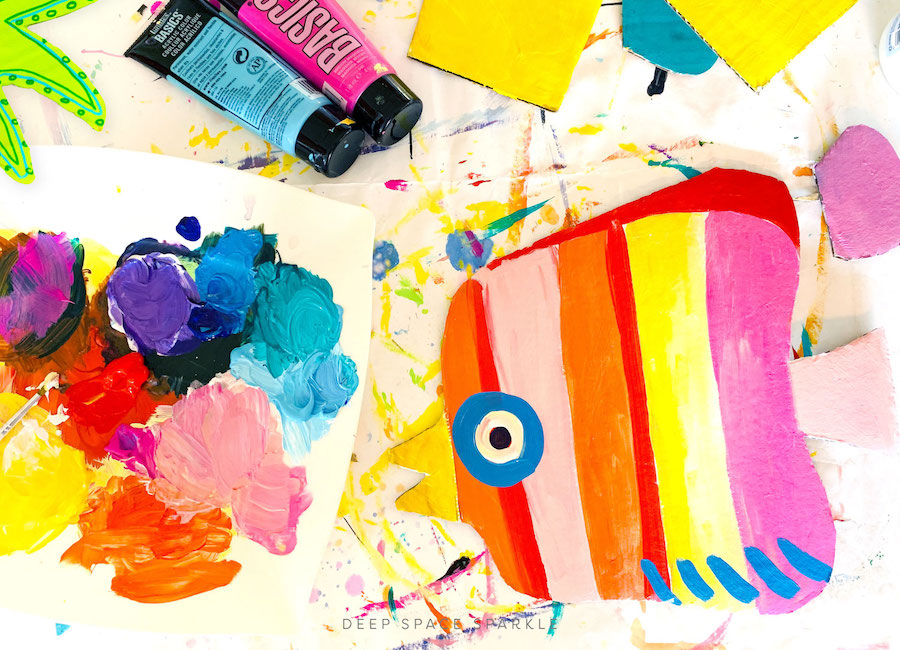 If you are using acrylic paints, it may not be necessary to paint a coat of white gesso over the fish. Acrylic paints are generally thick enough to cover any packaging printing.
If you are using liquid tempera paint, I would highly advise painting one coat of Gesso over the cardboard first. this will make the colors POP.
Once the BASE COAT is determined and finished, paint away! To help students pick happy, friendly colors (meaning when mixed together they won't turn into a dull muddy color), pour pre-mixed acrylic paint colors into egg cartons.
I like to use plastic egg cartons (f you can find them) to add acrylic paint to the egg sections. Make sure to mix some of the acrylic paints with white to get a lovely bright pastel color.
The BASE coat can include sections or children can paint their fish all one color. Just avoid adding details. That will come in the next step.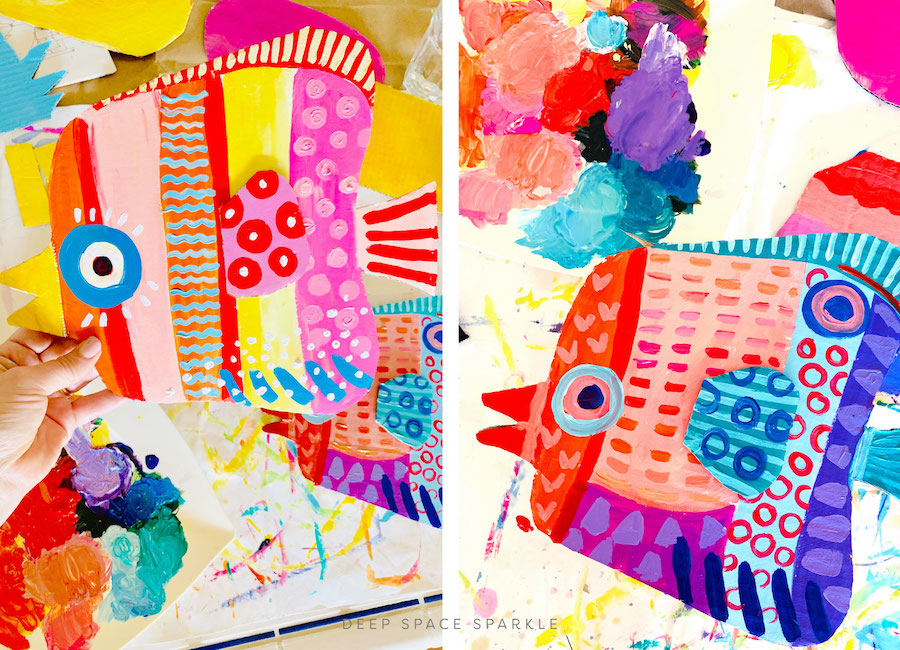 When the BASE coat is dry, bring out the acrylics again, select a smaller brush and start adding patterns. Using acrylic paints will offer the best opportunity for bright pops of color. And painting over dry acrylic paint will offer the best surface.
Grab your free download by clicking the yellow button below…
Just enter your name and best email address and we'll email you the 4-page Drawing Guide and Tropical Fish Template…