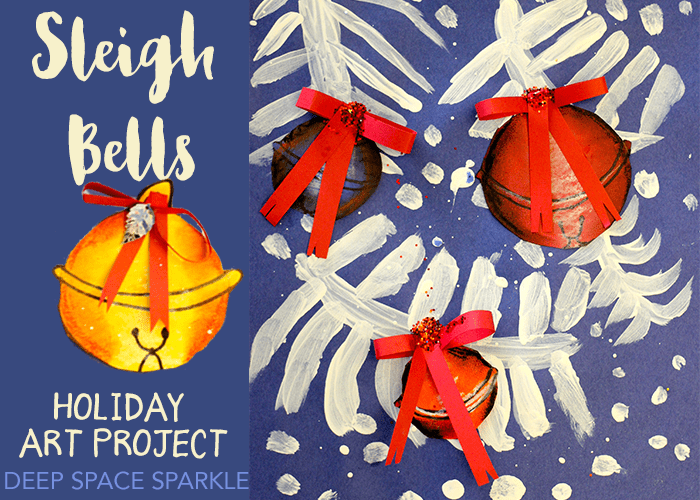 This maybe the closest I've ever gotten to creating a Christmas art project in my art room. I couldn't help it. After seeing this vintage Christmas Card (see image below), I was reminded of the time when a sleigh (yes, a real sleigh) sat out in our backyard.
I was young so the details have started to fade. It may have sat in the yard for a day or a month. I can't recall. I do remember the sound of the sleigh bells. My dad was a big horseman and my mom decorated our farm house with a rustic flair. She curated a few sleigh bells which were nailed to the brick wall above our fireplace.
When I saw this card, I had to share my stories with my 3rd graders. Thinking back, they were pretty polite allowing me to reminisce.
I created a short video to show you how I taught the kids how to draw and color the bells. This was a transformative project for many students as the circle shape was made easy by tracing a plastic cup and so everyone was able to create a pretty cool looking bell.
Here's what You'll Need:
12" x 9" blue or green paper
Small squares of colored paper (about 4" x 4")
Pencil
Sharpie Marker
Plastic condiment cup or small circle template
White and black chalk pastel
Scissors and school glue
Paper scraps for making the paper ribbons or just use real ribbon (so much easier)
Embellishments like glitter or sequins (totally optional)
INSPIRATION
The inspiration for this project came form a Vintage Card found on Pinterest. Don't you love the white spruce needles?
Holiday cards really do make the best source for art projects. I can't tell you how many ideas have come to me looking at vintage and contemporary cards.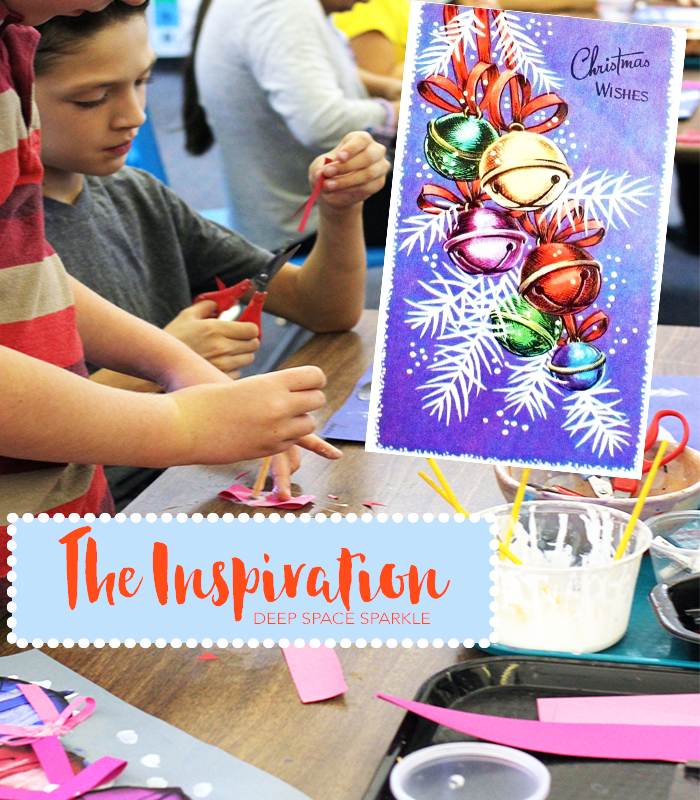 HOW TO DRAW A SLEIGH BELL
I contemplated how to teach this rather simple looking drawing. After a few attempts I decided that tracing a template or cup for the round shape was by far the easiest way to go. You can teach children how to draw a circle, but drawing small circles is somewhat hard for 8 year olds.
The pencil didn't stay out for long. As soon as the circle was traced, the kids used a black marker to draw the ridge of the bell. This extended beyond the contour line of the bell, so it was important to draw first.
After that, the drawing was easy to complete.
I taught the kids to use a complementary color to add shadows to their bell, figuring the color wouldn't be as harsh as black, but after a few class discussion, we decided to skip the colored chalk and go straight for the black. More contrast.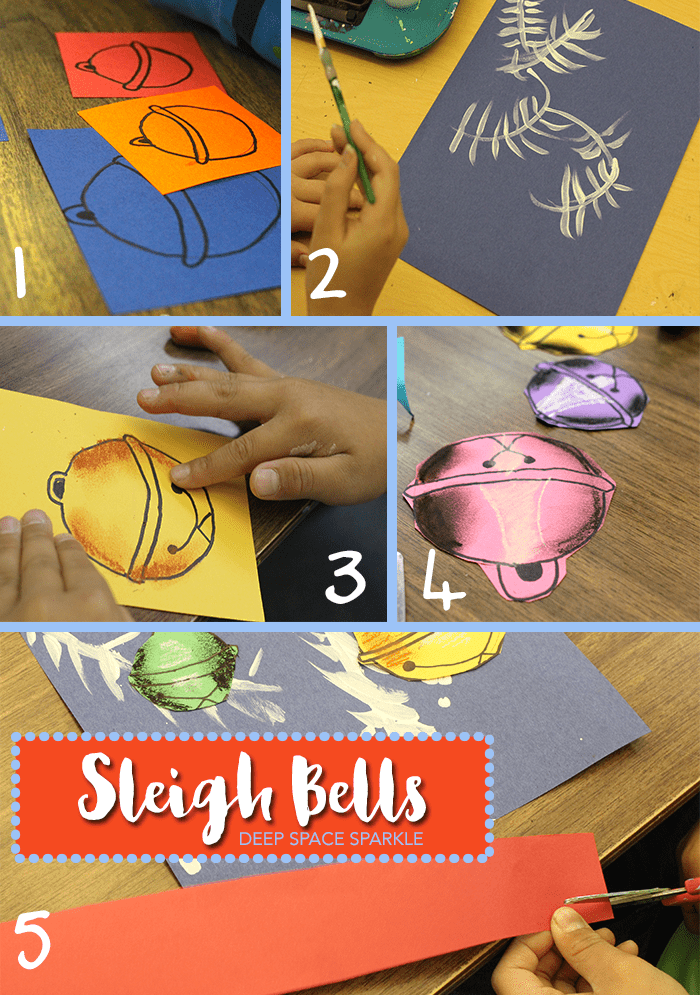 Here are a few alternative steps to think about:
- It might be easier to cut out the sleigh bells before you add the black chalk contrast. Place a piece of scrap paper under the shape and smooth the chalk right off the edge of the bell.
- When adding the paper ribbon, make sure to cut the strips thin. The strips are more manageable (bend better) if they aren't too big. Or better yet, just use pre-cut lengths of thin craft ribbon or yarn. A lot less gluing and pressing this way.
- To keep early finishers engaged while some students worked on the cutting and shading of the bells, I set up an embellishment station. Many of the students who finished before the others, entertained themselves with adding glitter and sequins to their artwork. I thought it added a great touch.
Here's a sampling of what my seven and eight year olds created. Pretty cute, right? I think they would all make lovely holiday cards.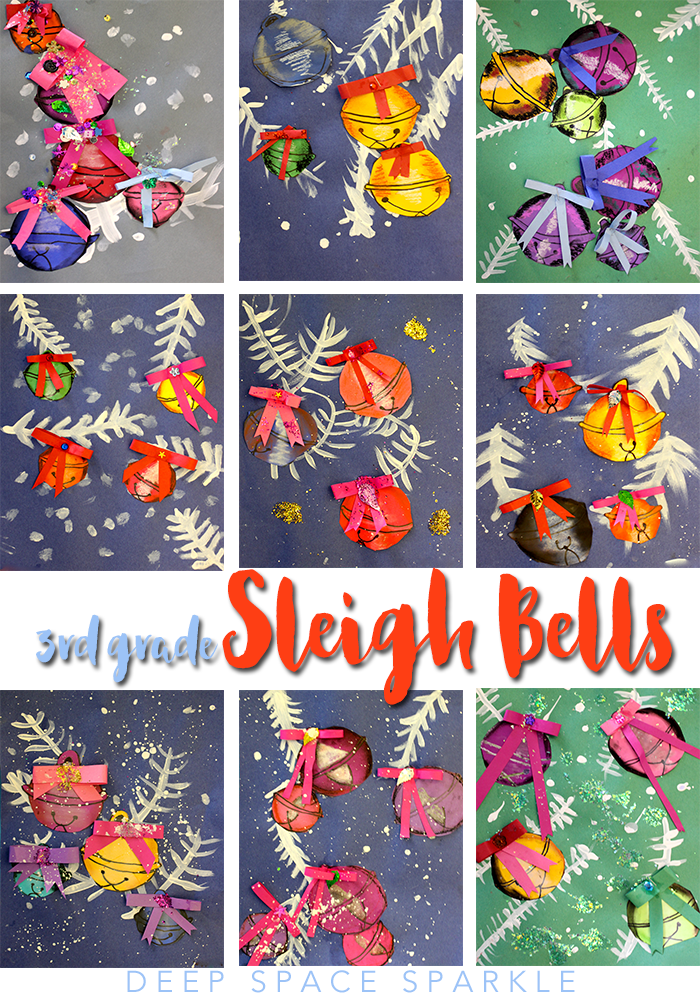 ---
Want more lesson ideas for the holidays? Download this free lesson guide by clicking the yellow button below and I'll send you my 5 Non-Religious Projects for the Holidays!