These beautiful, glowing pumpkins have a lot going on! This multi-step pumpkin art project includes drawing from observations and sequence, primary color mixing, adding highlights, cutting and pasting skills and composition.
Here's What You'll Need:
– 12″ x 18″ white sulphite paper
– 12″ x 18″ black sulphite paper
– Black oil pastel
– Liquid tempera paint (red, yellow & blue)
– Medium round paintbrush
– Water containers
– Chalk pastels
– Scissors
– Glue
Download our free pumpkin drawing guides below. Add you're name and email, and it'll be sent straight to you!
THE PROJECT
Using a black oil pastel and a white sheet of 12″ x 18″ sulphite paper, children looked at a pumpkin and observed the shape, segments and lines of a pumpkin.
They started by drawing an oval in the middle of the paper and then added big belly lines on both sides of the oval. Then they add a stem at the top, and shaped it so the pumpkin doesn't look like a rectangle.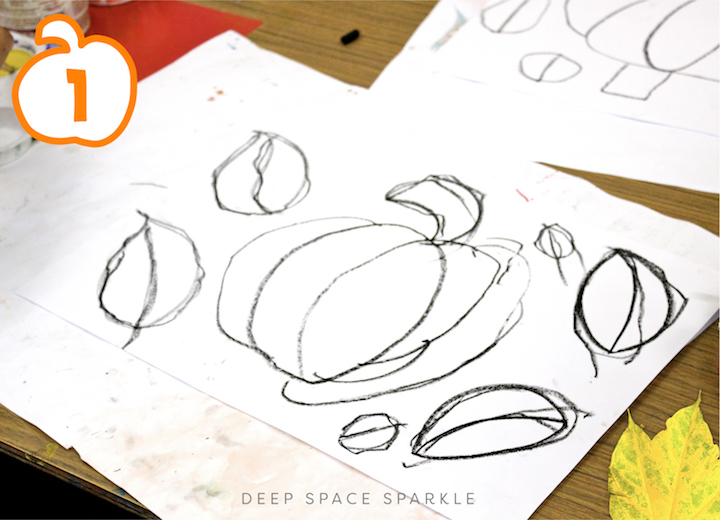 Finally, a few leaves were scattered along the perimeter of the paper with the understanding that they would be cut out later along with the pumpkin.
Using a tray of the liquid tempera paint colors (red, yellow & blue) the children painted the center of their pumpkin yellow.
Without cleaning their brush, they scooped up some red paint and applied the paint over the yellow. They mixed the paint together to create orange.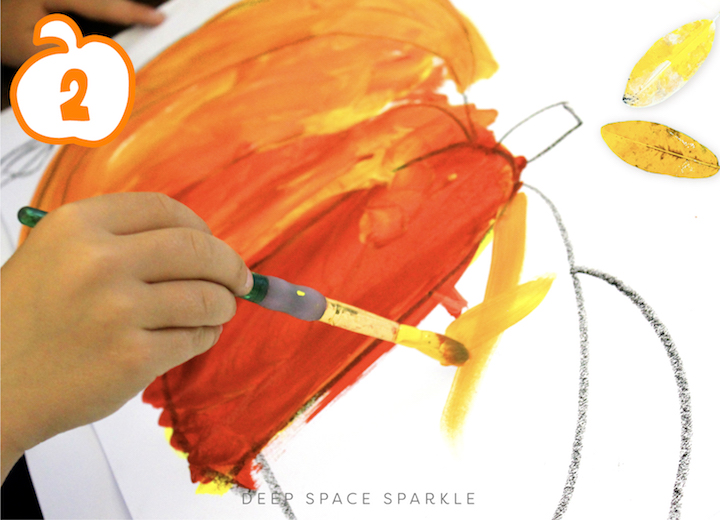 They repeated the steps until the pumpkin was filled with various shades of orange, red and yellow. They cleaned their brush and painted a leaf yellow, then applied the same technique by dipping their paintbrush in the blue paint and mixing on top of the yellow leaf to create a green leaf.
They did not paint their stems, but if you have time, the children can mix all the paints together to create brown. I didn't have time for this step.
The next class, the children added highlights to their pumpkins.
Use brown and green chalk to finish coloring any left-over leaves and stems.
Using a white chalk pastel, they added small crescent shaped lines along one side of the pumpkin. Oh, how they loved this step!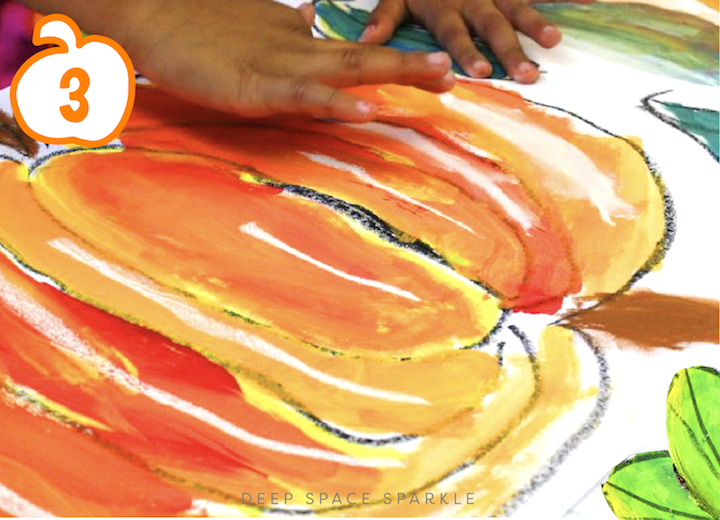 Using the same white chalk, place a black piece of paper on the tables. Show how to create stars and a glowing moon.
We used our fingers to make the moon smudgy and soft. Glue the pumpkin to the black background paper.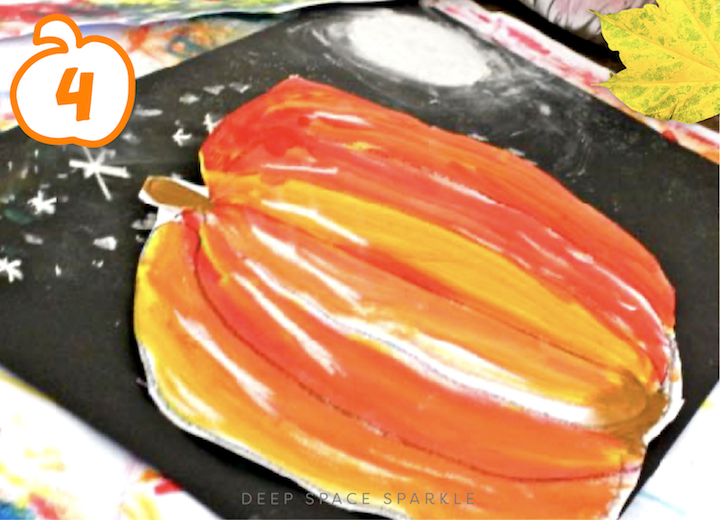 Cut out the leaves and glue beside and over the pumpkin. Use a green chalk pastel to create vines.
There are always a few little ones who don't quite follow these steps exactly…but who cares, right? There are many standards in this lesson that they can be rewarded for!
Here are some examples of how my Kindergarten students did, creating their Starlight Pumpkins: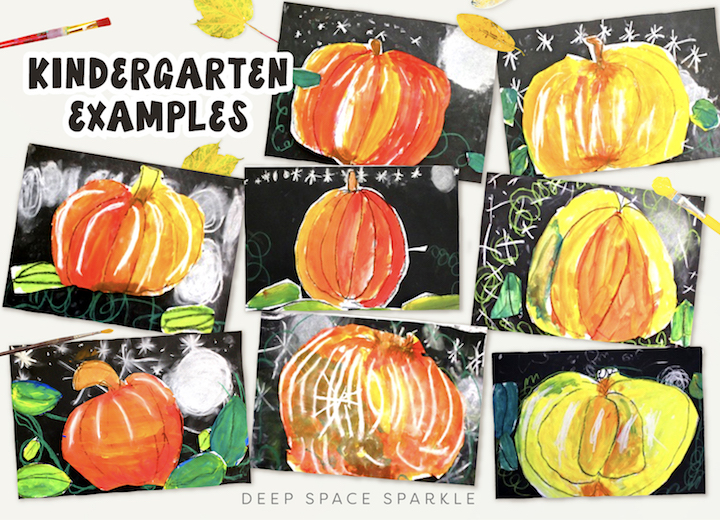 Download our free pumpkin drawing guides below. Add you're name and email, and it'll be sent straight to you!
Pin Me!