VAN GOGH SUNFLOWERS
Van Gogh's famous Sunflower series is one of the most recognizable art subjects in a classroom. My students enjoyed the opportunity to create many types of flowers. Using oil pastel to color is a mess-free choice, although not nearly as "fast" as tempera paints. Try one of these out with your classes.
---
OPTION ONE: Drawing with Oil Pastels
My students loved the flexibility of drawing sunflowers. This lesson took 1 @ 50-minutes.
What You'll Need:
– 12″ x 18″ light blue colored paper(trimmed to 10″ x 15″ size)
– Oil pastels
Here's What We Did:
The children start off with an 12″ x 18″ light blue colored paper. If you don't have lengthy art classes, I suggest you trim the paper to a 10″ x 15″ size. A bit more manageable for artists who need longer to color their work.
Draw the vase first (sides and bottoms only) then draw the centers of the flowers. Some centers are round, some are oval, some are little balls. The petals, leaves and stems come next. Last is the table line.
Using a variety of oil pastels (I don't limit them to the colors Van Gogh uses) the kids color away. This takes time and I keep encouraging the kids to color all the blue paper away. This takes some prodding for some kids who want to finish fast, but this lesson really looks wonderful when the kids put in the effort.
The last stage (some of my students take a while before reaching this stage) is to add a black line around every petal, leaf, flower center, and vase. Worth it, I think!
Third Grade Oil Pastel Van Gogh Sunflowers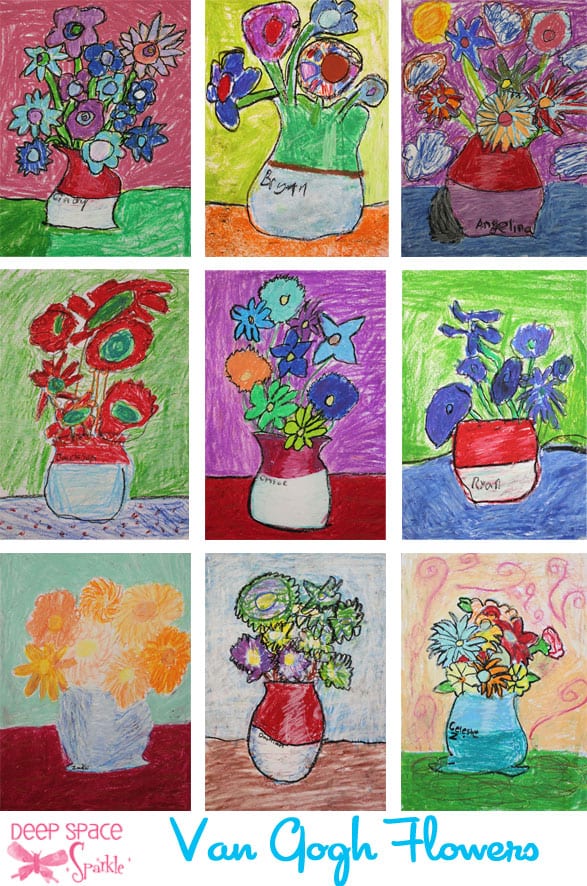 ---
OPTION TWO: Using Tempera Paint
Another perennial favorite…what student can go through elementary school without completing his own version of Van Gogh's Sunflowers? While I usually do a collection of Sunflowers in oil pastel, I decided to try out a tempera paint version instead. This lesson takes 2 @ 50-minutes.
What you'll need:
12″ x 18″ sulphite paper
Liquid tempera paint
Paint brushes
Here's what we did:
Using an oil pastel, students drew a vase, table line and the flower centers. I demonstrated this step first and gave all sorts of examples to encourage students to create a vase and flowers unique to them.
Then, students painted the "tables" in one color and the background in another color. For simplicity, I set out two colors. You may not choose to limit the kids this way, though.
This usually marked the end of our first lesson (approx. 45 minutes).
For the next step, I set out an assortment of paints and demonstrated how to blend paint using the double-load technique. (Dip paint brush first in one color and then another. Mix directly onto paper).
After painting the leaves and petals, children painted their vase and added shadows and highlights. Some children added shadows to the table as well. For a final flourish, the children opted to outline their lines with black or white paint or not at all. I left that decision up to them.
This lesson is available in the Van Gogh Bundle inside the Members Club. Scroll down to join the waiting list!
Second and Third Grade Tempera Paint Van Gogh Sunflowers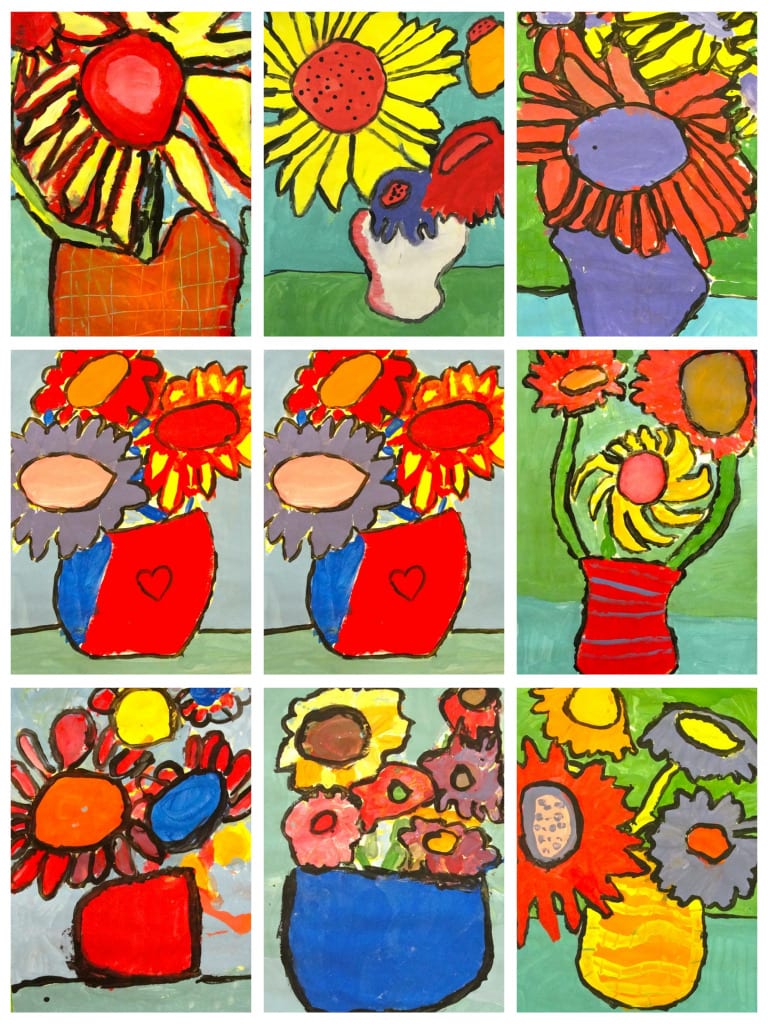 Here's another Van Gogh project for your classroom:
---
Pin me!