Van Gogh's paintings of sunflowers are easily some of his most famous, making them widely recognized in the classroom. In fact, many students end up creating their own version at some point before they move on to secondary art. My students loved the opportunity to draw a variety of different types of flowers, especially after learning about Vincent Van Gogh and his Sunflower series. With these two project options, students can create their own still life featuring a vase of flowers. Using oil pastel to color is a lower-prep choice, although not nearly as "fast" as tempera paints.
Looking for a cheery project to commemorate Van Gogh's birthday on March 30th? Try one of these options with your students:
OPTION ONE: Drawing with Oil Pastels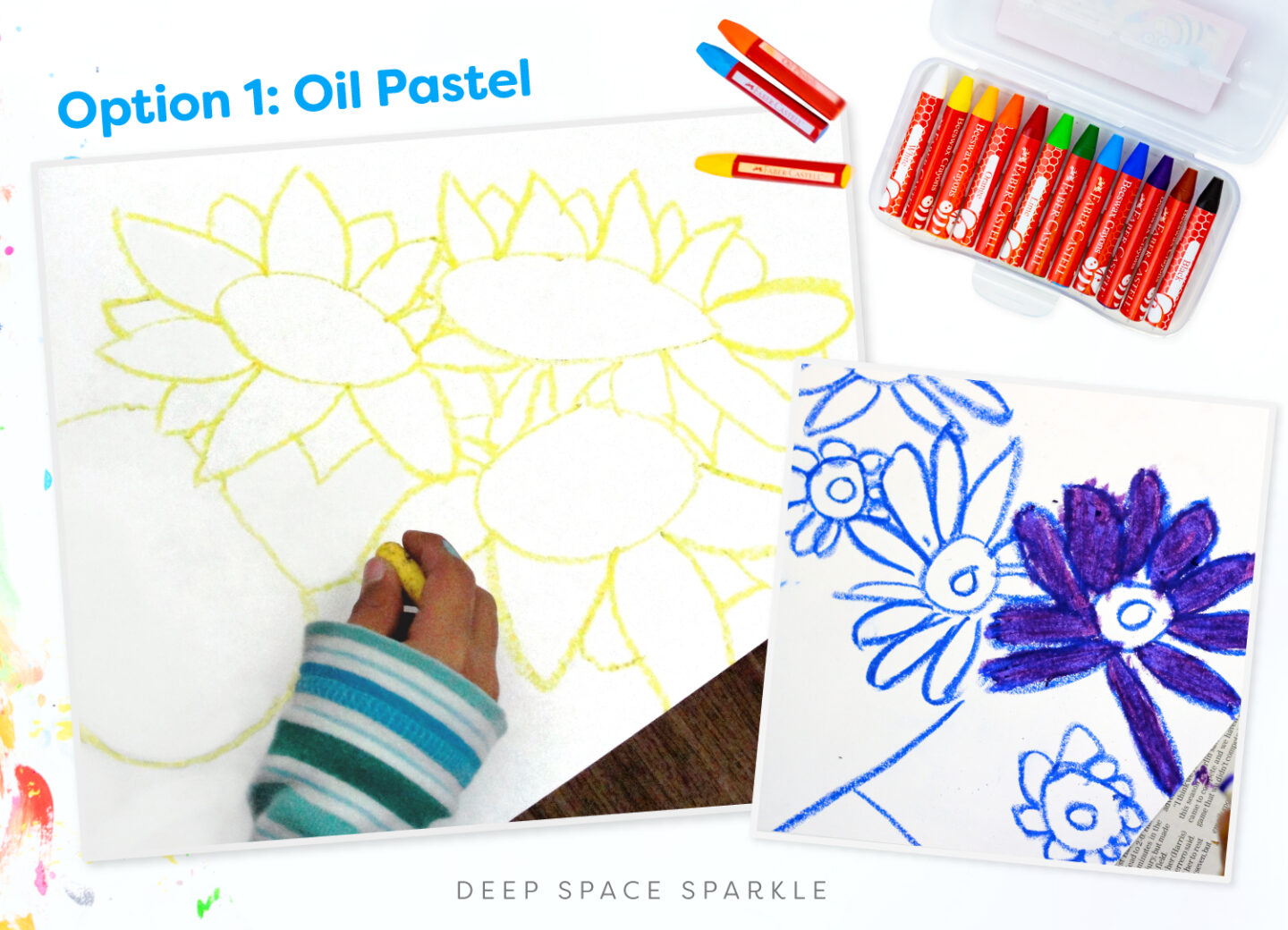 This lesson took one fifty-minute session.
What you'll need:
12" x 18" or 10" x 15" sulphite paper
Oil pastels
Here are the steps:
Start with the 12" x 18" sulphite paper. If you have shorter classes, I suggest trimming the paper to 10" x 15" so that it is a bit more manageable for students to color in a short amount of time.
Draw the vase first (sides and bottoms only) with oil pastel.
Next, draw the centers of the flowers. Some centers are round, some are oval, some are little balls.
Draw the petals, leaves and stems followed by the table line.
Using a variety of oil pastels (I don't limit them to the colors that Van Gogh uses), color the composition. This takes a good amount of time and may take a little encouragement, especially for the kids that want to finish fast, but this lesson really looks wonderful when they put in the effort.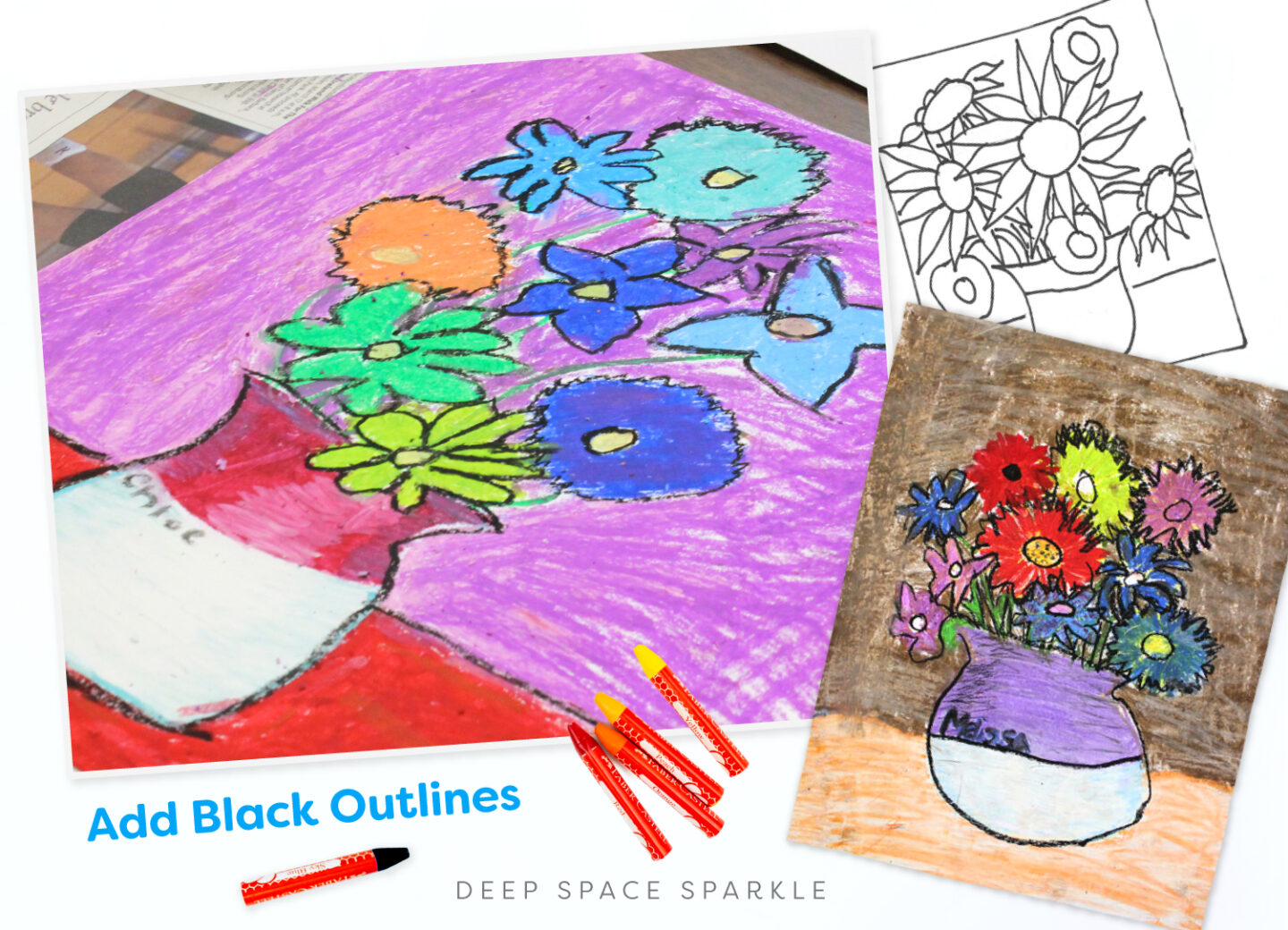 Once everything is colored, go back and add a black line around every petal, leaf, flower center and vase. It's really worth it, I think!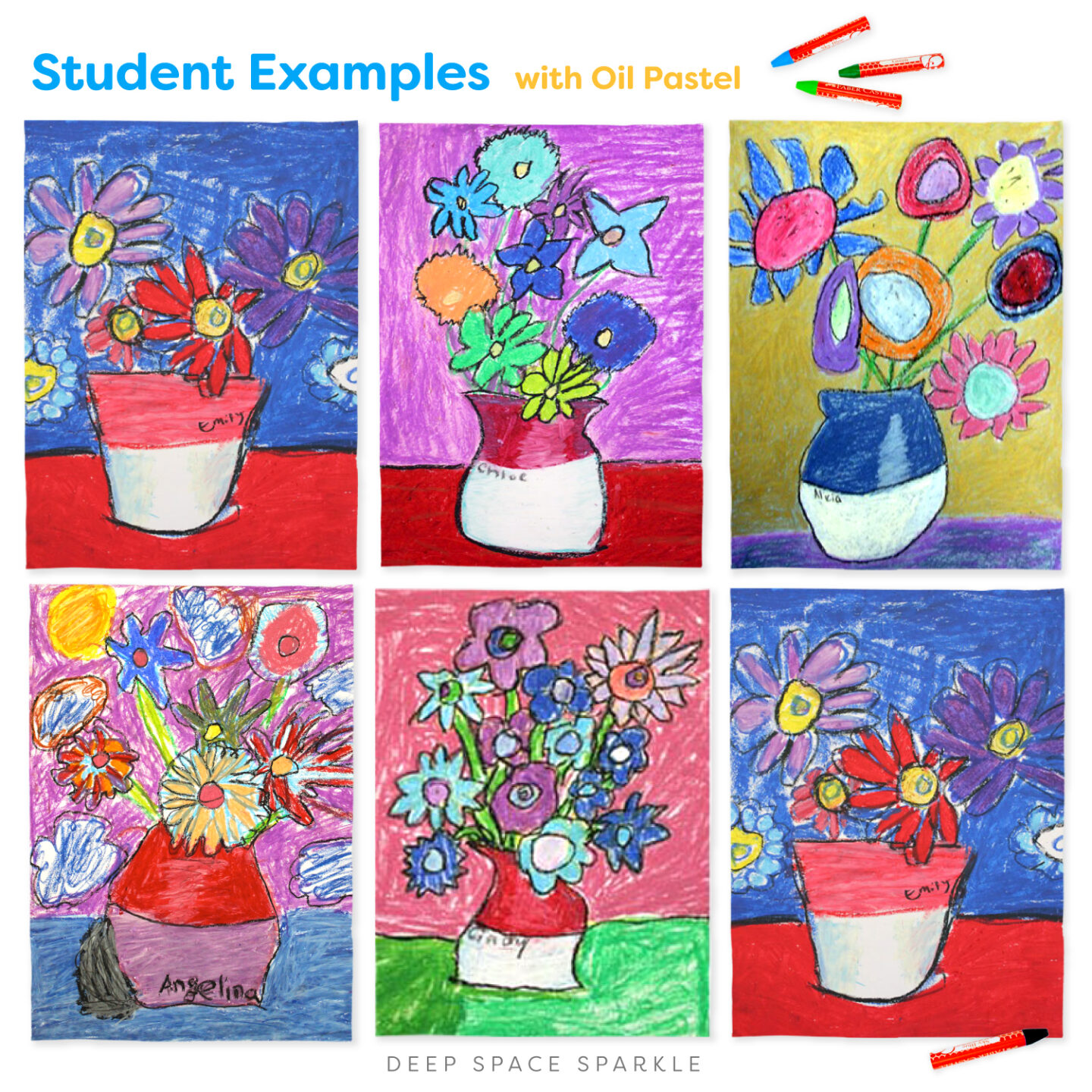 OPTION TWO: Using Tempera Paint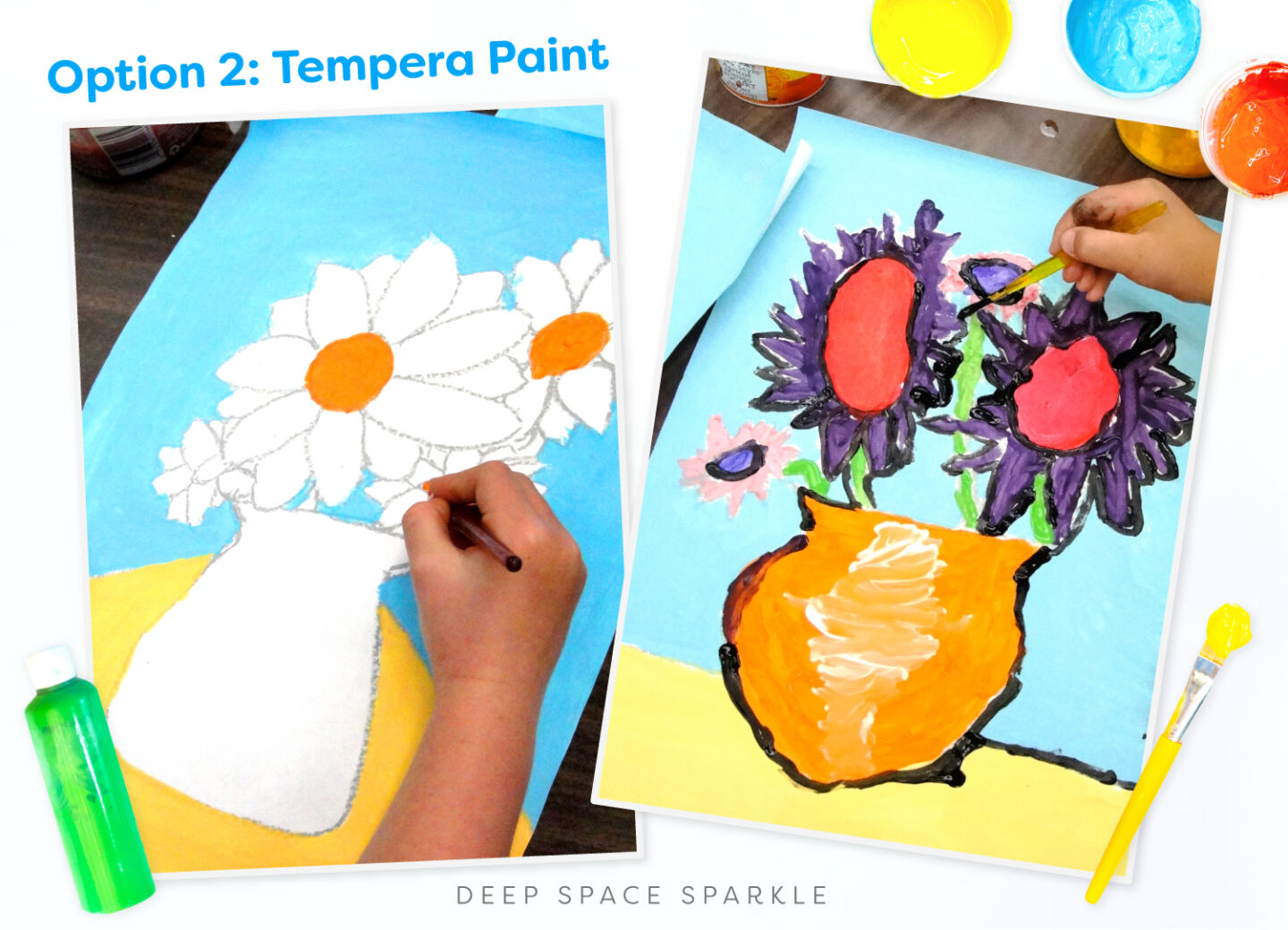 Many students don't leave school without creating their own version of Van Gogh's Sunflowers. While I usually do a collection of sunflowers in oil pastel, I decided to try out a tempera paint version instead. This lesson takes two fifty-minute sessions.
What you'll need:
12" x 18" sulphite paper
Oil pastel
Liquid tempera paint
Paintbrushes
Here are the steps:
Using an oil pastel, draw a vase, table line and the flower centers. I demonstrated this step first and then gave all sorts of examples to encourage students to create a vase and flowers unique to them.
Paint the table one color with liquid tempera paint and then paint the rest of the background with another color. I set out two colors but can put out as many as you'd like.
This usually marked the end of our first session (approx. 45 minutes).
For the next step, I set out an assortment of paints and demonstrated how to blend paint using the double-loading technique (dipping the paintbrush in one color and then another) and mixing colors directly on the paper.
After painting the leaves and petals, children painted their vase and added shadows and highlights. Some children added shadows to the table as well.
For an optional final touch, trace over the outlines with black or white paint. I left the decision of whether or not to do this up to the students.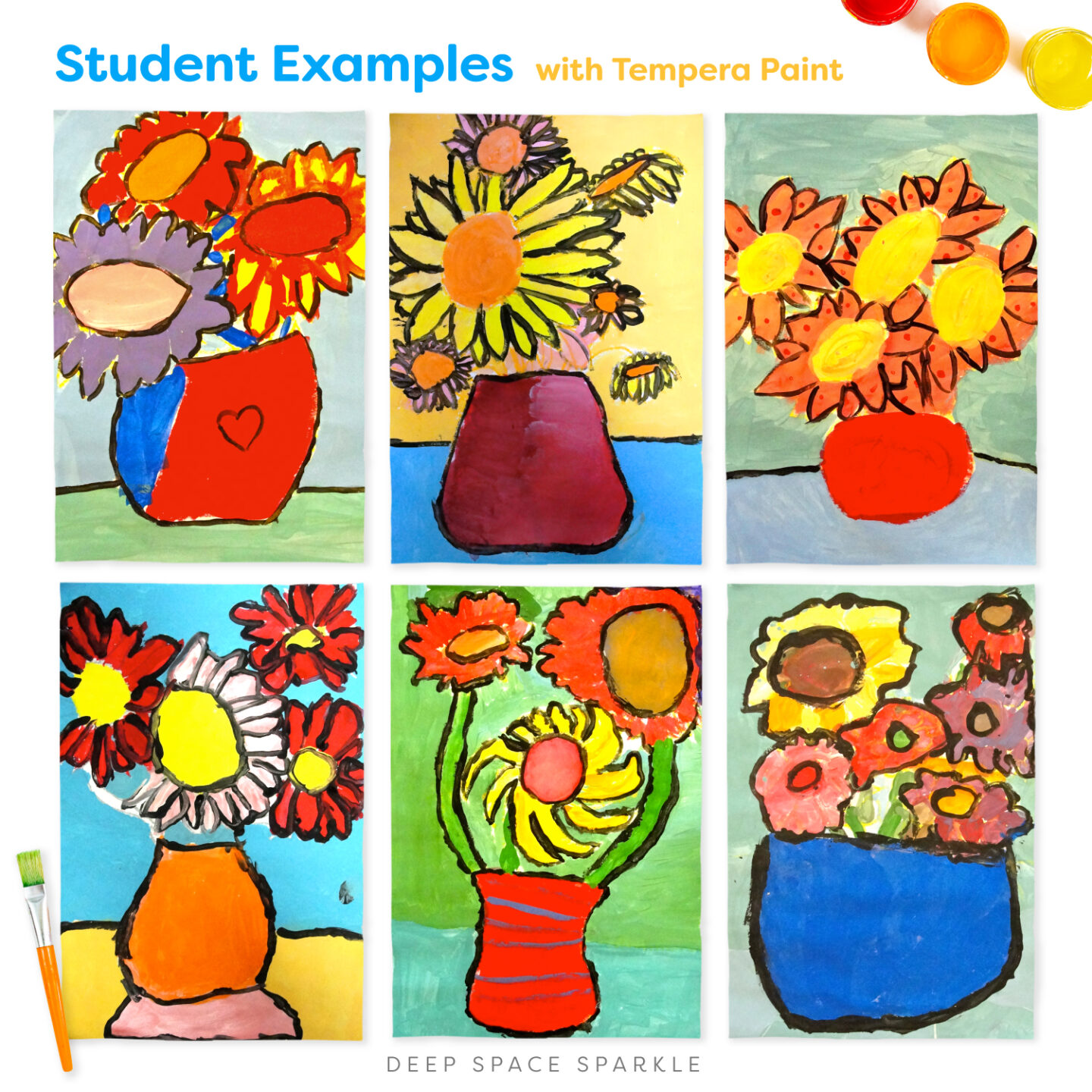 The complete Tempera Flowers in a Vase lesson along with standards and assessments is available in the Van Gogh Bundle inside the Sparklers' Club. Join the waitlist here.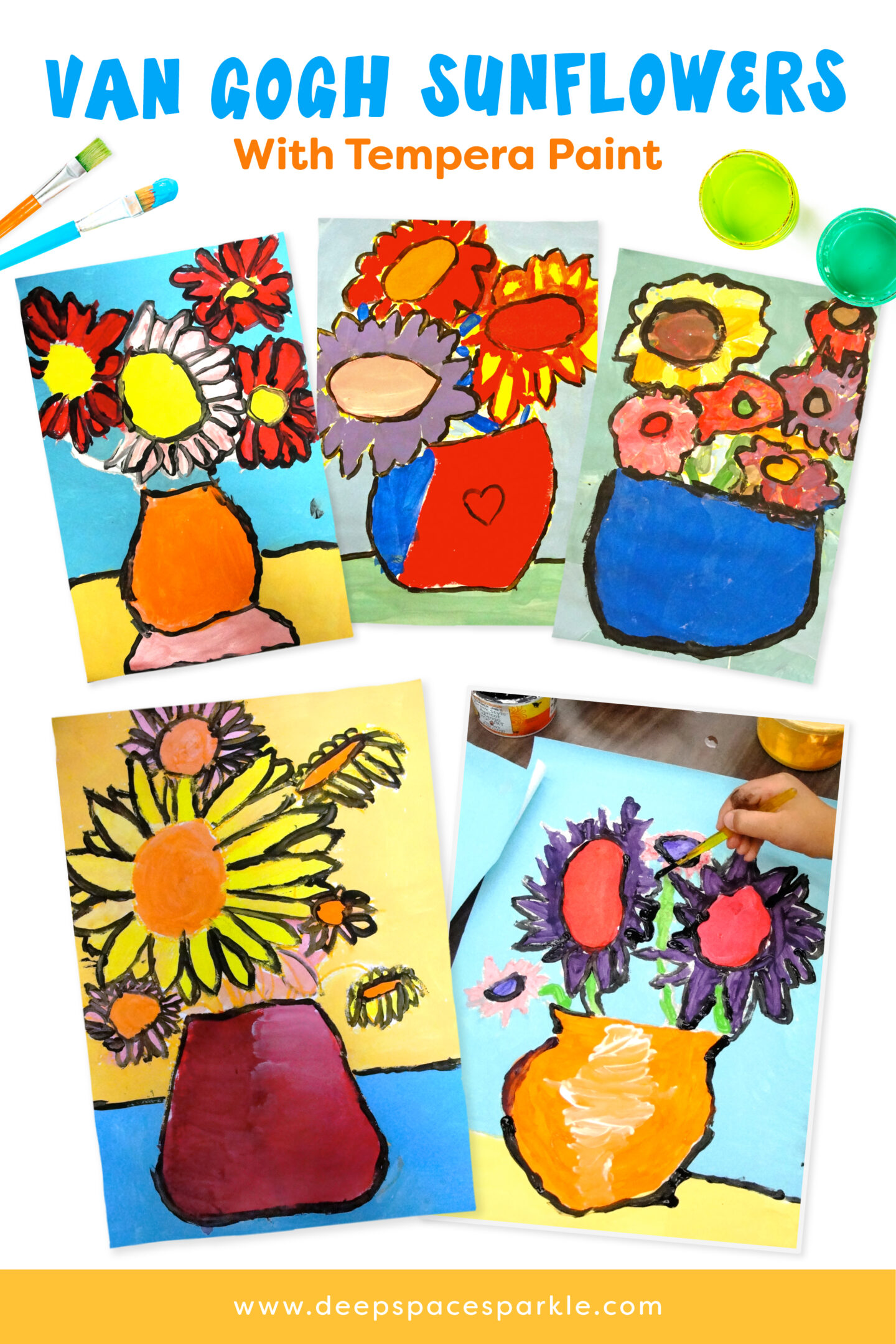 Here's another Van Gogh project for your classroom: