Are you still teaching from home? Has your school entered a hybrid system? Has your situation changed a time or two? Whatever your circumstances may be, you've likely battled the challenges that the virtual world brings – technology failing, unexpected interruptions – the list goes on and on!
Listen, you didn't ask to record your lessons or wrangle kids in a live Zoom call. It can literally be a nightmare to get all the pieces working. BUT, I say let's ROLL with it and take advantage of this opportunity to learn and adapt. You can STILL create a fantastic experience for your students. Remember you're there to guide them, and they trust you. Even if you're teaching online, you've got this.
When I first became an art teacher, I didn't have the tech savvy skills that I have now. It has taken me years to learn how to set up my overhead camera so that I can get a clear shot. Heck, I'm still working on it!
Through trial and error, I've learned how to hack my way through camera angles, remember to clean my lens and edit out the boring bits. But those are things we all can learn. The BIGGEST game-changers are not the tech-y things, it's being prepared – for anything.
DOWNLOAD my free resource for some suggested materials to make virtual learning successful for you and your students this year!
Here are a few of my best tips for virtual teaching:

1. Create a Teaching Space That Sparkles
Creative spaces are important. For you and your students.
If you're teaching from your dining room table, it has the potential to feel unorganized and disjointed. Consider creating a space that puts you in teacher mode. That being said, you can transform any area into a workspace with a few simple, sparkly tricks.
– Envision what your classroom would have looked like this year. Picture the colorful artwork around the room, your collection of supplies and then, simplify it and mirror it at home.
– Find a white board (Amazon has loads of options), art pieces to hand on the wall behind you and anything else that would usually makes your classroom sparkle. Even if your space is small, you can create something professional and FUN for your students to see.
Check out how one of our Sparklers, Jill Hatcher, created a stellar teach-from-home space below!
Here's a post about the media equipment I use in my remote teaching.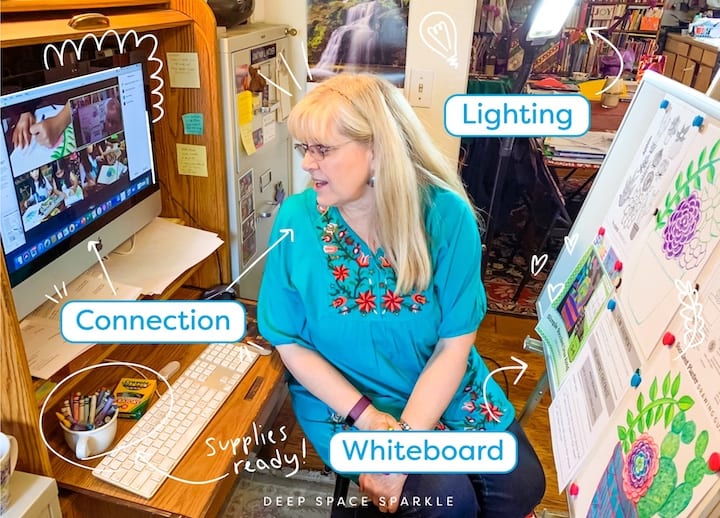 – Having the right materials surrounding you isn't everything. You also need a space that you can successfully film yourself in. If possible, film yourself in a naturally well lit room. Placing your desk or work table in FRONT of a window is best. Turn your overhead light off – it can create shadows. If you're in a situation where natural light isn't optimal, try getting a ring light. This will enhance your videos quite a bit, and your students will notice!
I recommend Diva Ring Light Super Nova 18″ – This light is super easy to use and provides professional – quality lighting to my videos.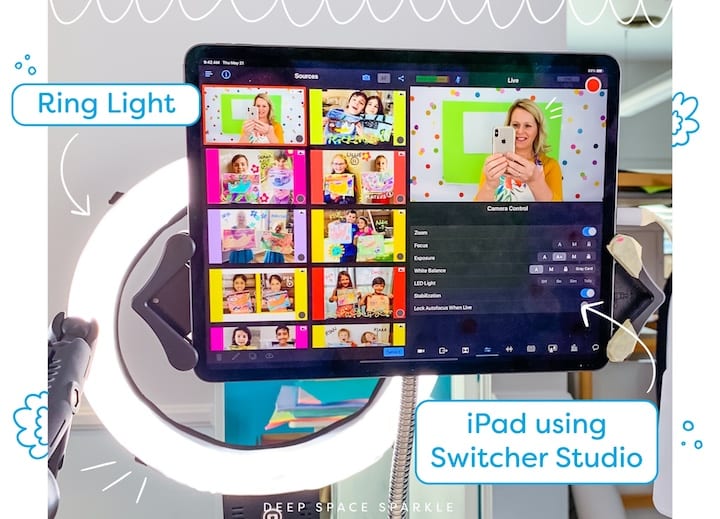 2. Modify Lessons With Basic Materials
Whether you're teaching virtually or not, a lack of materials is always a concern for teachers. Sometimes creating a lesson that requires only a few, basic materials seems impossible. What if I told you that it's entirely possible to produce a fantastic lesson with just a few supplies? What if I told you that you could do it with ONE supply? Let me show you.
This Fall Leaves project was created using crayons only. Despite not using several supplies, this darling project still teaches techniques. It really can be that simple.
Team Sparkle originally created this project with watercolors and a few other materials (you can view that project HERE), but I have to say… it looks spectacular with crayons only. I encourage you to use less if you're teaching virtually, or if your students don't have access to a robust collection of art supplies. Best of all, any age group can enjoy this one!
Tip: If you live in an area where fall leaves are plentiful, take a walk outside, before class to collect your art inspiration (or have your students pick out their leaves).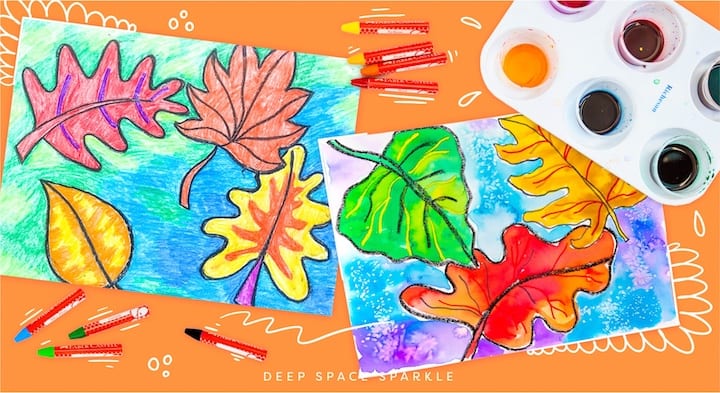 3. Maintain a Sense of Connection
How can I feel connected to my students when we aren't together?
You've probably thought this to yourself. Learning how to connect with students online takes practice. Learning how to connect with anyone takes practice.
Not to worry, connecting with students online can feel just like connecting with them in a classroom. Remember not to focus on the fact that you're all on camera. Remember that you can still communicate with them as if you were face to face. Remember that mistakes are okay.
Here are a few strategies you can implement to help connect with your students through the screen:
– Create a student art show from virtual submissions using Google Slides. Simply create a template, add your own images and student names and viola! You've just created a virtual art show that can be easily shared with your students! Click HERE to create a Google account for free.
– Create a Bitmoji of yourself to insert into lessons and assignments. This is your own personal emoji – you can create an expressive cartoon avatar and choose from a growing library of moods and stickers. Fun, right? Your students will love the personal touch.
– Talk about a famous piece of art together, listening to each others' observations and opinions. Even if you're not face-to-face, these types of open conversations will connect you to your students. It will help them maintain a connection with one another, too!
– Look kids in the eyes. Yup! Don't forget to look into the LENS! When you look at the camera screen you are basically just looking at yourself. Consider what the kids see. And when they see you looking directly at them, they will pay attention.
4. Create a Consistent Routine
Your students will feel more comfortable learning art online when they know what to expect. Start out your class with a familiar welcome. This can be a special welcome video that you create each day or it can be a brief check-in with each students. Paula Liz has great examples of this (plus other virtual teaching tips) on her blog!
Greeting your students will help them feel acknowledged and cared for. You can follow your greeting with an opening activity, like reading a book or asking a question to get students thinking about a specific topic.
Once you've greeted your students and presented your opening activity, it's time to do some art! This is the part students will be the most excited about. Make sure they have easy access to the materials they will need for the project.
Finally, end your class by allowing students to share their work with you and the rest of the class. I absolutely love seeing a child's face light up when they get to share their artwork. Spotlight each child's video as they hold up their work in front of the camera. This is a great way to celebrate the work of each child and the perfect ending to a virtual art class.
5. Give Yourself Grace
No one expected to be where we are right now. Breathe and remember that you are doing your best, despite technical difficulties, challenging modes of communication and students' lack of supplies. What students will remember about your art class is your enthusiasm for art and for the art that they create. Celebrate your students and don't sweat the small stuff!
DOWNLOAD my free resource for some suggested materials to make virtual learning successful for you and your students this year!