Watercolor Fish Art Project
This watercolor fish art project takes a while (about four-45 minute classes) but it is worth it. It's also worth having watercolor paper, no matter how inexpensive, as this project is a wonderful opportunity to experiment with watercolor paints. Regular paper really doesn't do the drawings justice. Believe me, I've tried!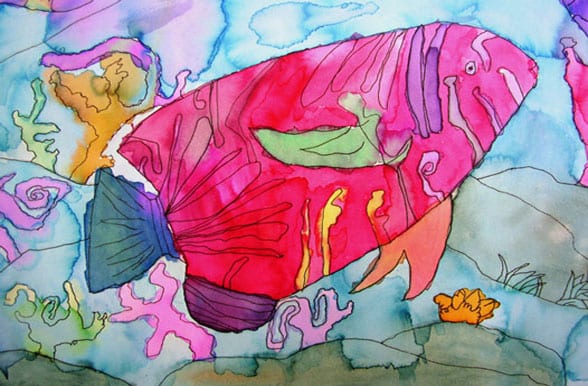 I have to admit, I'm a huge fan of liquid watercolors but a combination of liquid and regular pan w/c paints is ideal here. You can paint the background first with liquid watercolors, avoiding the rocks and sea life, then use pan watercolors to add details and color interest.
The children did such an amazing job with their drawings, it's worth taking the time to paint well. The hard part is waiting for a section to dry before advancing to the next, thus avoiding the dreaded "bleed". Mind you, blending or bleeding can be quite effective, but not everywhere. I had a few kids who tired of careful (AKA slow) painting, but in the end, they loved their wild expressionistic fish and so did I!
I have detailed instructions as well as drawing aids in my "Watercolor Projects" PDF Lesson Plan.