Art Supply List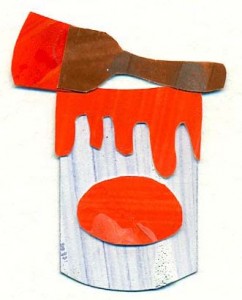 BASIC ART SUPPLY LIST
Many of you have been asking what type of art supplies I use in my art projects. Great question! To do most of my art lessons, you'll need the following basics…
Paper
For general art projects (drawing, marker, tempera, pastel) Drawing Paper. The 12″ x 18″ paper comes in packs of 50. Order bulk in White and Black. Have a variety of other colors on-hand.
Order a good amount of 90-lb Watercolor Paper. I use Canson with nice results.
Tissue Paper in an assortment of colors. Here is a good brand and yes, expect bleeding.
Brushes A variety of brushes are important. Add to your collection when you can. Basically, you'll need  small, medium and large round watercolor brushes (for tempera projects as well), large wash (or mop) brush and stiff large brushes for large painted paper projects. For school kids, I've had great success with Big Kid Choice plastic handle all-purpose brushes.
Tempera Paint Crayola Paint, Sargent or Prang Tempera Paint (all the same). Make sure to have lots of White, Black, Red, Yellow and Blue
Watercolor Paint Liquid watercolor(10 bottle sets) Note: Once you've tried liquid watercolors, it's hard to go back to regular pan style. For more information on Liquid watercolors, read this post.
Pan Watercolors: I like the 16-color set from Prang. You can't refill the colors but a really good value for the quality.
Pastels A Classroom pack of Oil Pastels and Chalk Pastels. Stock up on extra black and white oil pastels.
Markers Classroom pack of Crayola Broad-tip Markers. I prefer class packs to individual packs as you can select certain colors and place on plastic trays. Kids love to organize the colors into their spaces after class.
Waterproof black Markers (Thick and thin. "Sharpie" or "Bic" brands are great).
Also…
Mod-Podge (gallon size)
Scissors
Glue sticks
White school glue
Pencils
Erasers
Pencil sharpeners
6″ x 9″ hard plastic trays
Recycled containers for water and paint (coffee cans, plastic pints, etc)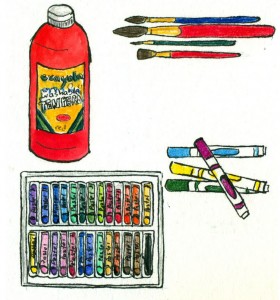 ADDITIONAL ART SUPPLY LIST
Sponges on handles and scrapers for painted paper projects
Metallic Pastels (gold and silver a must!)
Glitter Paint (I'm still testing brands right now, as some glitter paint falls short of my expectations)
Waterproof markers in colors other than black
Woodless Colored Pencils (otherwise regular Crayola brand colored pencils are fine. Prismacolor pencil leads tend to break easily.)
Foam sheets for print-making (recycle meat tray liners or any Styrofoam material)
Blunt tip brushes. These are great for painting straight lines for buildings, etc.
Art Supply Resources: