Watch my Facebook Live Tutorial Here as I demonstrate how to teach this simple seal & seascape lesson for kids.

This past summer I took advantage of having my niece, Tori, close by. We spent a rainy afternoon at the cottage creating art from my book, Draw, Paint, Sparkle. I brought my favorite Faber-Castell connector paints and watercolor paper to the cottage and purchased a pack of oil pastels and chubby brushes from Michael's Craft Store.
I set Tori up at the counter and placed the few supplies around her. I demonstrated how to draw the seal and a few ways she could make her seal her own. She fussed a bit at first thinking she wouldn't be able to draw like Aunt Patty.
I realized I broke Patty Rule # 1: Don't out perform your audience.
I stepped back and showed her some fun ways to make the seal big , small, fun or serious. She decided she wanted a serious seal.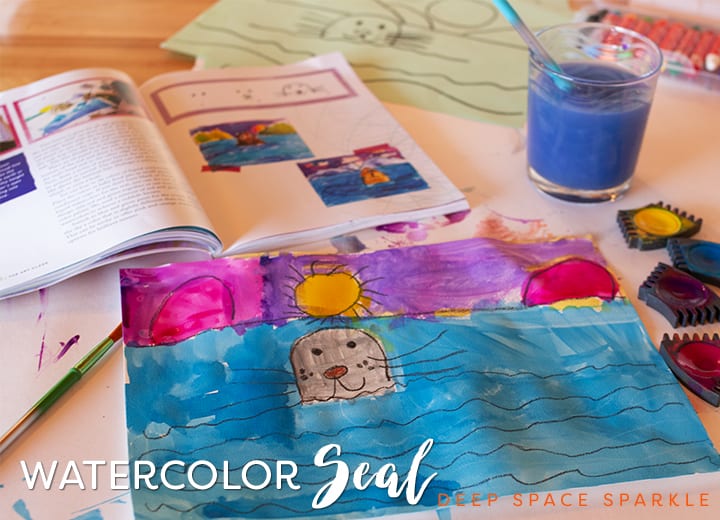 We started with the drawing…remember, I demonstrated the seal first then let her draw her own. This seemed to work best for Tori as she wasn't having the guided or step-by-step drawing. She wanted to do it her way. Love it!
Here's how she worked through the process…I must admit that I was a terribly proud Auntie. Her focus and enthusiasm was off the charts (which showed through when I stepped back and let her create on her own).
Watch Tori draw and paint the watercolor seal:
This lesson is featured as one of the easier lessons for the book. It's a great starter project for kids like Tori–who are just learning how to create a project from drawing stage to finished piece of art.
It's simple, yet rewarding.
I would recommend using liquid watercolor paints. They are truly magical for young children as they'll be rewarded with bright, vibrant sea colors.
Here's a PDF that contains the project from the book, including a drawing handout of the seal. Just click on the box below, enter your name and email and we'll email you the lesson.