The end of October means that you're moving full speed ahead, nose to the grindstone and the artwork is piling up. Your time is split between so many things and perhaps you're wondering if you'll ever be able to dig your way out.
We've all been there but with a little bit of organization, you'll be able to manage the madness.
I promise!
Let me share a few finished artwork storage solutions that can help you feel a bit more zen…
Like many of you, not only did I want to keep every project until the end of the year, I needed to. The reason: art shows.
We had a district-wide students art show where one student was picked from every class and I needed to have a piece from each one. We also had our school-wide art show and a few other pop-up opportunities to put work on display, so I needed to have a piece of art from every student.
I had 56 classes that I rotated between every two weeks. I could have sent some work home but in order to be able to make a selection from the wide variety of art that we made throughout the year, I wanted to keep the art in the art room.
Creating Table Folders and Art Portfolios
I have seen teachers use pizza boxes, large manila mailing envelopes, even giant ziplock bags, but whatever worked best for me was simply storing two-dimensional student work and even portfolios in table folders.
I kept three-dimensional work in copy paper boxes or cardboard bottle flats that I could snag when the water machine was being refilled.
Table folders can be made out of a number of different materials and as elaborate as you'd like. If they're pretty durable, you can even reuse them from year to year. Depending on what you use and the size of the artwork that you are storing, the artwork may overhand the edge. This is okay!
For several years, I used pieces of colored 12″ x 18″ construction paper. The colors I used corresponded with the "table colors" I had in my classroom. I simply folded the paper in half like a book and it basically became a sleeve that students would place their art in during cleanup.
I've also used large laminated pieces of construction paper as well as legal size file folders that I found one year on clearance at the store. At the end of class, students put their work, finished or unfinished, into the folder and I picked them up.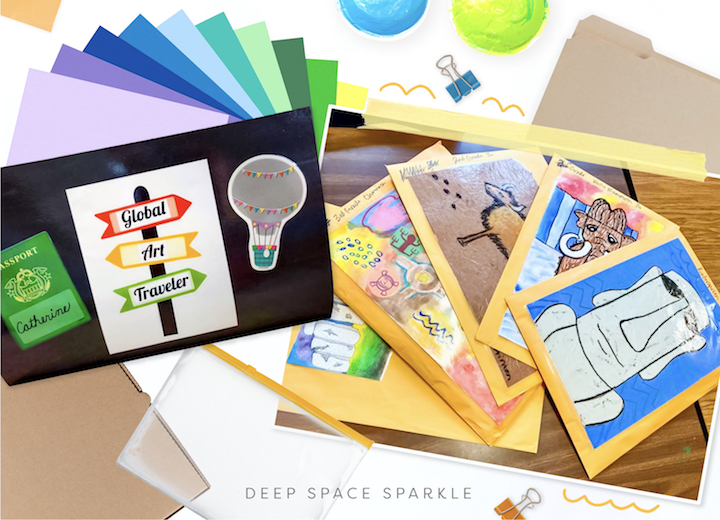 Artwork on Drying Racks
When students work with paint, place their artwork on a drying rack. After the paper is dry, gather the stack at the end of the day and place it directly into the class folder or clip it with a class clip.
If you have extra time, sort the art into table folders and pass it out when you see the students in class. This helps by putting a face with a name rather than relying on your memory or looking up their table assignment on a class roster.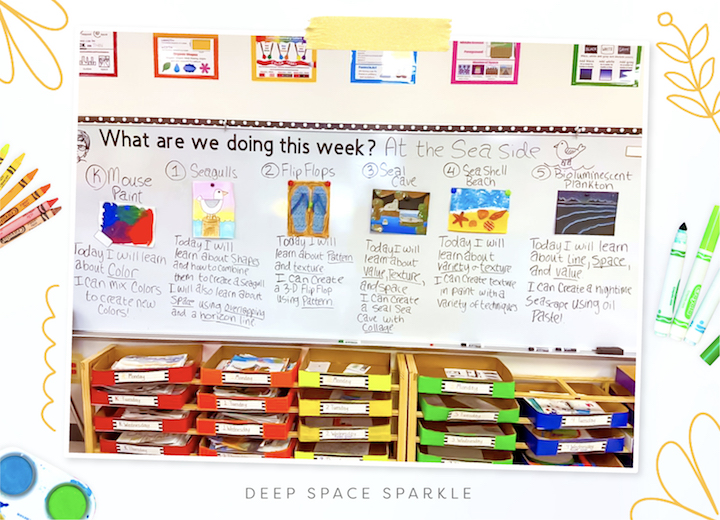 Class Folders/Clips
Class folders can help you keep track of individual table folders. They can even be made just like the table folders. I made mine the same way that I made the table folders excepts I color coded the class folders by grade level, which made it easy to see and grab when I was in a hurry.
Instead of class folders, clips with teacher's names work well, too. Clothespins or binder clips labeled with the classroom teacher names are options. If you go the binder clip route and are worried about it damaging the paper, just make sure to wrap a piece of scrap paper around the edge that you clip so that the clip has direct contact with the scrap paper instead of the artwork.
Storing Class Folders
Depending on your space and your furniture, finding an out-of-the-way space to store class folders can be a challenge, too. Cubbies will work if you turn folders upright. Flay files or extra space on large drying racks also work. Just make sure that you are laying down a "slider", or laminated piece of old 12″ x 18″ or 18″ x 24″ paper depending on the size of the rack, on the drying rack first so that your folders don't end up falling through. You can even designate a cabinet or spare drawer somewhere if you have one that'll work. I always made sure to pull my class folders for the day before students arrived in the morning and have them in the from of the class, just so they were ready to do as soon as I needed them.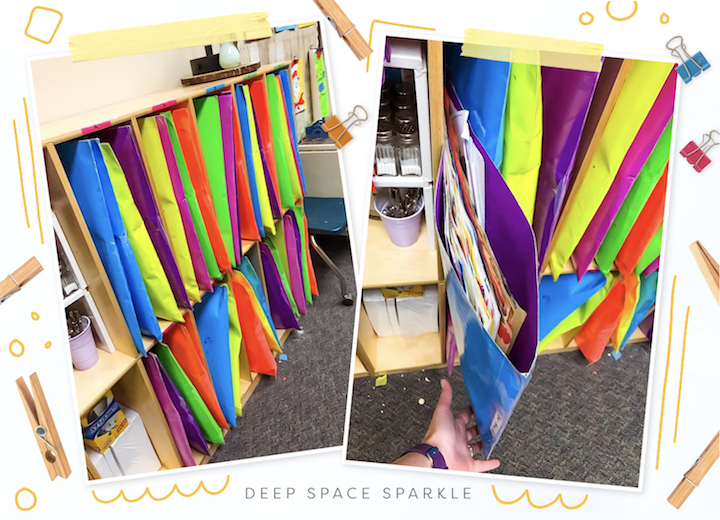 Storing artwork can definitely be overwhelming but with a little bit of organization, it can become manageable. What works best of all is whatever system that you find that works best for you!
Regardless of whether it's sticky notes or boxes, there is no one size fits all, especially when there are so many factors involved.
For some more added help, download my clean-up checklist poster to create an easier clean-up routine with your students:
What type of system do you use to store finished artwork in your art room? I would love to hear about it. In the meantime, check out these Sparklers ideas/suggestions:
Catie: "I laminate one of my demonstration examples and glue them onto large envelopes that I store my art projects in!! It works great!"
Meagan: "Each class period keeps theirs in a crate! They know to come in, get theirs and go sit and get started. Some days are smoother than others and we had to practice a bit haha my largest class is 25."
Allyson: "First time Sparkler here (year 9 teaching art)! I'm excited to present the Seaside Bundle this week! Wish me luck! I moved the suggested grade level down since we seem a little behind after the Covid year."
Lorraine: "I use these. Each one has the teacher's name on it. I don't do huge artworks because of class time."
Melissa: "At the beginning of the year, I have them make a portfolio. It's a legal size folder. You could also get BIG construction paper, fold it in half and then tape up the sides. The work doesn't have to completely fit inside. A lot of their work sticks out the top. This just keeps it all together. I then have the big boxes and put all their completed work in their portfolio, in this box. Everything fits in there."
Hope: "Back when I taught 36 classes a week, I would cut large sheets of butcher paper (color-coded for each grade level and folded in half), and I kept each on its own shelf because after a few months they were super heavy. I don't have much storage now and only 10 classes, so I use giant cardboard portfolios from Blick Art – one for each class. I write the class on the outside of each portfolio and keep them in a used print rack I got at a garage sale. For sketchbook storage, I have a plastic bucket for each class. The sketchbooks are clipped by table (clips and tables are color-coded so I can toss each stack on the appropriate table quickly and not have to call everyone's name)."
Are you interested in becoming a Sparkler? Click HERE to learn more about the Sparklers Club membership and be notified of our next enrollment period.