YOU BE YOU WATERCOLOR FISH PROJECT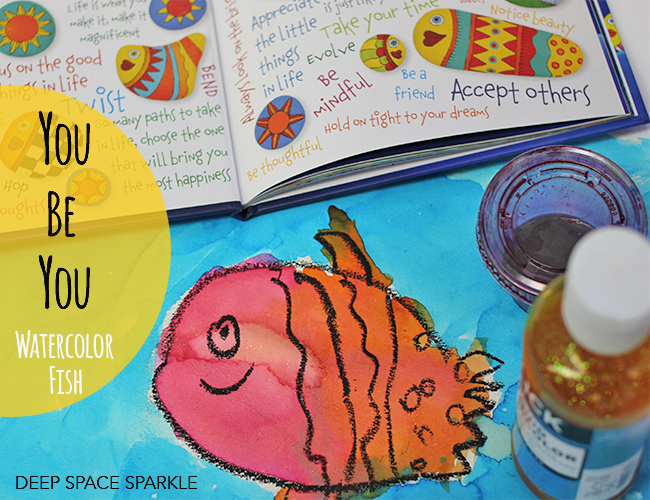 Looking for an adorable art lesson that bridges literature and art? You Be You by Linda Kranz (author of Only One You) sets out to explore beauty in difference through a little rock fish named Adri.
This 5 minute read will transition your little ones into an art activity that explores the use of oil pastels and liquid watercolors.
You will Need:
12″ x 9″ 90-lb watercolor paper

Liquid watercolors (blues and greens)
Brushes
Oil Pastel (Including black)
Pan watercolors (optional)
Table salt
About 45 minutes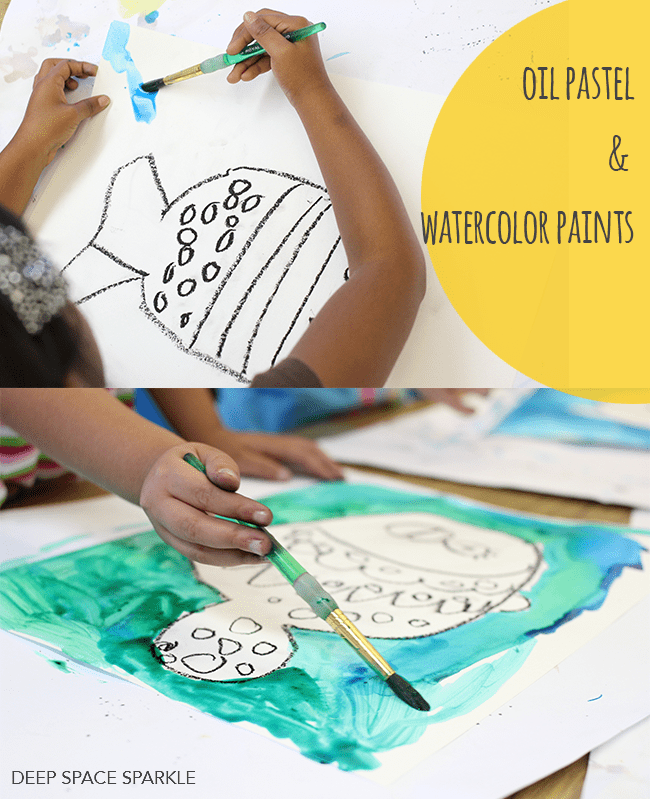 Using either an array of oil pastels or just black pastels like I did, children will draw a shape using their knowledge of lines to create a fish. Encourage the children to connect the top and bottom of the fish with connecting lines so that the fish will have "stripes". Other shapes can be added too.
Here's a handy little coloring page or drawing guide to use with this free Deep Sparkle Lesson. If you do this lesson with older kids, they may want to use the handout as inspiration or as a drawing guide. Either way, the handout can be download for free! You can download this Pattern Fish Drawing Handout by clicking the download button below.
---
Need more instruction? Try this script….
Place oil pastel near one side of the paper, but don't go too close to the edge. Draw a dot (a dot is a circle that is filled in). Draw a circle around the dot. You just made an eye! Starting just in from of the eye, draw a curved line up and around the eye (like a rainbow) and all the way to the other side of the paper, but don't go to the edge. Now, go back to the place in front of the eye and this time make a curved line (like a smile) to the other side of the paper. Connect the lines with a tail. Here are some tail shapes you may like to draw (draw a few tail shapes). Now add a mouth and some fins. Does your fish have big fins or small fins? Does your fish have stripes or poke dots? Does your fish have hair or long eyelashes? A crown? Go ahead and finish drawing the fish while I set out the paints.
Watercolor Paints
I love using liquid watercolor paints with beginning painters. You can read about liquid watercolors here. Set out two colors of liquid watercolor paints. I use baby food jars to store my watercolors in. Ask the children to paint the water/ocean first. They can blend the two colors together or choose one. It's up to them.
While the background is wet, sprinkle a pinch of table salt over the wet background.
Painting the Watercolor Fish

While the background dries, set out a tray of regular pan watercolors and allow the children to paint their fish with colors from the pan. I use removable pan watercolors and I literally remove the black, brown and white colors from the trays. This way, the colors have a better chance of staying bright.
If you don't have pan watercolors and prefer to stick with liquid watercolors, set 3 or 4 liquid watercolors in baby food jars and place in plastic muffin type palettes to prevent spills.
Kindergarten Watercolor Fish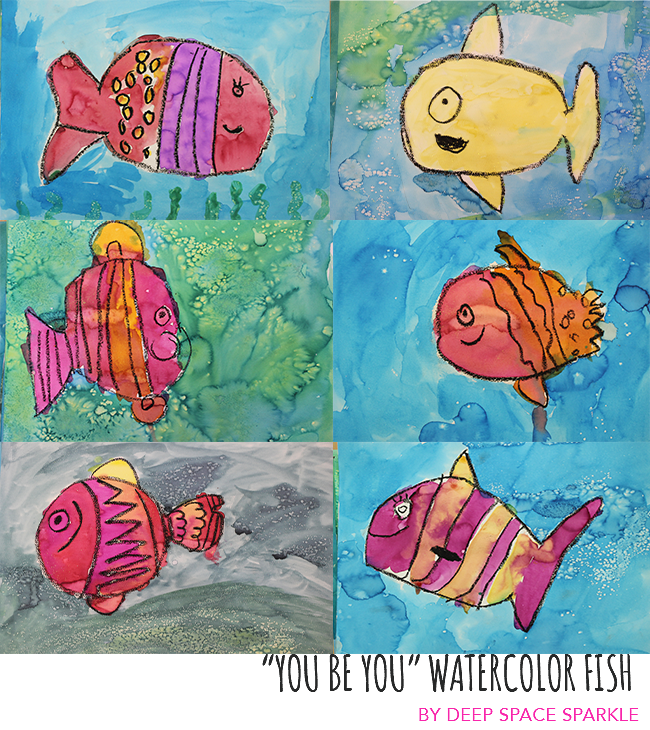 ---