I get particularly inspired this time of year, especially with my home. Magazines are my biggest source of inspiration and last week I picked up a copy of one of my favorite magazines, Country Living. As I thumbed through their November issue, I came across the article Stitching Together a Tradition. A warm feeling filled me. I was not alone. 
Many years ago, at a Creative Memories convention in Minnesota, I was inspired.
A very tall and beautiful lady gave the keynote address about maintaining and inspiring tradition. The women in the audience had memories to share and a mission to keep them intact. We were an eager audience. The lady (I sadly forget her name) spoke of her days as a young woman living with her dad, a professor at Wake Forest College. Everytime he invited a colleague, student or friend to his home, his wife would encourage them to "sign" their tablecloth. The wife embroidered the names while enjoying coffee and dessert. I was intrigued. What a wonderful way to say how important the people in out lives are.
Her story never left me and soon after, I bought a linen tablecloth and waited for special guests to arrive at my home. I waited a while trying to figure out who the inaugural guest would be. One year, when my son was in second grade, I decided to invite all my children's teachers to our home for a special Christmas dinner. I bought gifts for the teachers, prepared a meal and set out my white tablecloth.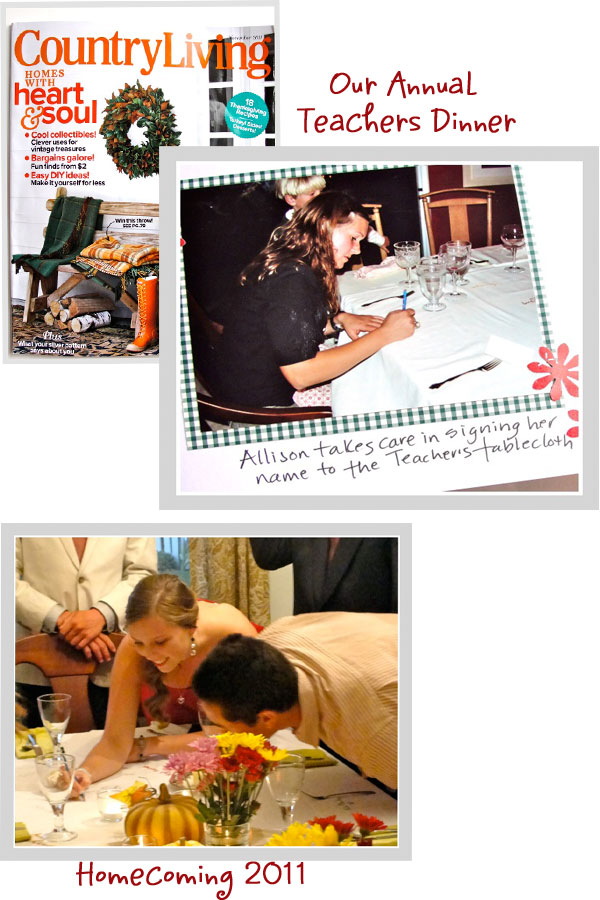 During the meal, I asked each of the teachers to sign the tablecloth. Teachers have always been special to my family, caring for our children so well, that it was natural that my first signature to grace our new tradition would belong to a teacher. We kept this tradition going for about 5 years until our oldest was in 7th grade. Then it became awkward to invite teachers we didn't know into our homes and soon after, the tradition died. That was 2007.
This October, after rummaging through my linen closet for an extra tablecloth for my son's senior homecoming dinner, I discovered the now-dubbed "teacher tablecloth". I took it out and I was inspired again. Instead of teachers signing their names, my next invitees would be my son's senior classmates. I wondered what they would become in ten years. Perhaps teachers? At the very least, it will serve as notice that these are important people in our lives.
I even had my son sign it.
This post was a bit of an indulgence, straying from art lessons and teacher tips, but it is my hope that you find inspiration in your classroom and at home!
For instructions on how to embroider, check out Martha Stewart's wonderful tutorial.