To Spray or Not To Spray…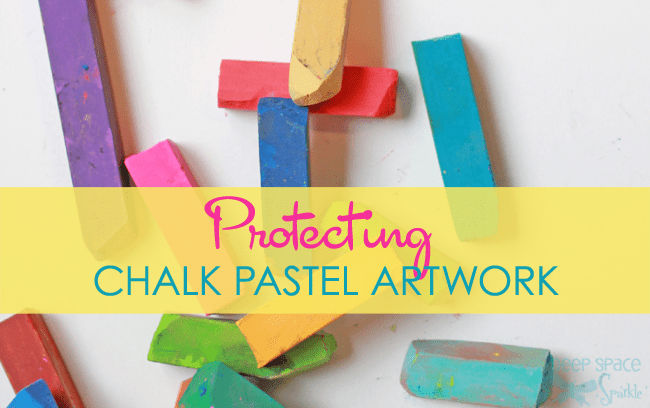 Chalk pastels are one of my most favorite products to use. They are so easy to prep: just haul from a drawer or cupboard and place on the tables. No one can argue with that! I think using chalk as a medium is frightening for some because of the dust and the difficulties little kids have with applying the chalk in a neat manner.
Truth is, it's very hard to keep clean with chalk as it's impossible to apply chalk neatly. Once you embrace this, I think you are on your way to some pretty amazing art lessons. So if you are past this and you have just created a chalk lesson with your kids, you might be wondering what's next?
There are a few things that you can do to ensure that chalk art gets home safely:
Newspaper: Before beginning a chalk project, lay a double spread of a newspaper down on the table. Not only does it help the children color evenly (a double layer provides some padding against a hard table) but you have an instant chalk protector on hand. Simply fold the newspaper over the artwork (tap excess chalk into a trash can) and place in a child's portfolio. When you work on the artwork again, the children already have their "placemats".
Hairspray: You may have noticed that when you sprayed chalk pastel artwork with hairspray, the spray tends to discolor/lighten/darken or even pixilate the artwork. It's always a bit nerve-wracking spraying as you never know what's going to happen. The only advice I have is to use the brand with the finest spray. For me, Final Net Hairspray is the best.
Fixatives: Quite honestly, I have tried a few fixatives over the years and I haven't found one that works better than hairspray. They are expensive and I suspect aren't meant for cheap school-grade chalk.
Pastels: The best way to ensure that chalk will stay put is to use good chalk. In the past, I have always bought the most inexpensive pastels. They have always served me well but this year I splurged a bit and have purchased Alpha Color Pastels. I'm excited to see if they stay on the paper better. Perhaps you have tried them?
Do you experience trouble with chalk pastels? Do you "Spray"? Share your best chalk advice here….