Line + Color=Fun! Art Lesson Plans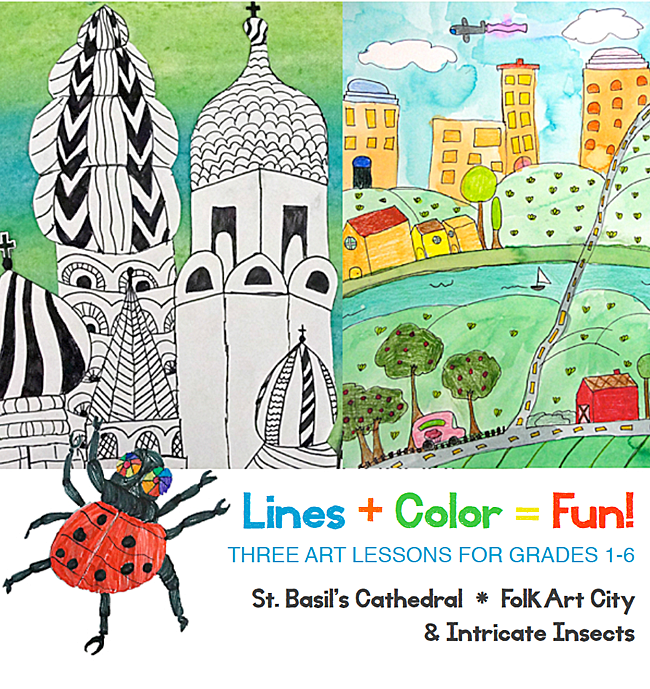 This 25-page booklet  contains three art lessons requiring only a pen and paper. Have more time? Add a shot of color to create an even more stunning piece of art. All grade levels will enjoy creating these fun line drawings and with the help of the original drawing handouts, teachers will enjoy the ease of each lesson.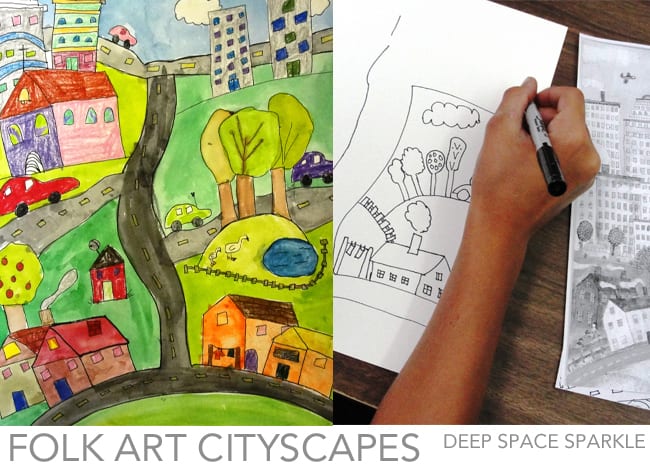 Russian Architecture: Based upon the architecture of St. Basil's Cathedral, children learn how to draw spires and onion domes using a black marker and paper. Add a simple chalk pastel background or stick with the line drawing. Requires two, 50-min class sessions.
Folk Art City: Introduce the whimsy of folk art to your students with this fun line drawing. Learn cool "tricks" for drawing folk art perspective as well as skyscrapers, cars, houses and trees. Keep as a black and white line drawing or add color using colored pencils and watercolors. Requires three, 45-min classes.
Crazy Critters: Learn how to draw beetles, crickets and other strange looking insects, then select an option for coloring. Very easy lesson for the teacher, super fun for the kids! Requires one or two, 45-minute classes.
Lesson packet includes Four original Deep Space Sparkle drawing handouts:
St. Basil's Cathedral Drawing Handout
Folk Art City Drawing Guide
Folk Art City how-to-draw tips
Crazy Critter Drawing Guide & Idea Sheet
Purchase Line + Color = Fun in the DSS Shop
Click to view this product in my Teachers Pay Teachers Store