Poncho Art Project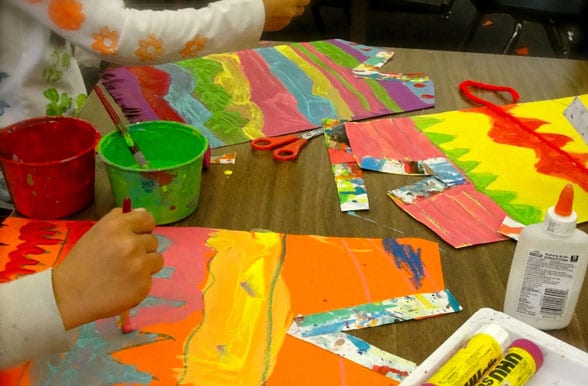 I began a unit on Mexico this week, celebrating the vibrancy of the Mexican Culture. For first grade, we made ponchos, a variation of a Painted Paper project that created Mexican blankets.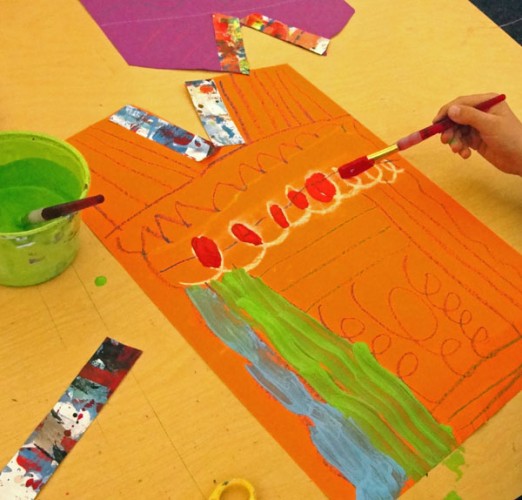 Starting with a 12″ x 18″ piece of colored paper, first grade students cut a 5″ slit down the center of the paper. Then, they cut a triangle from both sides of the slit. This creates the neck opening. Next, cut another skinny triangle from each corner of the paper to form shoulders. The fringe was next. The students snipped the paper to create a fringe. If you have more time and want to elaborate on this project, a fringe made from snipped yarn would also be cool.
Using oil pastels, kids drew lines across the poncho, making some plain and others decorative. Then they cut strips of old painted "placemats" and glued them to the collars.
Time for  the paints. I keep pre-mixed tempera paint in pint sized plastic containers (with lids). I set 4-5 various colors on the table. For many kids, painting the poncho with the actual poncho in mind was rare. Most kids experimented with mixing, spreading and reveled in the joys of painting. For first grade, this is exactly what is expected. Although some kids indeed painted stripes and decorations with serious consideration. For the kids who finished the painting, we stapled yarn at the neckline for a tie.
When I see these kids next week, I might have them outline the stripes with a black oil pastel and give them an opportunity to add a string closure. But if we don't have time, I won't worry about it. The process was so much fun and the art room was awash in color!
This lesson took forty minutes.
First Grade Ponchos