Van Gogh Flowers Art Lesson
A perennial favorite of mine, Van Gogh inspired flowers is a lesson I try to do every year with my third grade students. Sometimes my medium varies. A year ago I tried tempera painted flowers and I loved the results. I even made it into a PDF art lesson so you can see exactly how I taught the lesson. (The PDF includes handouts for the students or for the teacher to use). Following the same steps, I returned once again to oil pastel flowers, which can take longer to color in but boy, is the prep easy.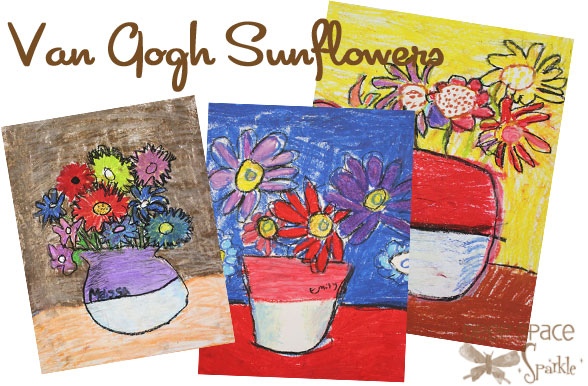 To start, children drew a vase and then the flowers. We used one color to draw with (preferably a light color oil pastel). It was my intent to have the students chose warm or cool colors to for their flowers. I showed Van Gogh's Sunflowers and we talked alot about the color wheel, but alas, when I set the trays of beautiful oil pastels on the table, it was extremely hard for the kids to choose just one color palette! No biggie. I'm like them. I prefer lots of colors anyway!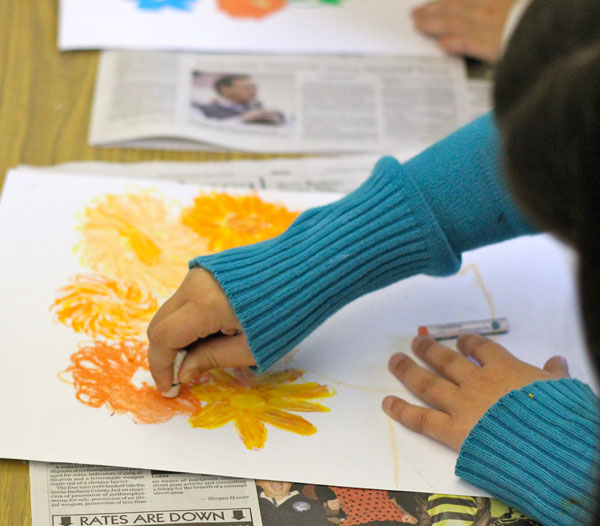 I showed how to draw a few vases and later when we began the coloring, I showed how to add hi-lights and shading. Not every student understood this or took the time to add the shading, but for the ones who did, they did an amazing job.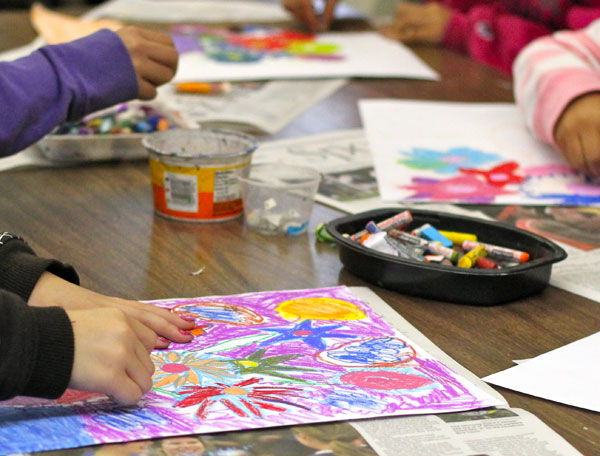 We colored the flowers first, then the vase, table and background. I asked the students to keep the background simple so that their beautiful flowers stood out.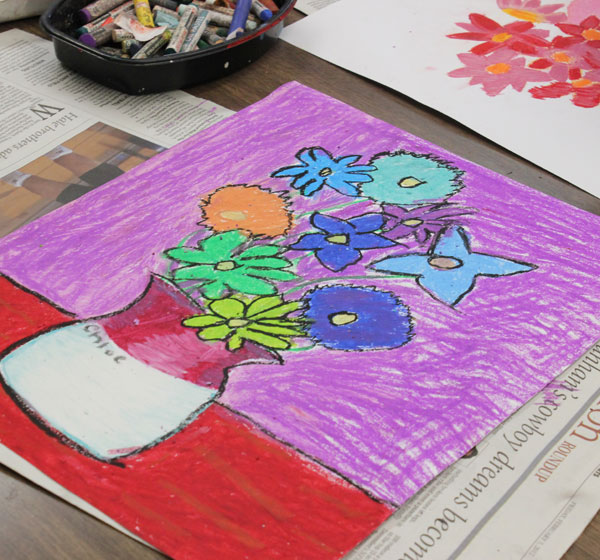 Outlining their flowers with a dark color, like black, created interest for many students, but others chose not to outline. As always, the students really did a great job.
Note: Take a peek at the top right hand corner of this photo. Notice how the child opposite this finished piece is still working on her flowers. The only problem with this lesson is that it takes some children a long time to complete the coloring. For these kids, I don't want them to rush, so we put the piece into their portfolio and instead of doing free-choice after another art project, they can return to this piece and finish. I'm sure you all experience the same thing when working with oil pastel!
Enjoy!