Van Gogh Sunflower Art Lesson in Oil Pastel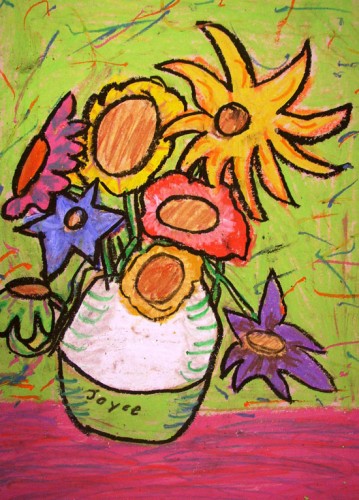 Van Gogh's famous Sunflower series is one of the most recognizable art subjects in a classroom. My students loved the flexibility of drawing sunflowers and enjoyed the opportunity to create many types of flowers. Using oil pastel to color is a mess-free choice, although not nearly as "fast" as paints.
Drawing with Oil Pastels
The children start off with an 12″ x 18″ light blue colored paper. If you don't have lengthy art classes, I suggest you trim the paper to a 10″ x 15″ size. A bit more manageable for artists who need longer to color their work.
I instruct the kids to draw the vase first (sides and bottoms only) then the centers of the flowers. Some centers are round, some are oval, some are little balls. The petals, leaves and stems come next. Last is the table line.
Using a variety of oil pastels (I don't limit them to the colors Van Gogh uses) the kids color away. This takes time and I keep encouraging the kids to color all the blue paper away. This takes some prodding for some kids who want to finis fast, but this lesson really looks wonderful when the kids put in the effort. The last stage 9and some of my students take a while before reaching this stage ) is to add a black line around every petal, leaf, flower center, and vase. Worth it, I think!

More Van Gogh Art Lessons: