No matter where you are in your teaching career, there's never a bad time to check in with how you are feeling, your stress level, workload and overall well-being.
Teaching art to children is a labor of love, and maintaining a positive mindset is so important for prioritizing joy in your teaching practice and keeping your energy level at its peak.
If you feel yourself getting overwhelmed and in need of a boost, here are 8 tips to help with a mindset reset.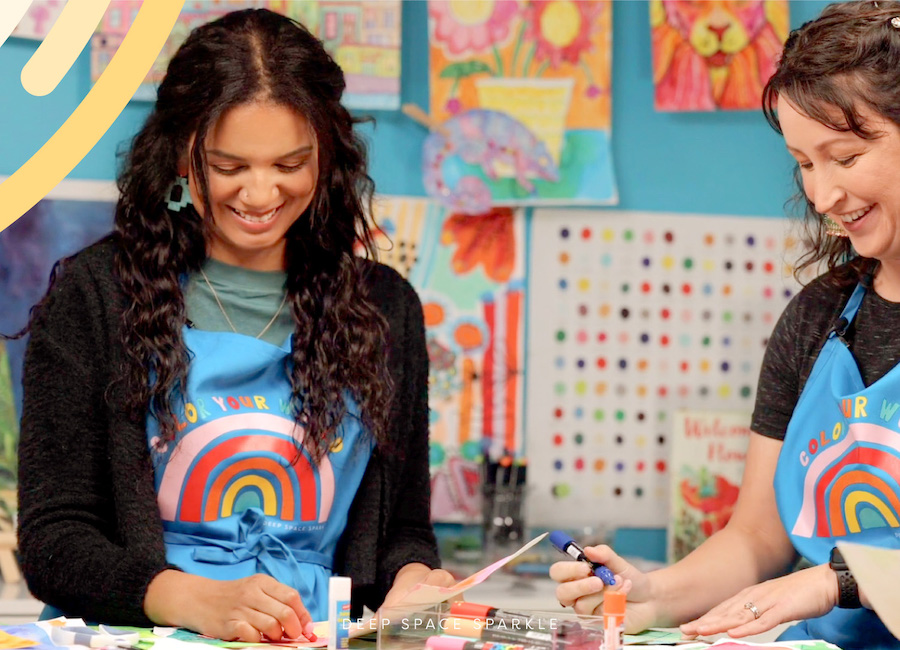 1. Arrive to school early instead of staying late. Many teachers find that arriving to work early instead of staying late works better for their energy levels and offers a better work-life balance. Working only within your contracted hours is the ultimate ideal, but if you need more time and your current planning time isn't working for you, try moving it to a different time of day. Remember, you are in control of your day so plan according to what works best for you.
2. Develop a classroom opening routine that's just for you. Your morning routine can involve listening to music or a podcast while setting up your materials for the day, drinking your coffee or tea while it's hot (or cold) and to review your plan book without rushing so you can start the day with a calm mind.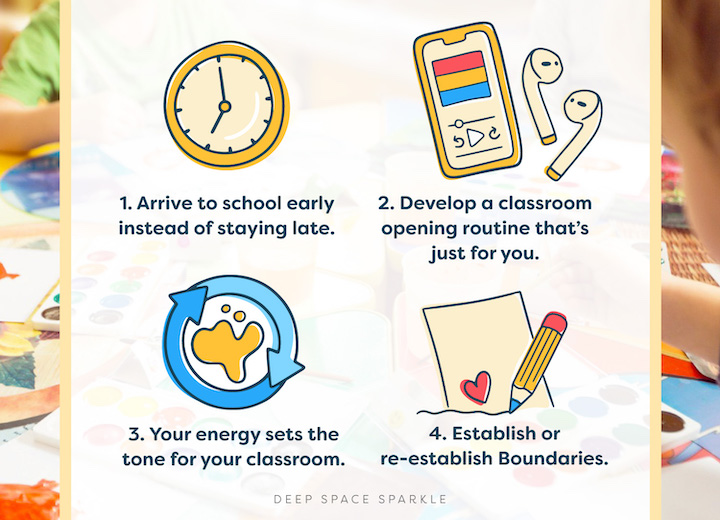 3. Your energy sets the tone for your classroom. Though it can be challenging to reset after a challenging class, taking a moment to pause and take a few deep breaths can be instrumental in approaching the next class with a clear mind.
4. Establish or re-establish boundaries with administrators, staff, and students. While you might love to eat lunch with a handful of students sometimes, it's okay to limit lunchtime visits if you find that you need that time to plan or recharge. And try to keep your lunch break to actually eat! Your body needs fuel to maintain a calm yet energized demeanor.
5. Incorporate more relaxing days into your curriculum. Both you and your students can benefit from a slower paced lesson. Incorporate those more relaxed days into your curriculum, and don't be afraid to veer from your original plans to be responsive to both your needs as well as your students' needs. A change in pace is helpful for our brains just as much as it is for the children. And don't worry. There are plenty of ways to apply standards to even the simplest of lessons.
6. Switch up your seating chart. Speaking of switching up your curriculum, after a school break or holiday is the perfect time to change seating charts that aren't working. It can take some time to get to know your students' personalities and their needs. But don't feel like you need to wait until Thanksgiving or Spring Break to switch up the vibe in your classroom. Remember that every day is a fresh day and a chance for you to try something new.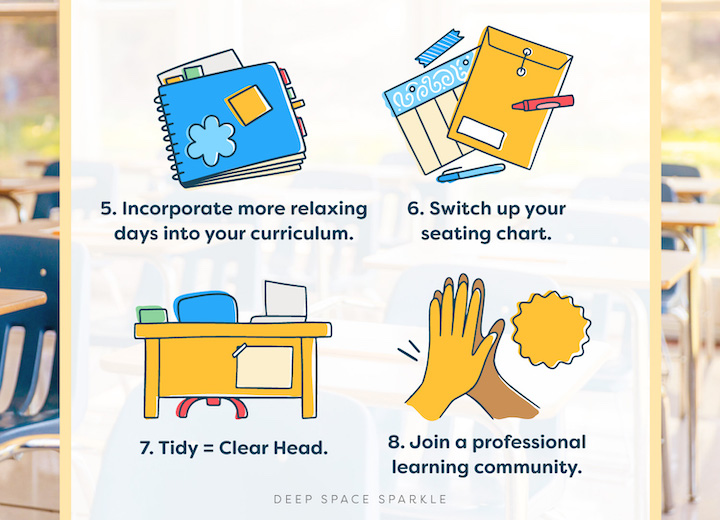 7. Tidy = Clear Head. Before leaving for the day, take a few minutes to straighten your desk area so that you're greeted by an uncluttered workspace the following day. Trust me. This works.
8. Join a professional learning community. Connect with the other art teachers in your school district, state, or online. Other educators are the best resources for teaching support and new ideas. Remember that you don't have to do things that way a previous teacher did or the same way as teachers on social media. Your teaching style is unique to you, so feel inspired to make others' genius ideas your own. If you are a member of The Sparklers Club, we're known to have the most engaged, supportive and kind teacher community around!
If you're looking to make even more adjustments into making your first year as an art teacher your best yet, download The Ultimate Guide for New Art Teachers.
The guide is designed to support you and help make your life easier by building on the skills and expertise that you already have whether you're a new art teacher or a veteran teacher in need of a refresh or perspective shift.
Here are some things that you'll find in our Ultimate Guidebook for New Art Teachers:
Tips to help with positive mindset
Behavior management strategies
Tips for organizing your classroom
Guide to frequently used materials
We are excited that you are in our orbit and can't wait to support you in making this year your best one yet.
Our art teacher membership, The Sparklers' Club is designed by art teachers for art teachers. Over 20,000 art teachers just like you have said YES to shining inside the art room with done-for-you art curriculum's, lesson plans and resources.
Add your name to our notification list and we'll send you an invitation when our enrollment opens.
Mindset Check:
How are you feeling right now?
Are you feeling overwhelmed with student behavior?
Too many meetings?
Not enough time?
Share your thoughts below and any tips YOU have for teachers who might be experiencing something you have managed well.
We're here to make teaching art a wee bit easier so let us know how we can help.
– Patty and the DSS Creative Team