Is your art supply closet a mess?
Struggling how to manage multiple boxes of paper scraps?
Staring at a well-loved art room in need of some serious organizational attention?
You're not alone!
Managing art supplies, art posters, drying racks, recycled materials, supply storage, media equipment and prep areas can be a nightmare if not designed with how you work in mind.
Organizational systems are unique to every art teacher. What works for one may not work for another. But remember, your art room is yours to maintain and function well, so developing an organizational structure is the key to a successful start of any lesson.
Here are a few tips that will help you think about organization beyond plastic cubbies and drying racks.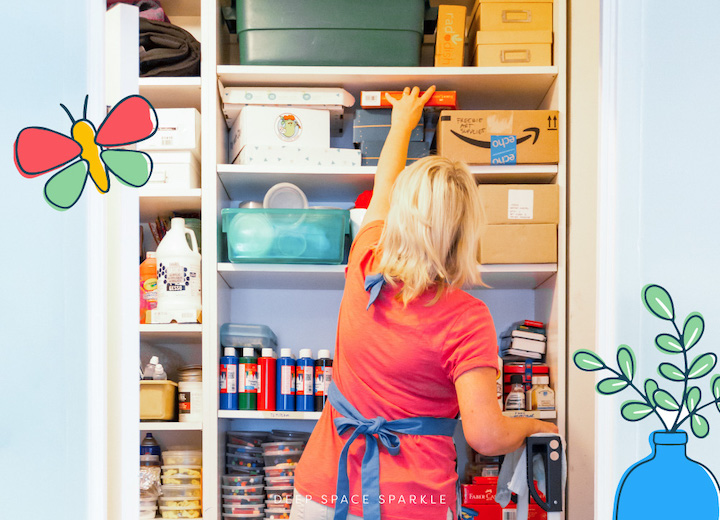 Organizing your classroom is a huge feat and The Ultimate Guide for New Art Teachers covers this and so much more and sets you up for success this school year!

How to organize your art room in just 8 steps:
1. Place classroom maintenance requests early in the year so that your admin has time fix, replace or purchase what you need.
Take note of any broken or missing furniture, clogged sinks, or other classroom areas that might be in need or repair and place maintenance requests as soon as you are able to.
Maintenance and repairs often take time, so it's a good idea to submit them before beginning your classroom organization. This is a great time to introduce yourself to the custodial staff. They will be so helpful in your journey as an art teacher so developing a relationship with them early is essential.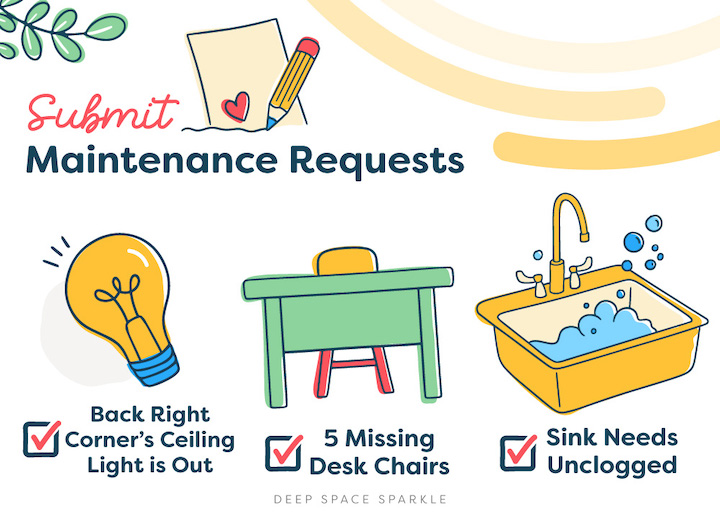 2. Arrange your classroom furniture in a way that facilitates the style of art you want to teach.
Arranging your classroom furniture can help you visualize the flow of student traffic and inform your classroom procedures. Knowing how your students will move throughout the space will inform you as to where to place shelving to store materials, where drying racks should go, the best place for a classroom rug or carpet for story-time, and where student portfolios will live.
You might even want to sketch our a floor plan before moving things. PRO TIP: Be sure to ask for help with moving heavy furniture.
After your classroom is arranged, create seating charts for your classes. This is so important for calling students by name and developing a strong connection to each child.
3. Discard unusable classroom materials. Inheriting a previously occupied art room often involves a fair share of material organization. Remember that you don't have to do this all at once.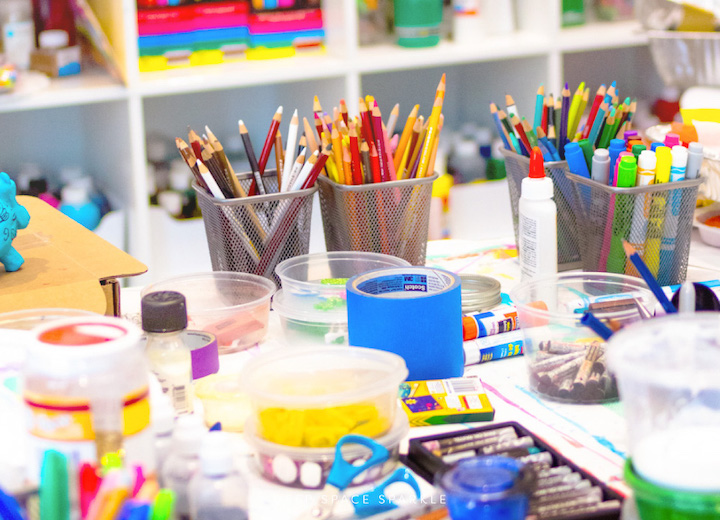 What to save
In addition to any usable art materials that you'd like to keep, these items offer many uses:
– Old paintbrushes can be used to apply glue, spray paint over paper and create texture on clay and printmaking projects.
– Scrap paper, magazines, and newspaper can be used to cover surfaces, used in collages and papier mâché projects.
– Extra food storage for glue sticks, pastels and markers
– Old student artwork that can be used as classroom visuals
– Outdoor fabric or canvas can be used for clay projects.
What to donate, recycle, or dispose of:
It's okay to let things go that don't align with how you teach or who you teach. You can email staff about items that are up for grabs if you'd like to give them to other teachers. If you foresee having a large amount of unwanted items to discard, you may want to ask your custodian for an additional trash can and recycling bin, or for directions about where to place items for disposal.
– Safely remove any items with broken pieces that could pose safety issues.
– Old students work that cannot be used as examples, recycled, or returned to students.
– Molded paint or clay
– Odds and ends and donated items that you do not have current storage or a clear use for (fabric and wallpaper samples, anyone?)
– If you have a kiln, this is also a good time to check maintenance records and ensure safety.
4. Organize and sort your materials
Decide which items you'd like to store in a closet or other long term storage area and which materials you'll be using frequently. Store away any sharp tools that you do not want accessible by students.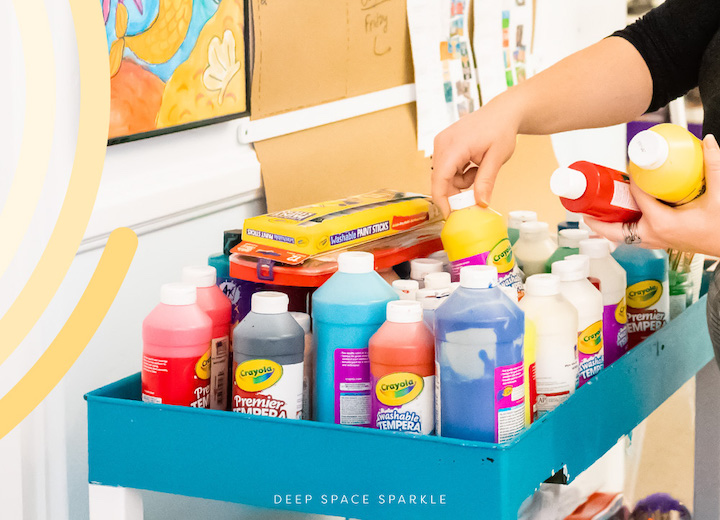 Put frequently used materials at eye level or in easy to reach areas. Scissors, pencils, drawing supplies, paint and paintbrushes, and paper are frequently used materials.
Sort paper into different types (watercolor, drawing, mixed media, etc.) and organize colored paper. Storing flat is best so you don't warp the paper so if you can, invest in a shelving unit designed for paper.
Use table caddies for materials that you'd like to keep on the table. The dollar store or other discount stores are great places to purchase these. They can also be color coded with spray paint or tape.
5. Purchase new materials
Invest in supplies that will be used year after year, such as scissors and paint brushes.
Consider ordering replacement watercolor pans to add into palettes to avoid purchasing entire new sets. Blue and yellow have always been the two colors I ran out of most. You can do the same for certain marker colors if you find that you're missing certain colors, often red and black are the first to run out.
6. Organize your space with student cleanup and artwork storage in mind
A great tip for staying organized is to teach students to clean up starting with the very first day of art class. You don't need to spend an entire class period going over procedures, you can have students learn them through practice from day one.
Reference your clean up procedures to create an artwork storage system that works for your classroom. Be sure to label and/or color code drying racks or tables designated for their class so that students can put away work independently.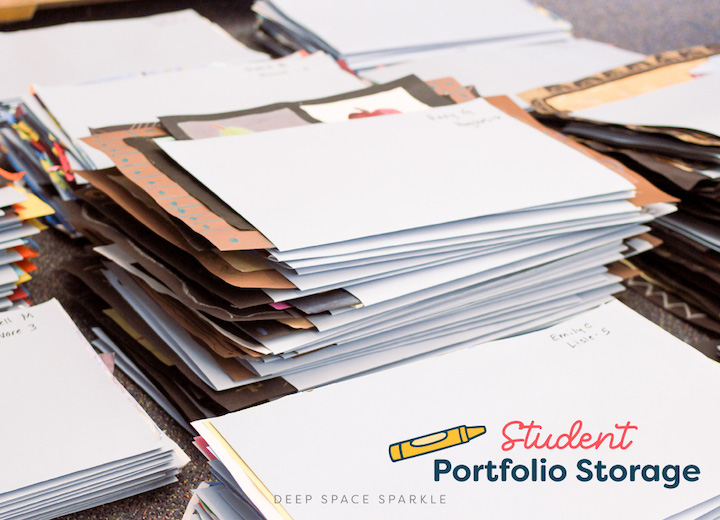 Dry artwork can be placed in student portfolios made from sulphite paper, large manila folders, or folded poster board and wet paintings can be carried by students to a drying rack.
Use a projected timer to help students visualize cleanup time. 5-7 minutes is a great time to aim for.
Ensure that paper towels and soap are accessible at your sink area. For young students consider using antibacterial hand wipes or baby wipes for students to clean their hands and tables with.
7. Refresh your teachers desk or personal area and demonstration space
Decide on your method of record keeping and organize your digital spaces as well.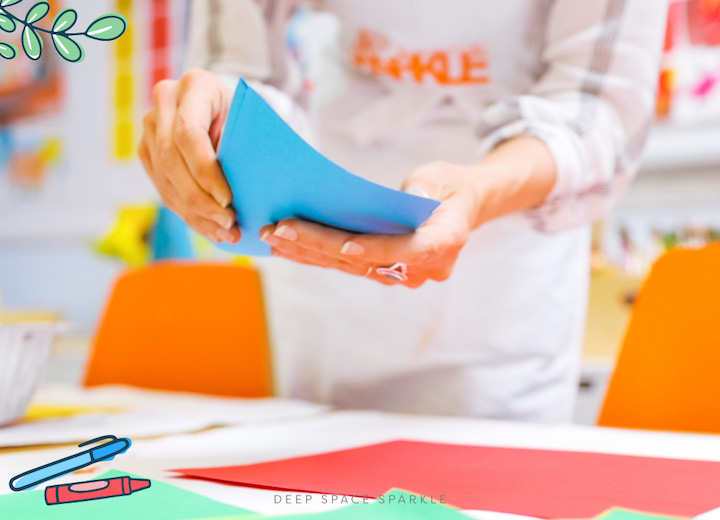 Photographed students' work and lesson examples are useful to have on hand and simple to keep organized.
Check that any tech equipment such as your document camera are all ready to go. Put colorful washi tape on charges, remotes on anything that belongs in your art room. This prevents mixing up personal items with school items.
8. Prepare for class transitions
Preload carts or tables with prepped materials needed for each class to help with transitions between classes.
Many teachers use dots or lines to mark standing spaces for students as they line up to exit the classroom. You can make these out of washi tape or laminated circles cut from construction paper.
For art on a cart, consider paint alternatives like paint sticks which can make for less mess, no water clean-up and an easier transition between classes.
Teach lessons with common materials across grades to help minimize transition of materials.
Organizing your classroom is a huge feat and The Ultimate Guide for New Art Teachers covers this and so much more and sets you up for success this school year!
The guide provides actionable steps to manage your art room like a veteran teacher with ease, confidence, and a game place for everything.
Here are some things that you'll find in our Ultimate Guidebook for New Art Teachers:
Tips to help with positive mindset
Behavior management strategies
Tips for organizing your classroom
Guide to frequently used materials
We are so glad that you're here and can't wait to support you in making this year your best one yet.
In addition to your Ultimate Teacher Guidebook for New Art Teachers, we also have a membership program, The Sparklers Club, with lesson plans, teaching resources, and a community of educators just waiting to support you.
Sign up HERE to join the waitlist for The Sparklers' Club to be notified about our next enrollment.
What's your biggest organizational challenge?
Too many things leftover from a previous art teacher?
Not enough storage space?
Share your challenges below and any tried and true strategies that you have for keeping your classroom orderly.
We're here to help!
– Patty and the DSS Creative Team