COLOR, LINE & PATTERN ART PROJECT
Kinders started their year exploring lines, patterns and color. On the very first day of art class, I read the children Art by Patrick McDonnell. It's a perfect story about creating different types of lines. Then, it was time to paint!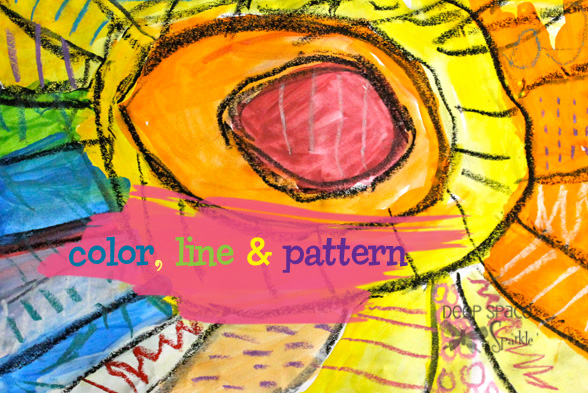 Supplies
For this project, you'll need a few basic supplies: 12″ x 9″ white sulphite paper (I cut my big sheets in half), tubs of liquid tempera paint (if you only have puck tempera, you can use this), oil pastels (including black), colored pieces of sulphite paper, long paper scraps.
The drawing is very simple: start with a black oil pastel (please don't worry about smudges or fingerprints) and draw a circle in the middle of the paper. Then, create petals by drawing curved lines towards and off the edges of the paper.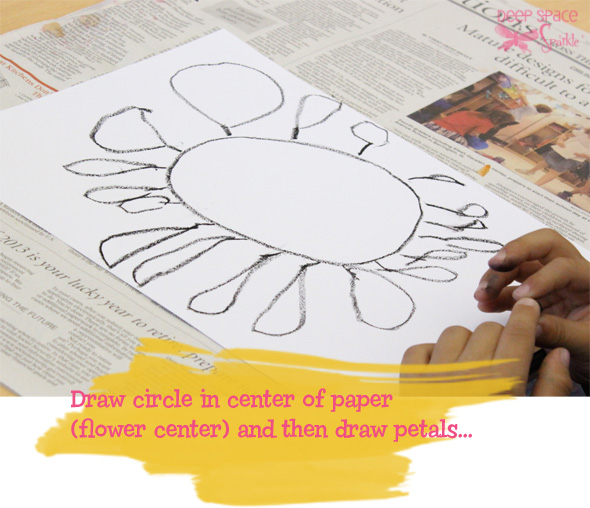 I use clear, plastic tubs of pre-mixed tempera paint to set on tables, but anyway you dish up the tempera paint is absolutely fine. Children can pick a paint color and color in each section or shape that they created. Some children will chose a very minimal palette while other children will explore every color. I love seeing the color combinations! (40 minute class: end of day one!)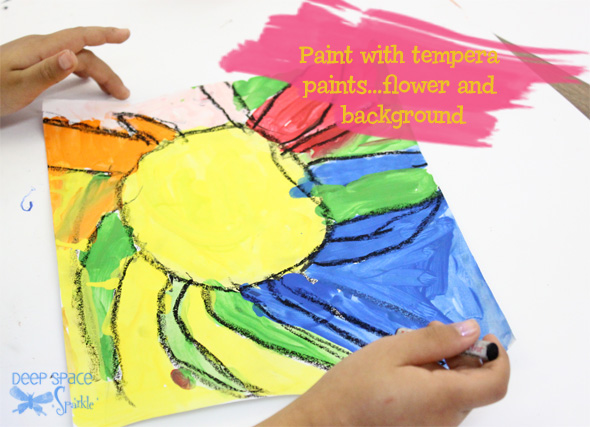 Most children will have completed the painting on the first day, but if some children still have white spaces, I don't bring the paints out again. Instead, I allow the children to use oil pastels to color in their empty spaces. Outline the flower (or whatever it ended up becoming!) by looking hard for the original black oil pastel line and retracing them.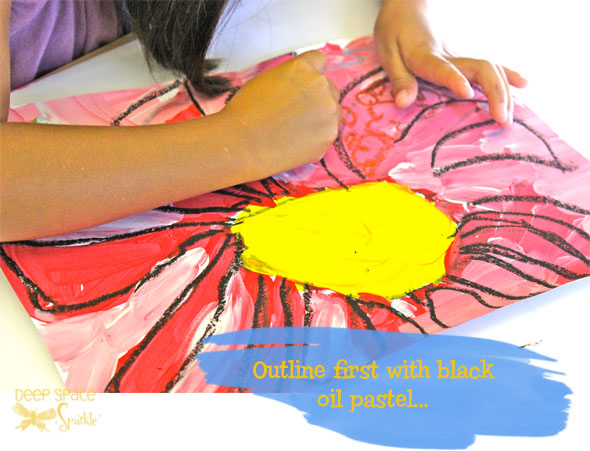 Set out trays of oil pastels and children can add patterns directly on top of the dried paint. Some will scribble, others will be very careful. At the beginning of this class, make sure to show what type of lines the children can make (swirls, dashes, zig-zag, bubbles, etc). Teach the children how to add these to their pattern art project.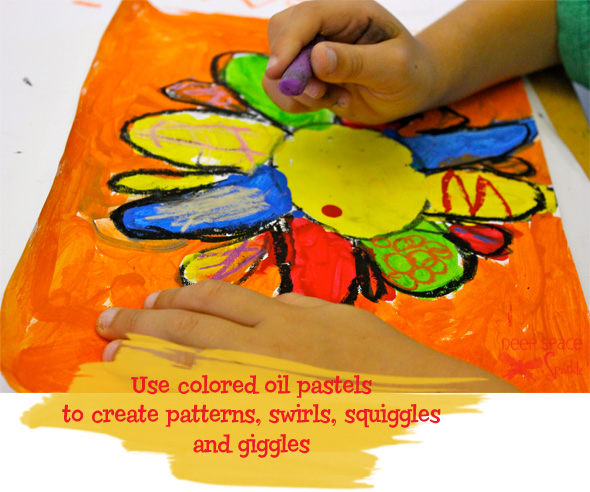 You could stop at the last step and everyone will be quite happy with the experience. However, if you have a bit more time, have the children practice their gluing skills by gluing their artwork onto a sheet of colored sulphite paper. Stress the relative importance of placing the art in the middle of the picture.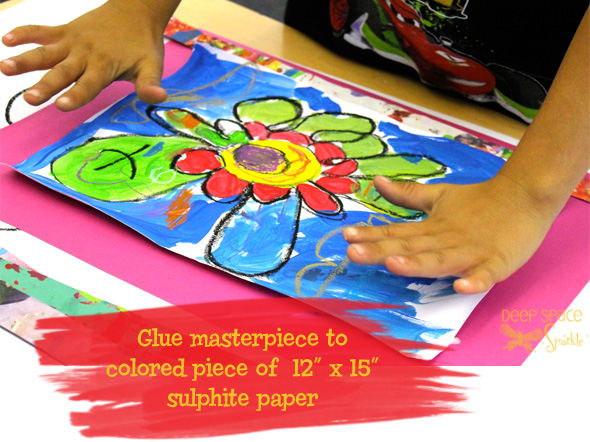 Again, you could stop at the last step, but I had a stack of old "place mats" that needed to be recycled, so I cut the large 18 x 24 sheets into strips. Children selected their favorite "colors" and glued to the edges of their background paper. This is a great exercise in squeezing glue bottles, overcoming frustration with squeezing glue bottles and learning how to glue straight! Don't you love these bottles?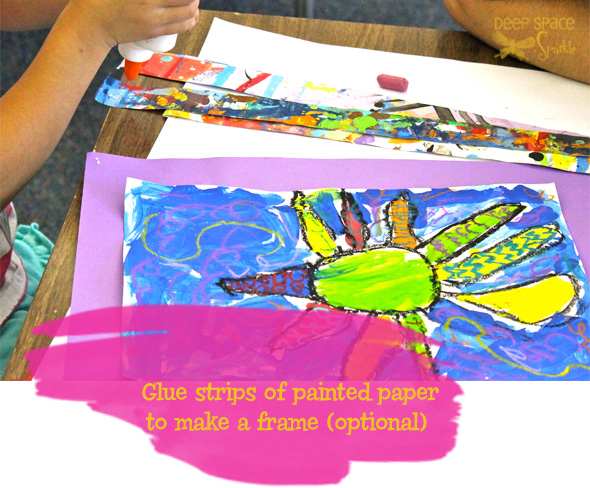 I absolutely adore these little people. They are super creative, eager for anything and are very good listeners. Here are their color, line and pattern art project turn-outs. Click for a detailed lesson on how to teach Color and Line & Pattern.