Team Sparkle recently introduced a new art curriculum within The Sparklers' Club membership. It's a complete art curriculum for elementary students that combine the Elements of Art & The Principles of Design. We released twelve bundles within this curriculum. The first bundle is Line & Pattern.
Note: If you're a Sparkler, login to the private Sparklers website to view the FULL EPIC Curriculum Bundles
Each week on my Deep Space Sparkle Facebook Page, I go live and show you how to teach your little ones the particular element.
The first tutorial in our series CONNECTING WITH THE ELEMENTS- How to teach the Elements & Principles of Art is LINE & PATTERN…
---
Line is one of the most basic elements of art that sets the foundation for art making. Teaching children about line empowers them how simple lines can turn into shapes and eventually into advanced compositions.
A subject that they may have thought to be too difficult to draw, such as a clipper ship, all of a sudden becomes doable. What an exciting experience for children to have in the art room!
This is why beginning the school year with an art project devoted to line and how to use it, can help to set the foundation for a successful year.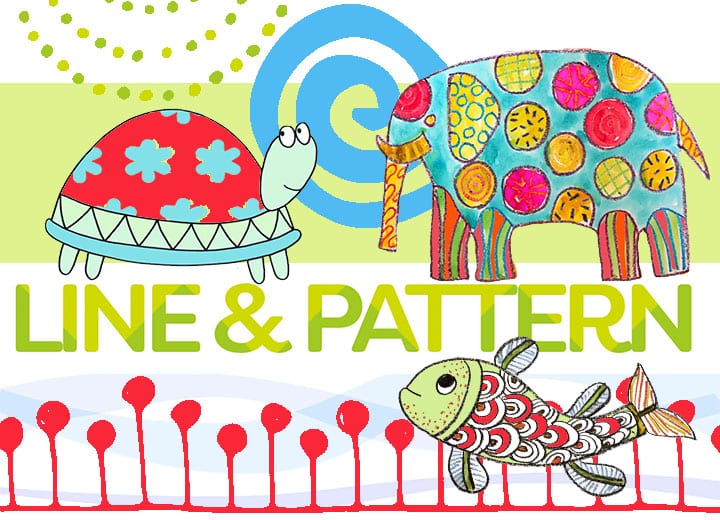 I like to pair LINE projects with PATTERN elements. They go together like peas and carrots.
In this video that I shared with my Facebook audience, I demonstrate a couple of strategies you can use to help teach a beginner and a more advanced student.
Want to watch the Art Tutorial Video? Click HERE to view video on our Deep Space Sparkle Facebook Page
* This video is also available to you if you're a Sparkler in the Sparkler's Club. Click HERE for the link to the Line & Pattern EPIC Curriculum Bundle.
---
DOWNLOAD
Bypass the drawing handout instructions in the video and click the link below, fill out the form and we'll email you a copy.