Line is one of the first elements of art that sets the foundation for art making in elementary school. Teaching children about line empowers them to see how simple lines can turn into shapes and eventually, into advanced subjects and compositions.
A subject that they may have thought to be too difficult to draw, such as a clipper ship, all of a sudden becomes doable. What an exciting experience for children to have in the art room.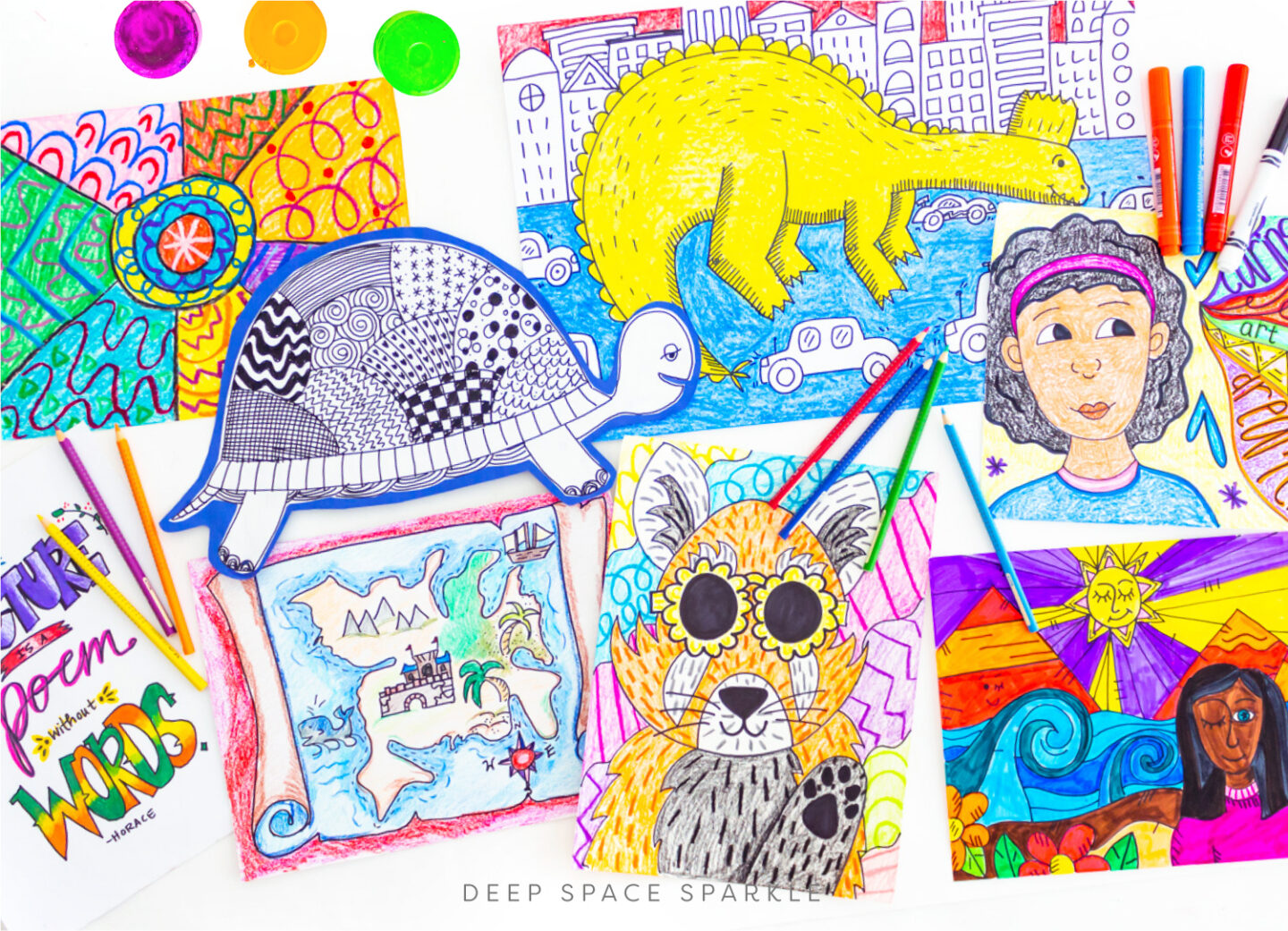 Teaching an art project designed specifically to teach children about LINE in your first few weeks of school is an absolute winning combination. Not only are line-focused projects relatively easy to prepare (all you need is paper and drawing tools), they can help set the foundation for a successful year of learning how to draw and create art.
So what exactly is a line and what types of projects teaches children the proper way to draw a line?
Let's start with what a line is…
A line is defined as the path of a moving dot. Lines can vary in direction and thickness.
For young students, a LINE activity can be as simple as identifying basic lines: zigzag, bumpy, wavy, horizontal, etc.
For older students, the concepts increase in complexity by showing how lines can be used to show texture or expression in a work of art.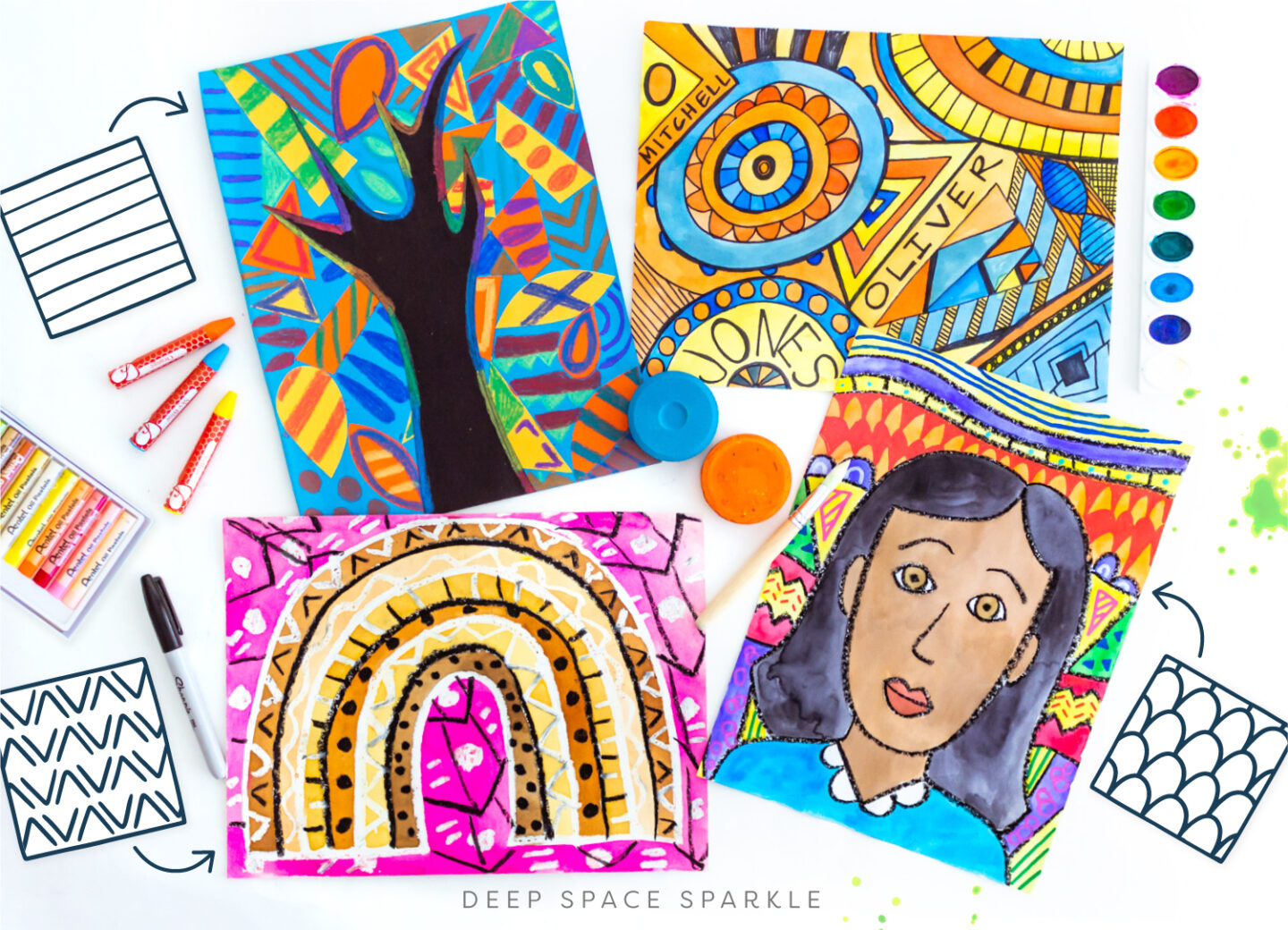 Combining LINE and PATTERN
Line is often paired with Pattern, which is a Principle of Design. In my opinion, they go together like peas and carrots.
While the definition sounds a bit complicated, it's actually one of the most fun Principles to work with.
Here's the official definition:
PATTERN is an arrangement made from repeating visual elements.
Let's break that down…
When you draw a dot on a sheet of paper, it's usually the start of something. It can go anywhere. The dot can keep moving, which quickly turns it into a line. Or it can go around or change directions and come back to join itself, which becomes a SHAPE.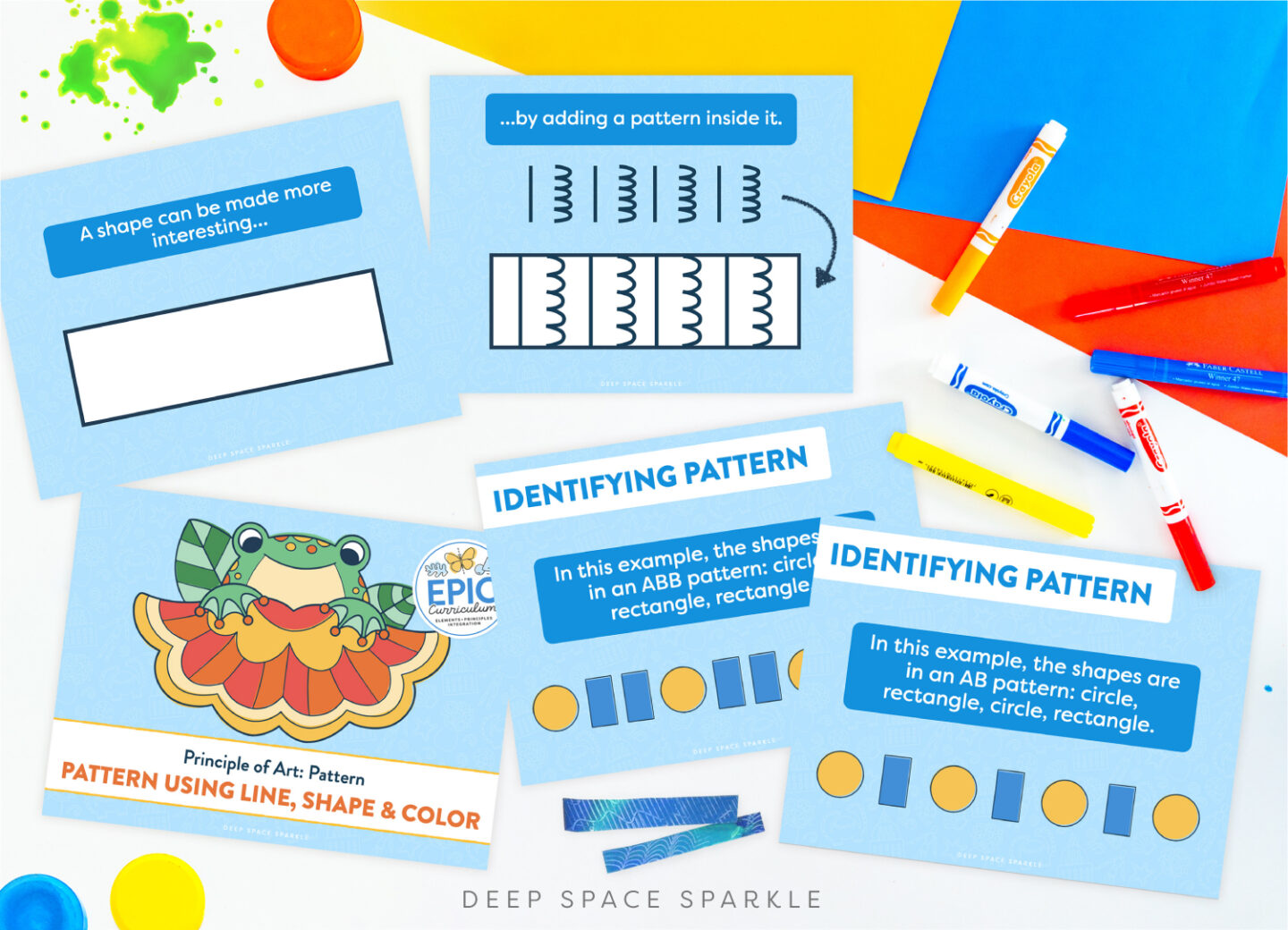 But when it hops around, let's say in equal distances, it becomes a dotted line. Or if it can't make up its mind and goes from a dot to a line back to a dot and then again to a line…that's a PATTERN.
I love drawing patterns in art and so do kids.
How to Teach Line + Pattern
In the video below, I show you how to teach Line and Shape by drawing a simple pattern turtle (great for ages 5-8) and a Pattern Rooster (great for 8-12).
Tip: this is an older video that shares lots of info about our Elements of Art Curriculum, but if you want to go straight to the drawing portion, skip to the 9:28 mark.
---
Interested in starting your year refreshed, prepared and ready to go?
Download our back to School Guide |Resources to help kickstart your art program
It's a 3-part strategy on how to use the Elements of Arts when planning your art curriculum including ordering supplies, a grade level checklist for the scope and sequence of K-7 Elements of Art and What I'll Learn in Art Class posters.
To learn how to teach the Elements of Art to elementary school students, here are a few posts that will get you started:
---