The second tutorial in our series CONNECTING WITH THE ELEMENTS – How to Teach the Elements & Principles of Art, is SHAPE.
Want to start at the beginning? Visit the first art tutorial LINE & PATTERN HERE.
This week's Facebook Live art tutorial showcases two of my favorite projects:
Matisse Organic Shape Collage and Calder Inspired Geometric Fish.
But first, why teach Shape?
Shape is a great element of art to follow behind the introduction of LINE because lines connect to create shapes.
You can explore with your students what types of lines are used in geometric and organic shapes so children can see the difference between the two types. This helps children identify and draw basic shapes in the early stages to using shapes in an advanced planned out composition to achieve balance and visual interest in later stages.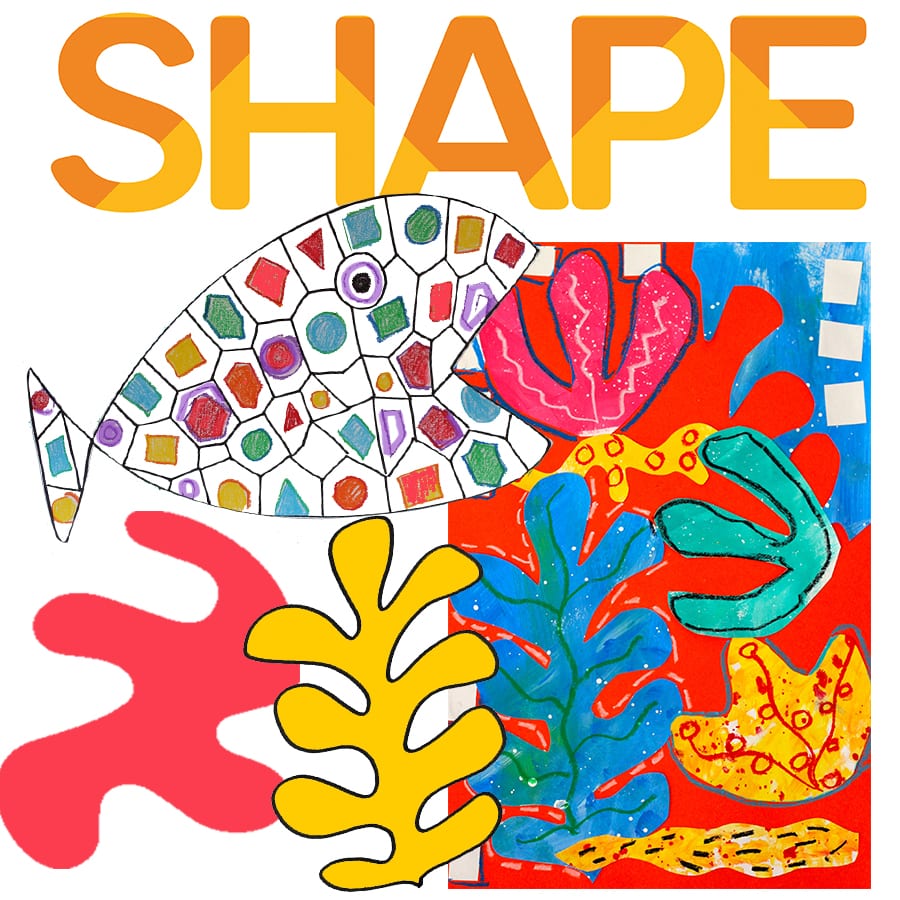 ---
CHECK OUT THE ART TUTORIAL ON HOW TO TEACH SHAPE

Want to watch the Art Tutorial Video? Click HERE to view video on our Deep Space Sparkle Facebook Page
---
YOUNGER GRADE ART PROJECT: Calder Inspired Geometric Fish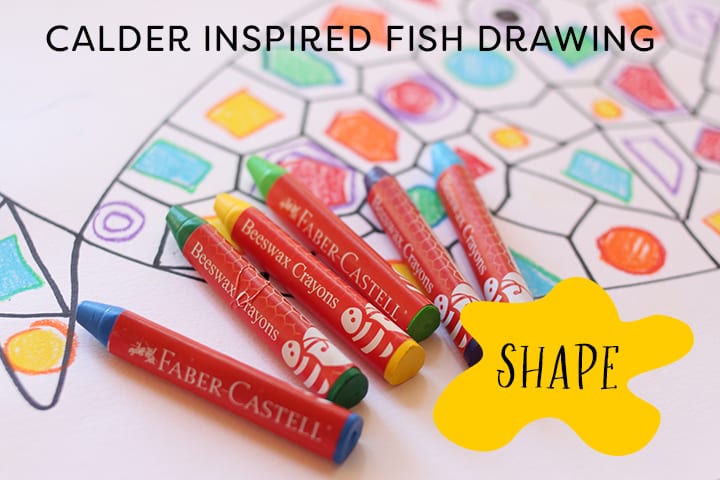 To start this project, offer children a white sheet of paper, a black marker or crayon, and colored markers or crayons to color. If you can, show pictures of Alexander Calder's Fish Mobile. Point out the simple shape of the fish, plus all of the various shapes within the fish.
Ask children what they see when looking at Calder's mobile.
What shapes do they see?
What objects did Calder use when making the fish?
What shapes are these objects?
Looking carefully at Calder's fish will help children create the shape they want to add in their drawing.
The Drawing…
Offer children a printed version of the drawing guide in the Free handout below…
Start by drawing a simple fish shape on white paper using a black marker, crayon or oil pastel. Add a circle for the eye.
To make the fish-like netting designs inside the fish body, draw short lines from the top line of the body towards the center of the fish body. As a guide, the line can be about the length of a child's finger.
Connect two lines with a chevron arrow.
Draw more lines and arrows. When the children get to the bottom of the fish, the lines may become muddled. That's okay. The goal is to create section to add shapes to the sections. Bigger sections are better so encourage the children to think about this rather than making the grid. 
Once the grid is done, switch to markers or crayons and start creating and coloring the shapes.
---
OLDER GRADE ART PROJECT: Matisse Inspired Organic Shape Collage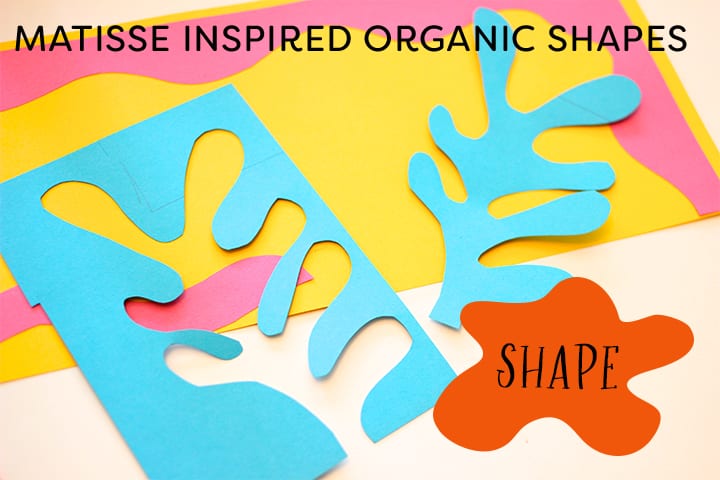 To create an organic shape collage inspired by Henri Matisse, print out the Organic Shape Drawing Guide from the freebie PDF below and offer to each student as reference.
Children in all grades can do this project but the approach varies. With small children (Kinder through to 3rd grade), use the handout to make  a few organic shape templates. Simply photocopy or print the handout onto card stock and cut out the shapes. Children can use the templates to trace onto a piece of colored painted paper.
Then, if they want, they can draw or even cut more shapes using their knowledge of what an organic shape looks like.
After a child has 1-2 large organic shapes, glue to a colored or white piece of drawing paper. If your time is tight, you can cut 12" x 18" sheets of paper in half.
Fill in paper with smaller organic shapes using different colored paper
For older students, templates are unnecessary. Offer the handout to the students so they can see what an organic shape looks like. Children can cut any shape they like and assemble onto white or black paper.
Here's a short video tutorial to teach children how to cut a spiral.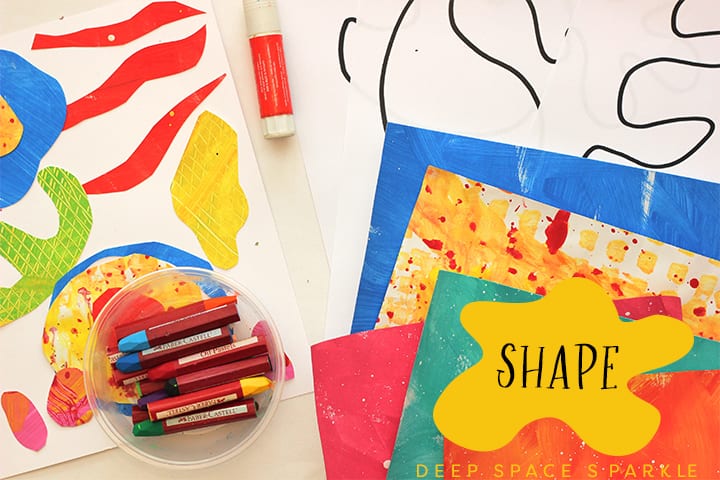 ---
Interested in starting your year refreshed, prepared and ready to go?
Download our back to School Guide |Resources to help kickstart your art program.
t's a 3-part strategy on how to use the Elements of Arts when planning your art curriculum including ordering supplies, a grade level checklist for the scope and sequence of K-7 Elements of Art and What I'll Learn in Art Class posters.
---
NEED MORE PROJECT IDEAS?
Here are a few lessons that focus on how to teach SHAPE…
Trucks & Tractors: Kindergarten Shape Lesson