November is almost here and we can feel it in the air. With the whirlwind of holidays about to ensue, you might be looking for some seasonal projects that are fun and festive but also informative to pepper in.
Día de los Muertos, or Day of the Dead in English, is a two-day holiday that's just around the corner. Traditionally celebrated on November 1st and 2nd, the holiday sometimes includes other days as well. While it's primarily observed in Mexico, it's also celebrated in many other places, including parts of the United States.
Being so close to Halloween, it's often incorrectly associated and although the word "dead" may be in the name, this holiday is about honoring those who have passed rather than focusing on death and sorrow. Families and friends gather to remember loved ones and honor their spirits in the process.
Placing a decorated sugar skull, also called a calavera, that represents a departed soul on an ofrenda is just one tradition that accompanies this holiday that you may already be familiar, but there is so much more that you can share with your students to help build their understanding.
We've gathered together a list of our top three favorite lessons that combine information about the holiday with important art-making skills and fun twists for you to do just that.
Dia de los Muertos Art Project
This lesson is based on the book The Day of the Dead / El Día de los Muertos: A Bilingual Celebration by Bob Barner.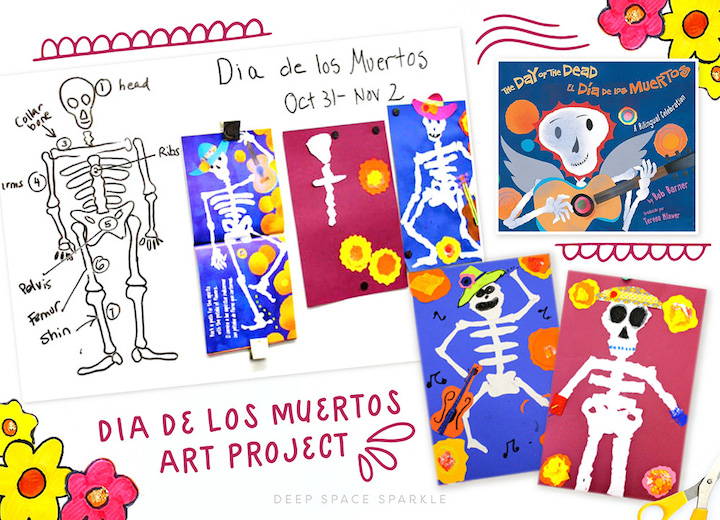 Students will learn about the traditions of this Latin American celebration through the book's bright illustrations and straightforward Spanish and English text.
An additional bonus is that a cross-disciplinary focus can be included as students draw their skeletons by having students learn the names of bones as well as their positions and purposes.
Creating a Papel Picado Collage with Painted Paper | Day of the Dead Celebration
This is a great lesson to use anytime during the year.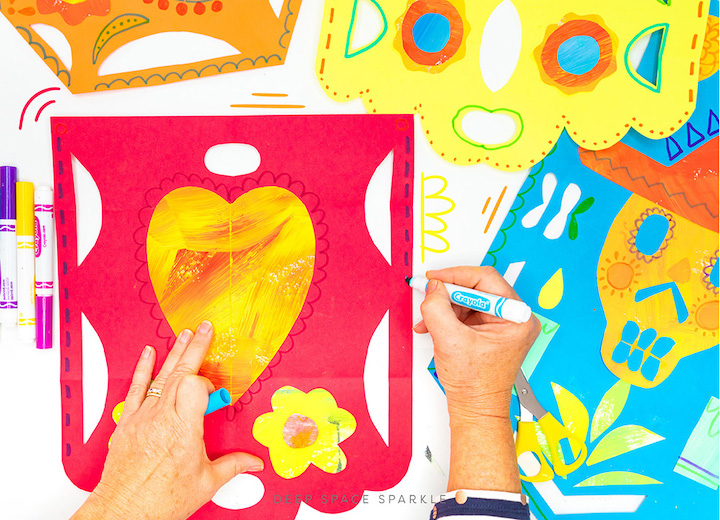 While papel picado can be used as a decoration during Dia de los Muertos celebrations, it can also be used for different celebrations such as Christmas and weddings.
Open this project up to allow students to create their own designs made from cut shapes that are significant to them.
How to Draw and Paint a Sugar Skull | Day of the Dead Celebration
Who doesn't love the bright colors, the beautiful flowers and the tradition of celebrating and honoring our loved ones who have passed?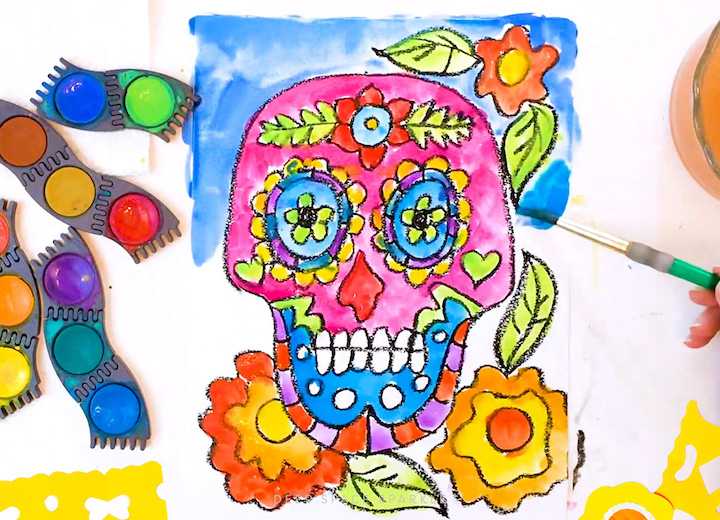 This lesson provides the perfect opportunity to learn about a unique culture AND honor the cultural significance of this holiday that emphasizes remembrance and tradition behind the sugar skull…a process that will hopefully help foster appreciation when modeled to your students.
Did you know that in the Sparklers' Club, we have full versions of lessons just like these with standards, assessments and other supplemental materials?
You can also dive into learning more about Mexican art with the Mexican Art Bundle. Click here to join the Sparklers' Club waitlist.