Continuing along with my Fairy Tale Royals art unit, fourth grade students used the classic double-loading paintbrush technique and drawing with black paint to create these stunning Fairy Tale Royals.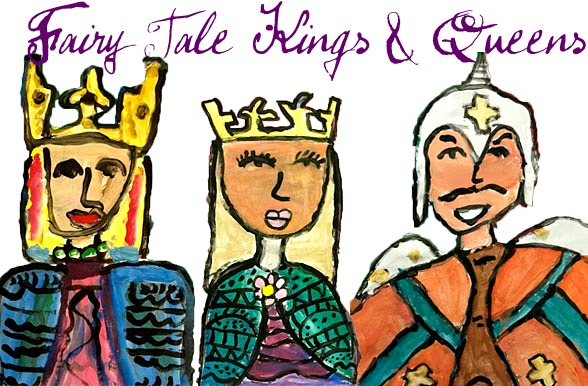 SUPPLIES:
12″ x 18″ white drawing paper
Black liquid tempera paint
Tipped brushes
Containers
Starting Off
To begin, hand each student a piece of 12″ x 18″ white drawing/construction paper. Place small tubs of black liquid tempera paint (mixed with a bit of water) and small tipped brushes on each table. For a table of 5-6 kids, I place two containers of black paint. For ease of prep, I keep this black paint stored in small yoghurt containers with lids in my cupboard, and pull out whenever needed.
Drawing with Black Paint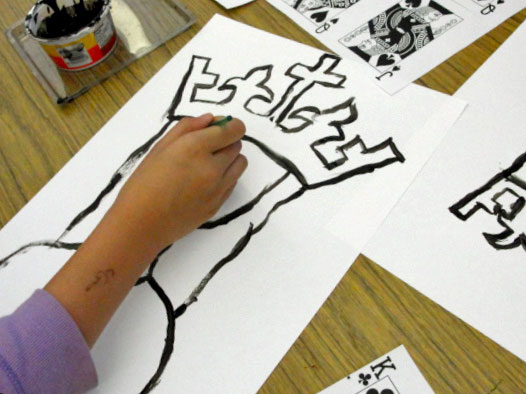 I demonstrate how to begin the drawing using black paint. I tell the children that the trick to painting with black paint is to not be fearful of mistakes. If a line is drawn that you don't like, keep going! Once dry, the black lines are fairly easy to cover with thick tempera paint.
So to begin, draw a large letter "U" in the middle of the paper. Next, draw the crown.After the crown comes the neck and shoulders. Finally the hair and face. It's really important for the kids to keep the drawing simple at this stage. Just the basic outlines and no details. Not even the face if they can help it.
Double Loading Painting Technique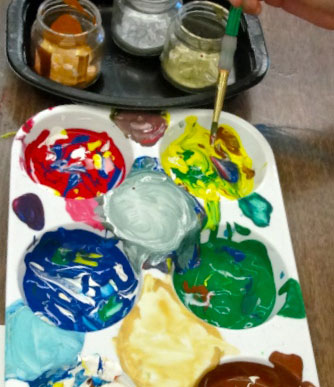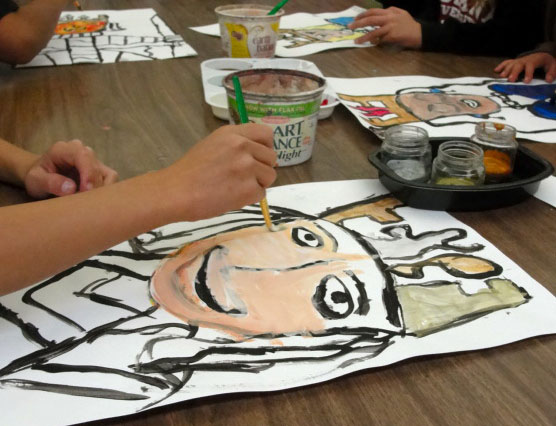 Use tempera paint that hasn't been watered down–in other words, straight from the bottle! Use a medium sized brush and dip brush into one paint color. Without swirling or stirring, dip the brush into another color. There should be two colors on the paint brush.
Take the double-loaded brush and paint onto paper. Lay down the paint in a single stroke, resisting the urge to blend the colors too much. You can do this of course, but it looks so cool to see both colors on the paper. It's that simple!
To see a demo of the double-loading technique, click here.
Painting Order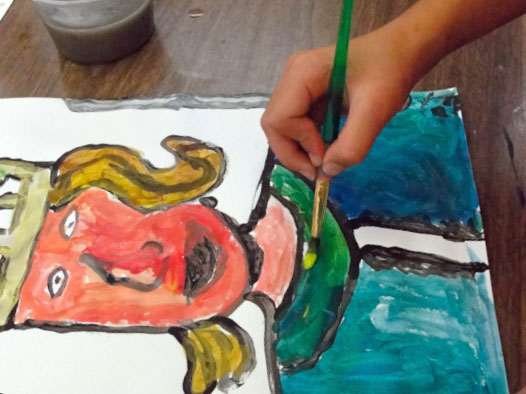 I instruct the kids to paint the face and neck first, then the clothes and hair and finally the background. For the crown I set out a few trays of gold and silver tempera paint. It looks amazing with this project but if you don't have metallic paint, don't worry about it. As an alternative, you could embellish with gold glitter.
Black Outline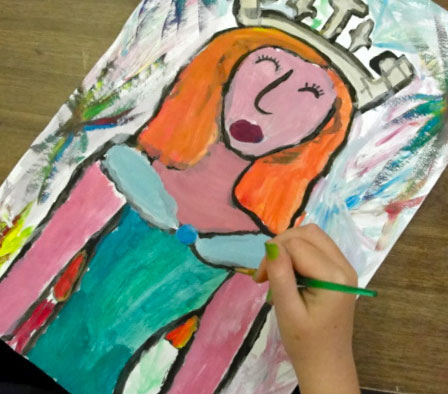 Nothing makes a painting look complete quite like outlining with black paint. You'll need the same black paint and small brushes and some patience. Kids at this stage sometimes rush the project because they can feel how close they are to finishing. I really encourage them to take it slow. Often, they'll bring their work to the drying rack and show it to me. In 75% of the cases, I'll ask the kids to trace over a few more lines. They are always pleased that they did.
Fourth Grade Fairy Tale Royals!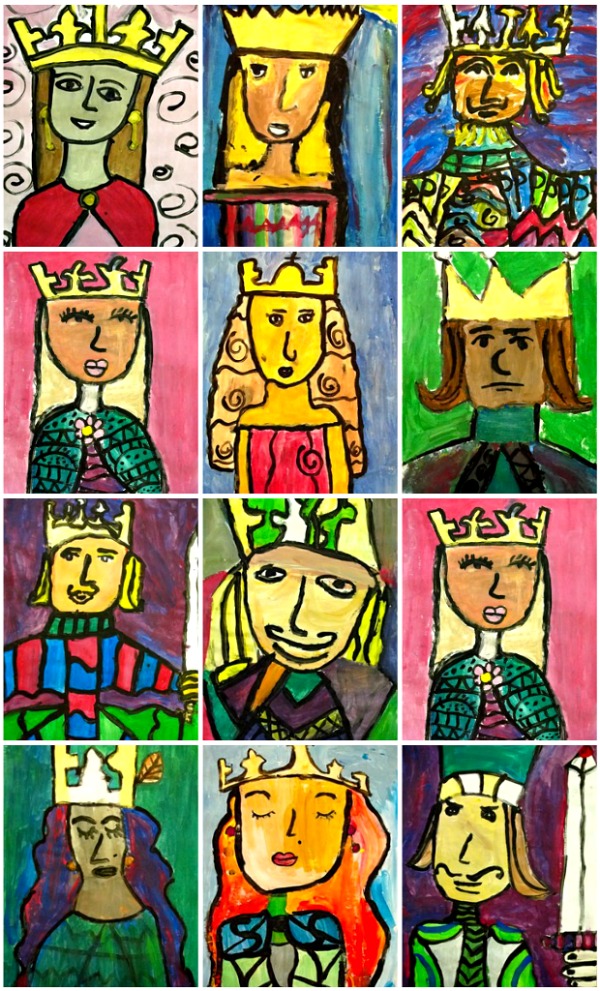 ---
Want a free handout? Download by clicking the yellow button below and we'll send you a free lesson guide on K-6 portrait making!