Día de los Muertos, or Day of the Dead, is a two-day holiday in November that originated in Mexico but is celebrated in many other places as well.
Being so close to Halloween, it is often incorrectly associated and although the word "death" may be in the name, this holiday is about honoring those who have passed rather than focusing on death and sorrow.
Families and friends gather to remember loved ones, pray and offer special items such as flowers and even food and drinks on an ofrenda, or home-build altar, for their spiritual journey. Our Day of the Dead Catrina Marker Drawings & Celebration Altar is another great lesson to tie in with this project if you are looking for others that are relevant to this holiday.
Placing a decorated sugar skull, also called a calavera, that represents a departed soul on an ofrenda is just one tradition that accompanies this Día de los Muertos. Sometimes these skulls are decorated with the name of a person or other brightly colored designs.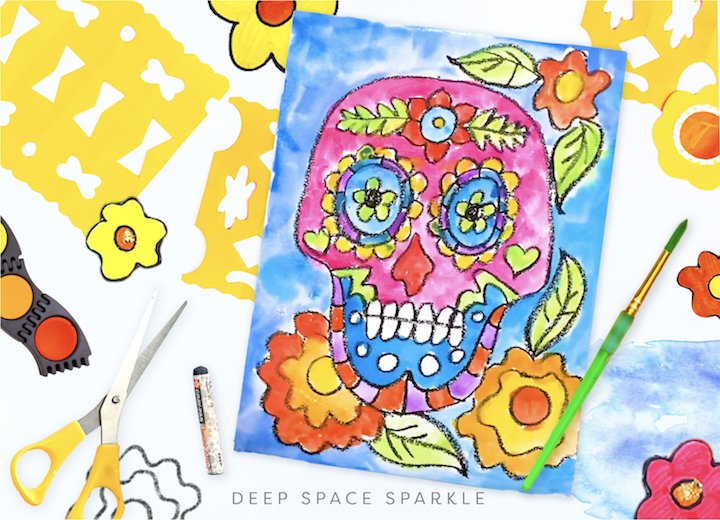 Who doesn't love the bright colors, the beautiful flowers and the tradition of celebrating and honoring our loved ones who have passed?
I know I do, but as I continue to learn and grow each day, I am recognizing what's even more important…and in this case, it's taking the time to learn about a unique culture that is not my own first AND honor the cultural significance of this holiday that emphasizes remembrance and tradition behind the sugar skull…a process that will hopefully help foster appreciation when modeled to your students.
Take a look! This quick video below shows you how to draw and paint a sugar skull WITHOUT using a template.
WHAT YOU'LL NEED:
– 12″ x 9″ white sulphite paper or watercolor paper
– Black oil pastel, crayon or waterproof marker
– Watercolor or cake tempera paints
– Medium round paintbrush
DRAWING THE SUGAR SKULL
Fold a 9″ x 12″ paper into fourths. Make a small dot near the top, bottom, and two sides at the fold lines.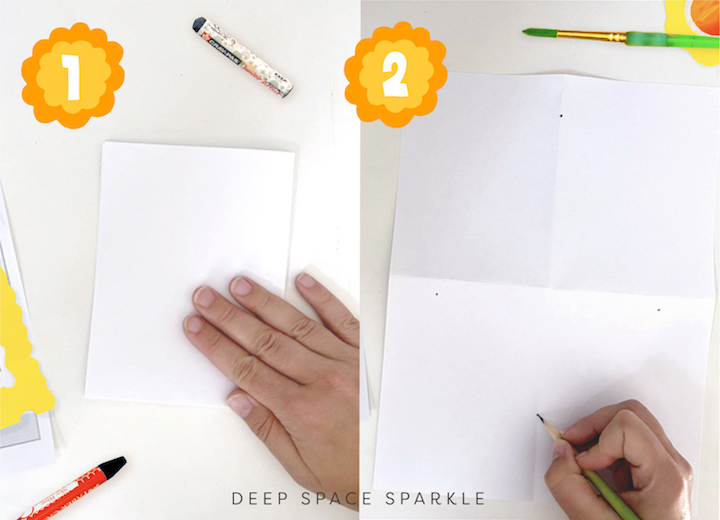 From the top dot, draw a curved line to the right hand dot. Repeat on the other side. This will create the rounded top of the skull.
Starting at the right hand dot, draw a short, angled line down towards the bottom dot. Curve and continue the line down to the bottom dot. This is the chin so don't make the curve line too wide. Repeat on the other side.
Add a line for the mouth and two dots with large circles around them for the eyes.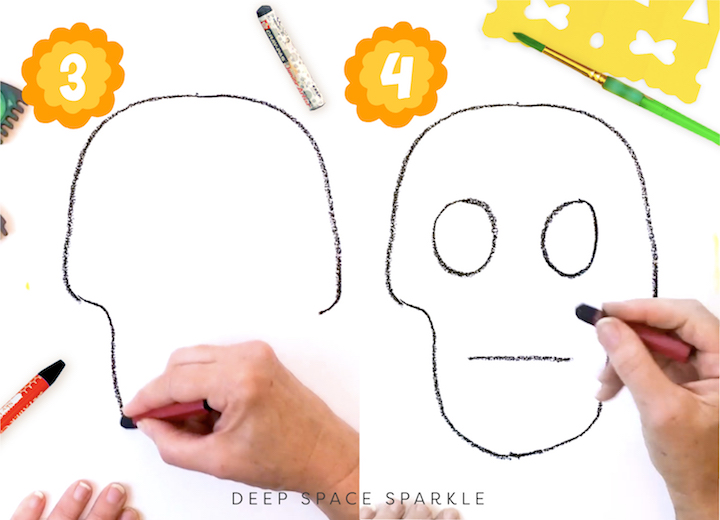 Finish off by adding bumpy lines on the top and bottom of the mouth to create teeth. Then, add a nose by drawing an upside-down "V" with three bumpy lines connecting the bottom.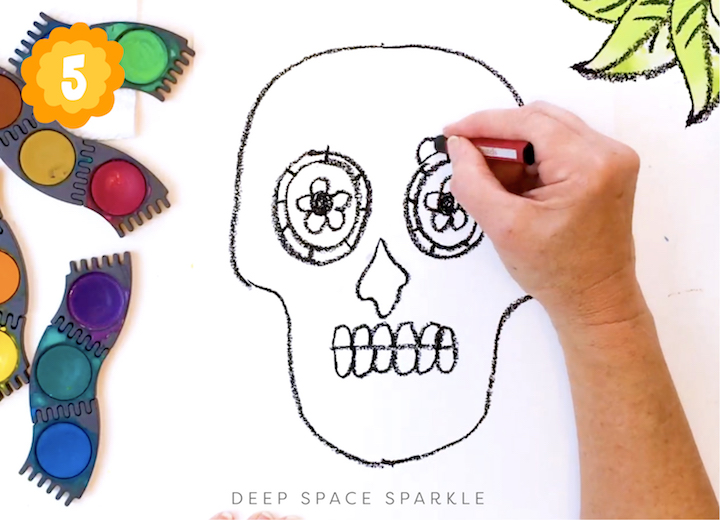 ADDING DESIGNS
Some sugar skulls are decorated with names while others are highly decorated with different floral and line designs.
The designs are typically symmetrical, which means the designs are the same on each side of the skull. When you add a design on your sugar skull, draw the same design in the same spot on the other side.
As you are decorating your sugar skull, keep in mind the intention of the project as well as the tradition behind the sugar skull and let them guide you. Some of your designs can even be symbolic.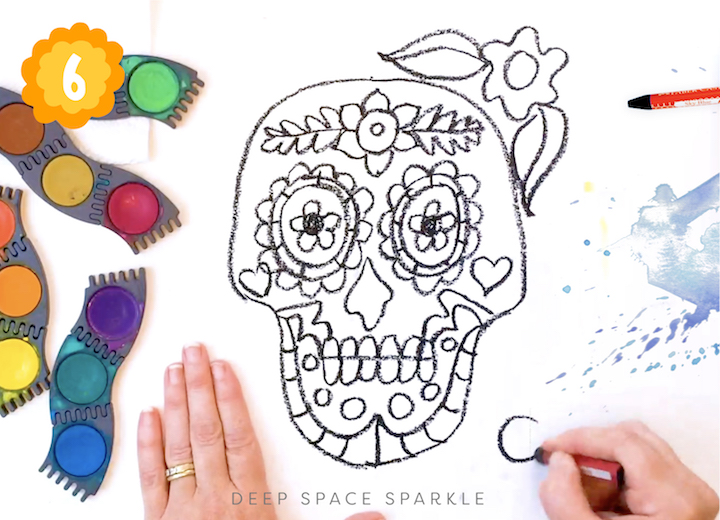 PAINTING THE SUGAR SKULL
Watercolors are a lovely option for filling in areas of your sugar skulls but you can really use any material you like: watercolors, tempera cakes, crayon, marker, colored pencils…whatever you have on hand.
Make sure you use a variety of colors so that your sugar skull is bright and bold.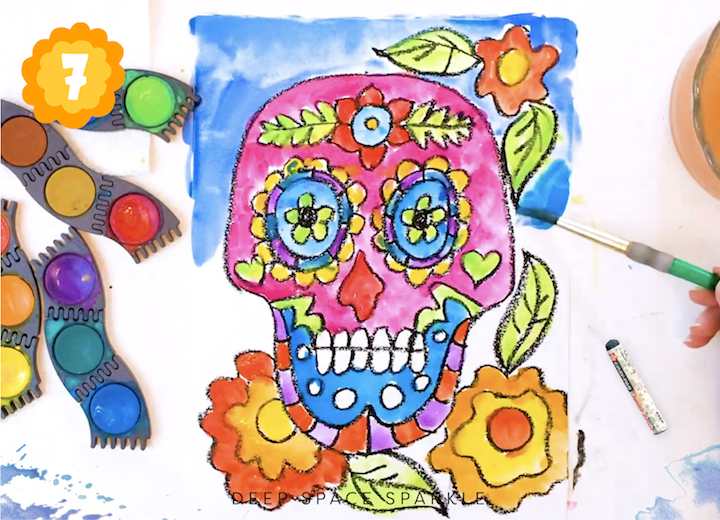 If you are using watercolor or tempera cake to paint your skull, try to paint areas that are not touching so that you can avoid wet paint touching wet paint, which can cause bleeding between colors.
Paint your background last. You can vary your techniques by using wet-on-wet for the background. To do this, paint your background first with just water and then drop paint in.
And there you have it, your sugar skull is complete!
The guide below will show you how to draw a skull by using reference points. This is a fantastic drawing technique that can be used with any type of object and on a number of different projects but it particularly good with round shapes

This blog post is based off of a Sparklers lesson from the Global Art Passport Curriculum, inside the Sparklers Club. If you are interested in joining, click the link HERE and sign up to be notified of our next enrollment.
Here are a couple more Day of the Dead Art Projects to try:
Torn Paper Calaveras (skeleton) with Marigolds
Sugar Skull Drawing with markers and painted paper flowers Perfect for grades 4-7
Your turn….
Do you celebrate Day of the Dead? Have you done a Day of the Dead art project with your students or kids? I'd love to hear how you celebrate Dia de los Muertos.
Share your ideas in the comment section below…