Painted paper is my very favorite art supply and you make it yourself!
All you need is some paper, paints and a paint brush.
Purchasing texture tools is optional but if you want some for free, look no further than your recycling container. Plastic forks, plastic containers/cups and even old sponges make the best texture tools.
Making your own painted paper sure beats the heck our of store bought craft paper and you could use almost any paper to experiment on. In my classroom I stick with the school grade, tried and true construction paper (I use Tru-Ray Sulphite Drawing/Construction Paper).
Click the yellow box below to download a free painted paper set-up guide for you…
WHAT YOU'LL NEED:
– Liquid tempera paint
– 12″ x 18″ sulphite paper
– 3-4 tubs for mixed paints for each group
– 3-4 paint brushes for each tub
– Forks or other store-bought texture tools
Prepping the Paint
The paints needs a little attention before you dish it out to the kids. One of the best purchases I made in the last two years was a stack of clear plastic tubs (with lids) and my local restaurant supply store (Smart and Final). Best $7 I ever spent. I use these tubs to store mixed paints. Don't just pour standard yellow into a tub; add some white. It'll make the yellow creamy and bright. Instead of plain green, add some white and yellow for a cool lime. Experiment with your mixes and don't worry about formulas. This is the fun part of prep work! My favorite combos are:
Red + Orange = Tomato Red
Green + Yellow + White = Lime
Blue + Green + White = Seafoam Green
Have some fun with paints and don't ask me for precise formulas (hee hee) You can do it!
Set-up
Okay, this can be a daunting step for many teachers (not so hard for small groups). Each child needs a work space, so lay out paper placements (beat-up, painted-on 18″ x 24″ papers) on each table.
Place a white sheet of 12″ x 18″ sulphite paper on each placemat.
In the center of the table, place 3-4 tubs of pre-mixed tempera paint (more on this later) and a tray of texture tools.
Pace 3-4 brushes in each paint container. I know. That's a lot of brushes but just resign yourself to the fact that you'll be cleaning forever later.
Painting the Paper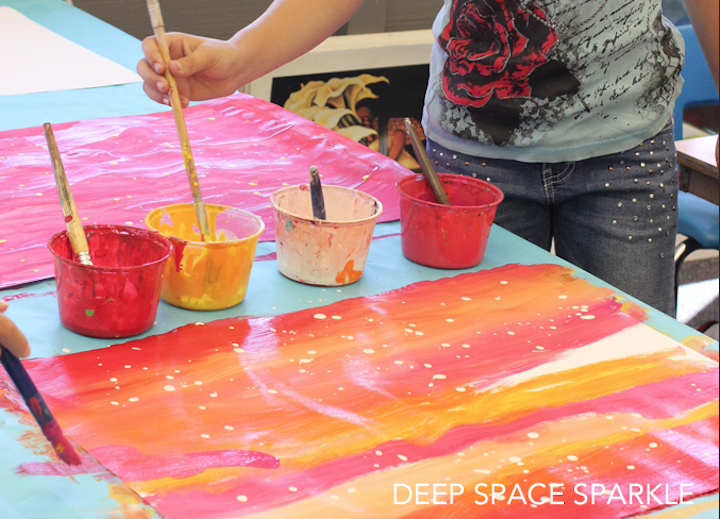 Before I let the kids go at it, I gather the whole group around one table and demonstrate the steps.
First step; pick one color and paint the entire surface on white paper with big, long strokes. After the first layer is applied, put your brush back and chose a second color. Do anything you want with this paint color: swirl, dot, make stripes, go in circles, etc.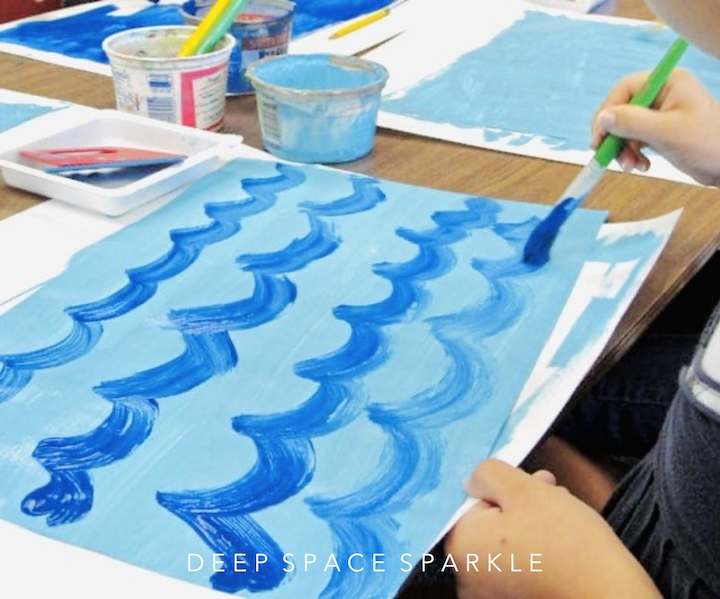 The tricky thing is not to mix the colors over the entire surface. Of course, there will be many kids who will try this so don't stress. This is what art class is all about. Experimenting. It's way too fun not to blend and mix, so if this happens, resist the urge to ask the child to start following directions. I mean, who really cares?
You can stop at two layers, but why? There is so much more fun to be had!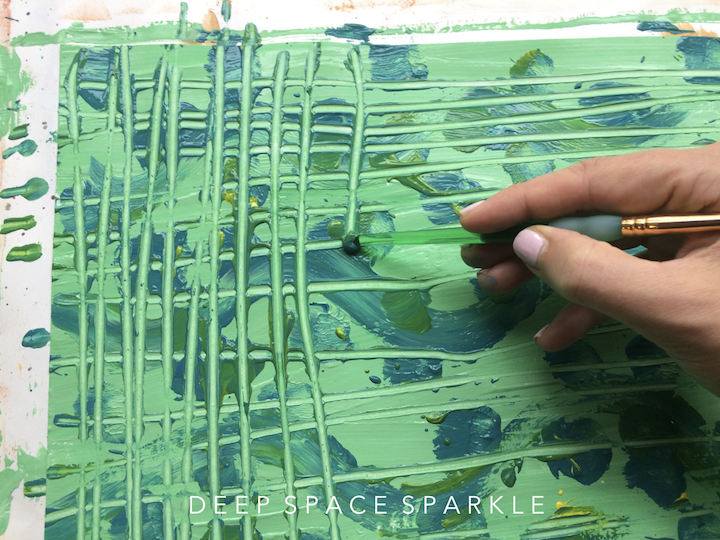 Add another color and this time, try texturing the color once on the paper. Use a fork or store-bought texture tool to drag the paint into lines. Kids LOVE this. It really is a joy to watch children (and adults, too!) playing like this. I've never had a child not want to texture paint.
If you haven't had enough, consider adding some SPLATTERS! Yay! You don't need to bring out your splatter boxes here as everyone at this point is already covered in paint. Trick with splatter painting is using your finger to flick the paint off the brush. If the paint is watered-down enough, dripping can sometimes be the most effective.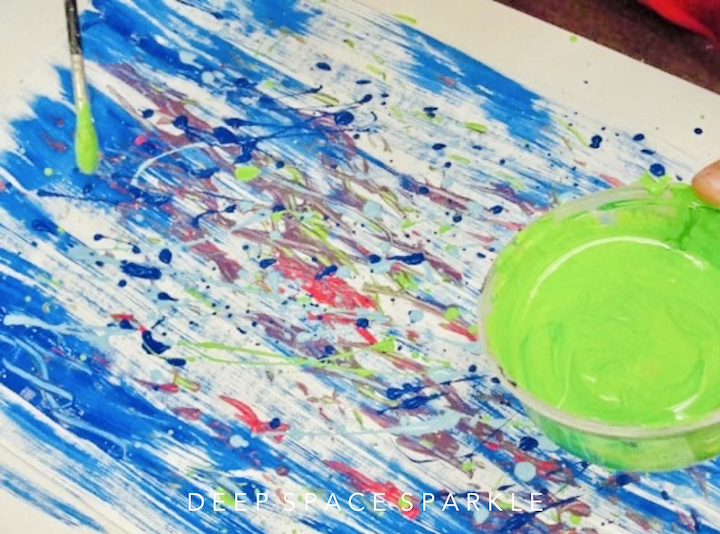 Drying, Names and Other Fun Stuff
Okay, now the problem part. The kids are done with their painting.
Where do you put it? For many year I did not have a drying rack, so I lined the painted paper around the perimeter of the art room. I still do that if I need an overflow option, but essentially, I carefully place all the art onto a drying rack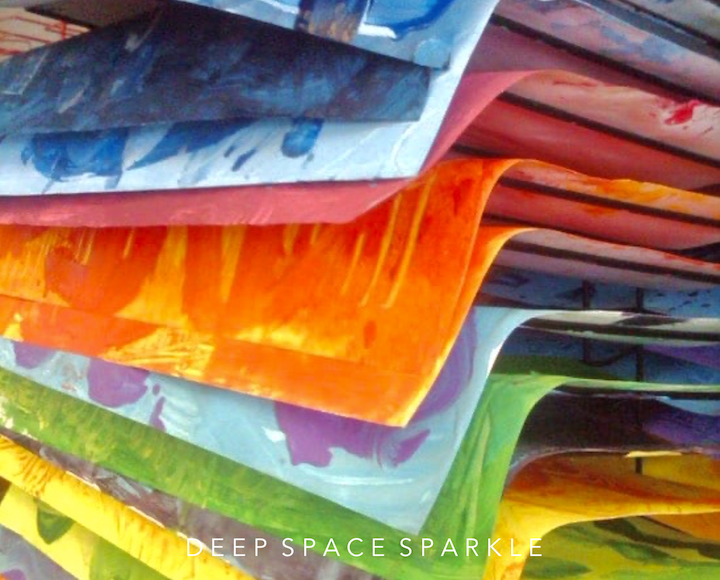 It really helps to have a rack that allows the trays to swing up. If you don't have this type of rack (like me), it can take a bit of angling to get the soggy paper into the skinny space. If you're really having problems, try placing a dry sheet of paper under the soggy one. It will help stabilize it.
You may be curious about names. There are a few painted paper projects that require I place names on the back. My Repeat Fish Art was one of those projects. Generally, I tell the kids that this is a shared project and everyone will use each other's papers for the next part of the art project.
Incorporating Painted Paper into Art Projects
Sharing painted paper is by far the easiest to manage, so I plan ahead.
When I set paint on each table, I do so in color schemes. One table might have blue tones while another has red tones.
After a child has completed one painted paper, they place their artwork on the drying rack (with the teachers help), select a fresh piece of paper and move to another color table. Sometimes the option to move to a particular table isn't available. I suggest that the student find an open space and go to that table despite what colors are on the table. There is usually no problems associated with this method.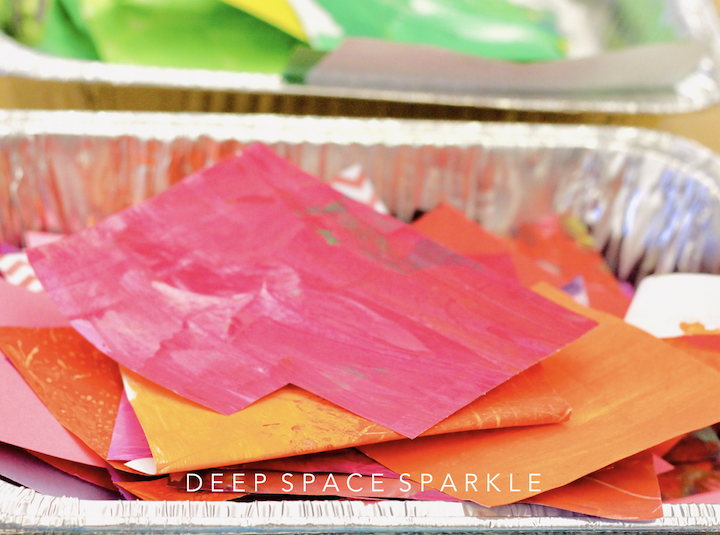 Once the painted paper is dry, I use a cutter to cut all the paper in half. This makes the pieces easier to manage and it gives me an opportunity to sort into colors. I place stack of similar colors into trays (I use aluminum foil trays that I buy from a big box store).
There is no doubt that is by far the messiest project you could do. It's also the most worthwhile. There are so many projects that can use painted paper. It is such a valuable resource to have in the classroom not to mention what it teachers the students: art is messy and fun!!!
Click the yellow box below to download a free painted paper set-up guide for you…
Here are some of my favorite painted paper projects:
How to Make a Spring Flower Paper Bouquet
Painted Paper Dancing Duckling
You can also check out our glitter paper tutorial here:
How to Make Your Own Glitter Paper