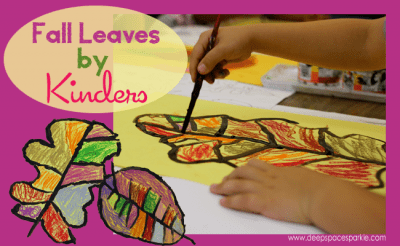 Looking for a quick Fall art project? Inspired by the amazing Laura at Painted Paper and her O'Keeffe Inspired Leaves, my Kinder classes looked at leaf shapes and discussed the common features in the leaves. We looked at the stems and the veins plus the various shapes the leaves created. In Santa Barbara, few leaves are turning yet so I didn't have any great samples. I brought in a few pictures to look at.
All you need for this project is: a piece of paper (we used 12″ x 18″ yellow sulphite paper), some oil pastels, and some black liquid tempera paint (watered down a bit) and some medium brushes.
To draw a leaf, the children drew their own stem and then decided what type of leaf they wanted. We concentrated on drawing wiggly or big arching lines that expanded away from the stem. Some kids still drew their leaf lines close to the stem, but that's okay.
To build those little finger muscles, the children divided their leaf into shapes and colored the shapes in colors from a tray of Fall-like oil pastels colors.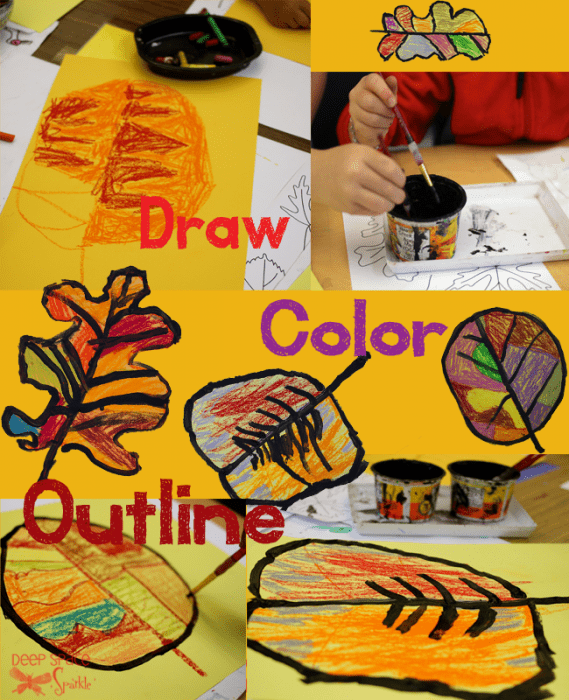 I was a bit surprised at how quickly the children colored in their leaves! I had to rush to put out the trays of black paint. It's helpful to have these paints in containers with covers. This is my third year using the same containers and I have never washed them out. And no, they aren't smelly.
I had originally planned to have the children cut out the leaves and then paint the contour line and veins. I somehow forgot and ended up having the children paint first. We placed the leaves on the drying rack and a few helpful 6th graders cut out most of the leaves for their little friends. Just a note on this: Like I said, my plan was for the Kinders to do the cutting so in the end, allowed the 6th graders to help. The big benefit is that now the Kinders can move onto another art project next week!
Enjoy!
---
Want more lessons for your fall art activities? Download this lesson guide by clicking the yellow button below and we'll send you a PDF on How to Draw a Pumpkin!