These paper crows are adorable and yet so simple to make during the Fall season in your art room.
This is the exact type of project that I like to have on hand when pumpkins, scarecrows and autumn collages are filling up the art room.
One of the best things you can do as an art teacher, is identify the quick art projects that require 30-40 minutes of your time. Creating a "bank" of these lessons can literally save you tons of stress simply by knowing they are there.
Here's a quick video to watch the process:
Before you get started –
Download the October Freebie pack and print of the Crow Templates inside. This packet is filled with Fall themed lessons, drawing guides, technique tips and video tutorials that are perfect projects to add to your art room this Fall season.
WHAT YOU'LL NEED:
– 12″ x 18″ white sulphite paper
– Scraps of black and yellow paper
– Cake tempera paints
– Paper Crow Template (download below)
– Paper for Fall leaves
– Scissors
– White school glue
– Googly eyes
THE PROJECT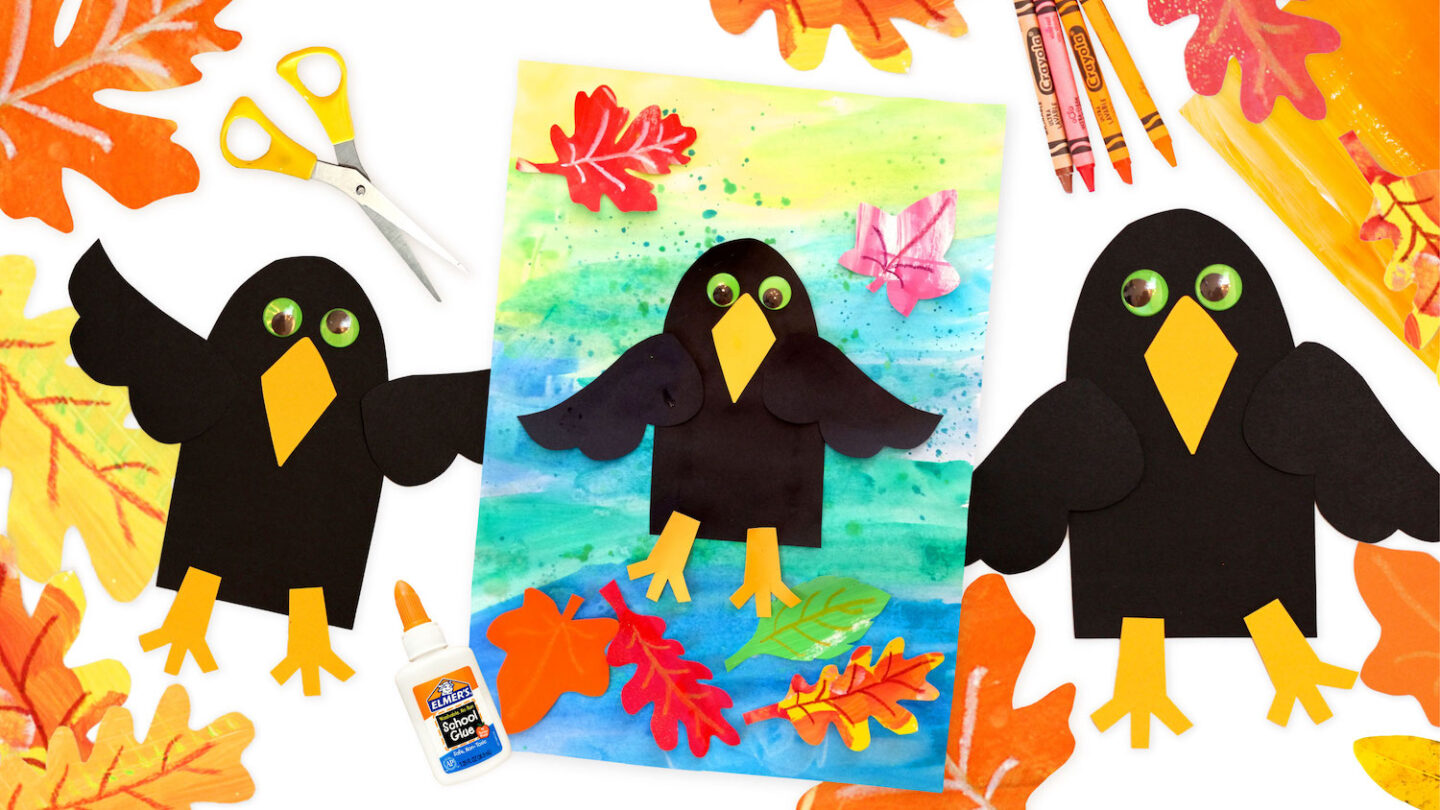 Start by brushing various colors of cake tempera paint onto your white drawing paper.
Fill the entire paper with colors and then add a few splatters of paint by flicking your paintbrush towards the paper.
Print out the Paper Crow templates to trace and cut out your crow.
You can photocopy the template onto cardstock, then cut out and place into trays for each table group. Older kids can cut the templates on their own.
Give each child a pencil, some black paper and scraps of yellow paper. Trace and cut all the crow pieces and glue to your painted background OR just assemble without any background at all.
Move the wings and legs around to create movement.
Glue on some pretty fall leaves to your background paper, around your crow.
Arrange in your classroom and enjoy this wonderful season!
I'd love to see how your crow projects turned out, so please leave me a comment below.
For more free art lessons with step-by-step instructions, click HERE to view all our Fall inspired art projects and lesson plans.