Have you ever wanted to experiment with different supplies with the same project? Of course you have!
For a twist on my Watercolor Scarecrow Art Project, I switched the standard watercolor paint technique for liquid tempera paint. I knew from past experience that using watercolor paper and liquid watercolor paints is the easier method and my experiment did not change that fact. But I love how vibrant the farm looks with tempera paint.
TEMPERA PAINT BACKGROUND
What You'll Need:
12″ x 18″ sulphite or drawing paper
Liquid tempera paints (blue, green, yellow, orange and black)
Black oil pastel for drawing
I mixed up a selection of bright tempera paints. The children drew lines that will become the fields, clouds and sun. Paint the resulting shapes with tempera paint: yellow for the sun, browns, oranges and greens for the fields and blue for the sky.
It's not necessary to paint the clouds. Let the white paper show through instead.
Now comes the hard part: outlining with a small brush dipped in black paint.
This is not easy for chubby little hands, so don't expect perfection. In fact, I love the lines the children create.
An alternative to the black paint is to use a thick black oil pastel. It's less messy but does require an extra step: time for the background to dry.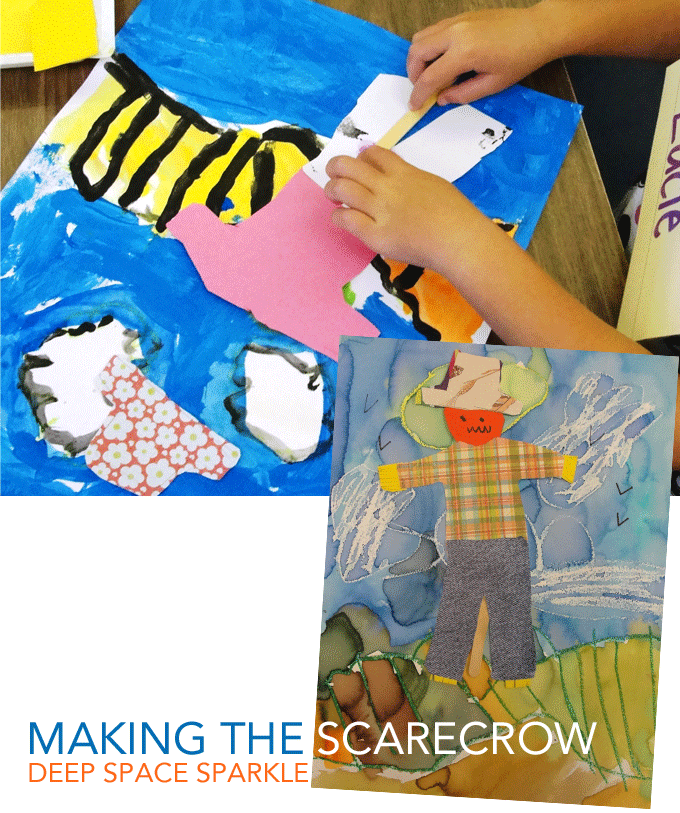 Set aside the background and begin making the scarecrow. I use templates that I created from card stock, but you can have the children free draw onto printed craft paper. It's up to you. But if the children free draw, be prepared for teensy weensy pants and shirts. So cute, but well…you decide.
After the kids cut out a hat, head, pants and a shirt, they glued the pieces together. Add patches, small buttons and raffia or yellow paper for straw to complete the scarecrow. Tape or glue the scarecrow to a popsicle stick (long coffee stir sticks work well too) and glue to background paper.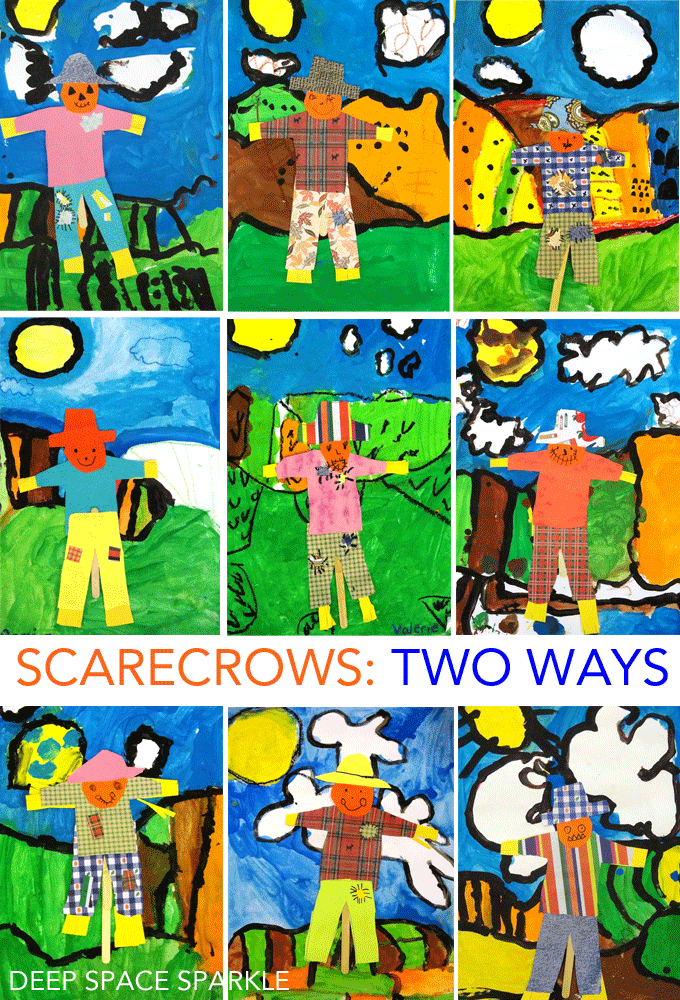 WATERCOLOR BACKGROUND
Part 1: Background supplies for Watercolor Background
– 12″ x 18″ watercolor paper
– Palettes of liquid watercolors (blues, yellow, green, orange and brown)
– Oil Pastels (white, green, black and brown)
Scarecrow Supplies
– Craft paper
– Popsicle sticks
– Assorted small buttons
– Black marker
– Raffia or yellow paper for "straw"
– Pencil, scissors and glue stick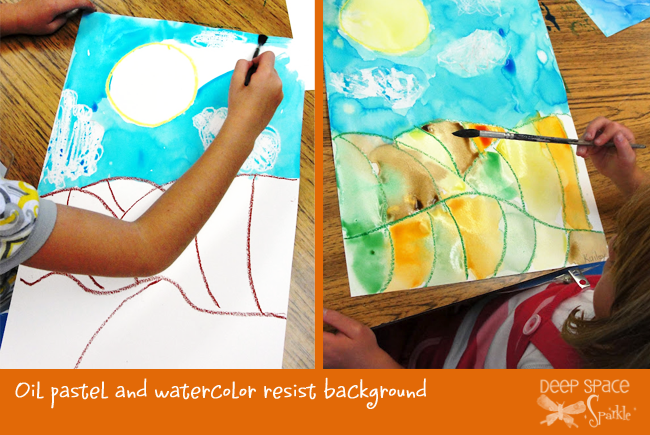 Painting the background
The first phase involves oil pastels and watercolor paint. I prefer to use liquid watercolors for this project, rather than watercolor cakes, as the results are pure, not muddy. If you aren't convinced, check out my post on liquid watercolor paints.
After looking at pictures of fields and farmlands, the kids are instructed to draw a few lines in oil pastel. We start with a rolling horizon line, add a few vertical lines for the fields and wavy horizontal lines to break the large fields up.
The kids use a white or yellow oil pastel to draw the sun and white oil pastel to draw and color in the clouds.
The students paint the sky blue and watch the clouds appear like magic. Green, orange, brown and yellow watercolors are used to paint their fields. Some children will use the green oil pastel to add crops in the fields (but truthfully, I don't have many first graders who get to that point!) Set aside to dry.
Making the Scarecrow
An easy way to make the scarecrow is to use templates. They're easy to make and reduce the level of frustration most kids experience when trying to cut out a pair of pants. I make simple shirts and pants from cardstock and set the tray of the templates on each table. The children use the templates to trace onto craft paper and then add patches, buttons and raffia.
Making and assembling the scarecrow takes a little time but one time saver is to help the children tape (instead of gluing) the scarecrow to their Popsicle sticks. Of course, many children will glue it themselves, but if you have extra adults in the class, put them to work!
Adding raffia underneath the pants and shirts is an adorable way to spice up the little scarecrow, but if you don't have it or run out like I did in this particular class, then you can use yellow paper.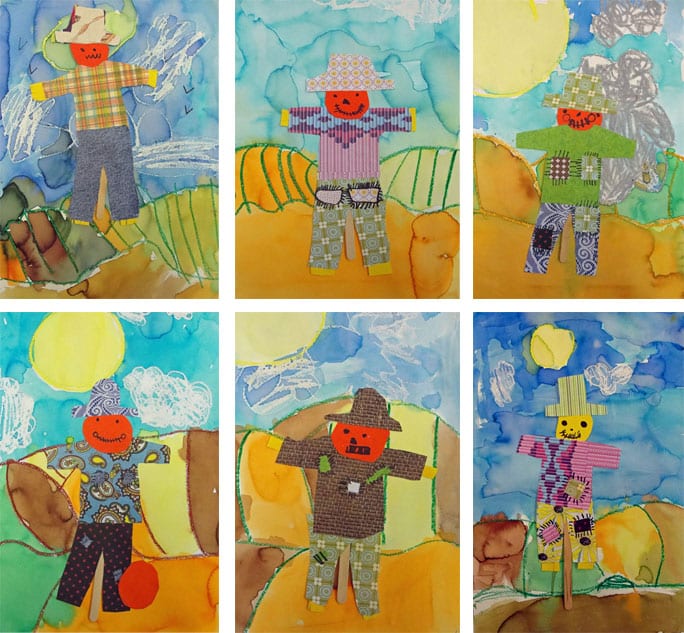 ---
Want more lessons for your fall art activities? Download this lesson guide by clicking the yellow button below and we'll send you a PDF on How to Draw a Pumpkin!