Mosaic Hearts Art Lesson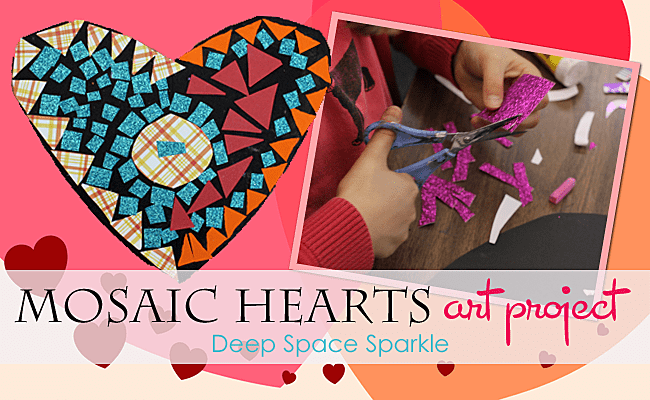 Sometimes an art project is inspired by the strangest of things. In this case, a sparkly roll of craft tape. I just knew I had to incorporate the glitter tape into an art lesson and of course, it being winter time and close to Valentine's Day, well, let's just say it didn't take long to figure out a plan.
This lesson plan ended up being less about the glitter tape and more about math. Mosaics in particular. It's a familiar art form for kids and the physical act of piecing shapes together to form a beautiful pattern is filled with learning opportunities. Created for my third grade class, this lesson is easily adaptable for older kids by making the heart shape larger and requiring more complex patterns, but it can be simplified as well.
For younger kids, the simple act of cutting strips into squares is a worthy enough skill on its own, but using little fingers to glue small pieces of paper onto a shape is a bonus.
Fill your classroom with these beautiful hearts and just in case you don't have glitter tape, I included a tutorial on who to make your own glitter paper! I plan to do this lesson again this January. Can't wait.
Here's a preview of the 11-page digital download: