Every year I attempt the same thing: create an art curriculum for my readers. It's the request I get most often.
New art teachers want to know how to plan our their year. Seasoned teachers want to change things up. Wouldn't it be great to just print out an art curriculum complete with multiple lessons for each grade?
When I was beginning my career, I felt the exact same way. I had never taught art before so I was overwhelmed at the idea of teaching art lessons to seven grade levels. There were a few art books and a few websites that I pilfered, but I knew I needed a plan.
What kind of art curriculum should I have? Did I need to follow standards? Were there any standards? What about art principles? Did I have to tie into the teacher's curriculum?
So I asked my Principal, "What do you expect from me?"
He said, "Just do art."
Hmmmm. Okay.
Borrowing inspiration from the Elements of Art, I tried art lessons that I found interesting. I experimented with differed materials, different papers, different brushes until I found what worked. I took a stab at papier-mâché and 3-D art and lessons from Great Works of Art. I gauged the success of the lessons by the student's reactions. They provided the direction of my next lesson.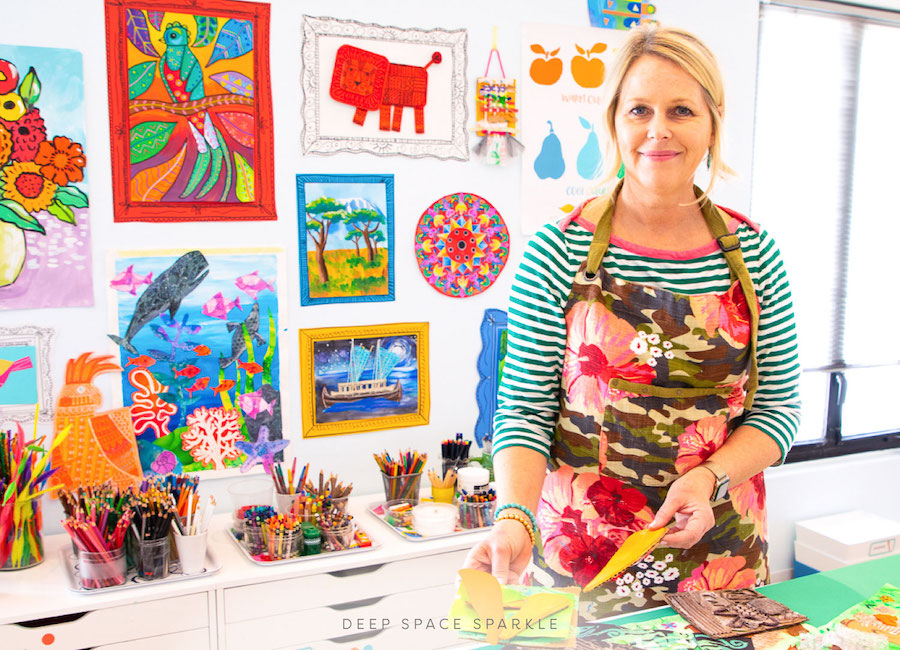 My teaching situation might be different from yours. I feel my job is to introduce children to the world of art, to learn what it means to be creative and to learn some techniques along the way. I don't grade. I don't have to follow standards. I don't get a review. My art program is organic. But I sense that I'm in a unique position and realize that it might not be in the best interests of my students not to have a structured or at least formal art program.
My readers are art educators. You have report cards, unyielding schedules and strict standards. You have stress! So what should you do?
The Perfect Art Curriculum
Here's the thing: there is no one perfect curriculum.
Some might argue that there should be, but if there were, we wouldn't have the freedom to experiment. To read a random picture book and be inspired enough to create a lesson around it. To visit a place of geographical significance and turn in into an art project. That's what drives my love for teaching art. To introduce my students to things in my world, like my home in Prince Edward Island. I've incorporated cows, barns, lighthouses and local Maritime artists to my Californian students.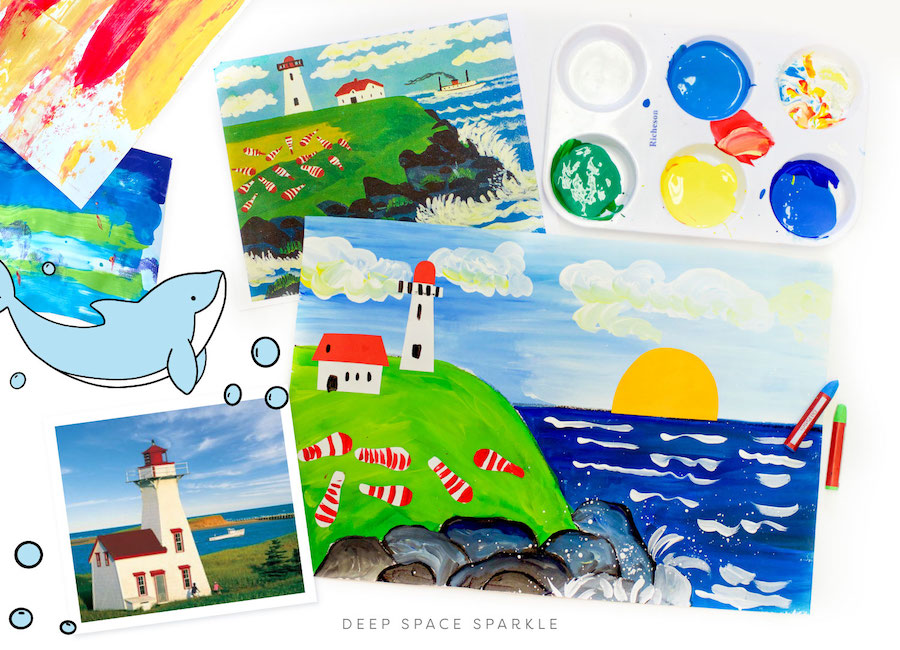 That is what inspired me but I also realize that I'm in a position to teach and therefore, I create an art curriculum. Mine is technique based. Here are the techniques and general guidelines that I employ to every art lesson that I plan.
Kinder – Third Grade Art Techniques & Subjects
– Line Drawings & Directed Line Instruction
– Cutting and Pasting (lots of this!)
– Primary and Secondary Colors (painting and/or collage)
– Free Expression
– Watercolor Introduction (increases in difficulty with grade levels)
– Form-based art (Ceramics)
– Painted Paper (mixing paint and experimenting with textures)
– Drawing & Rendering with Oil Pastel, Crayon or Chalk
– Creating Art with Shapes
– Portraits (K and 1st)
– Modern Artist (1st-3rd)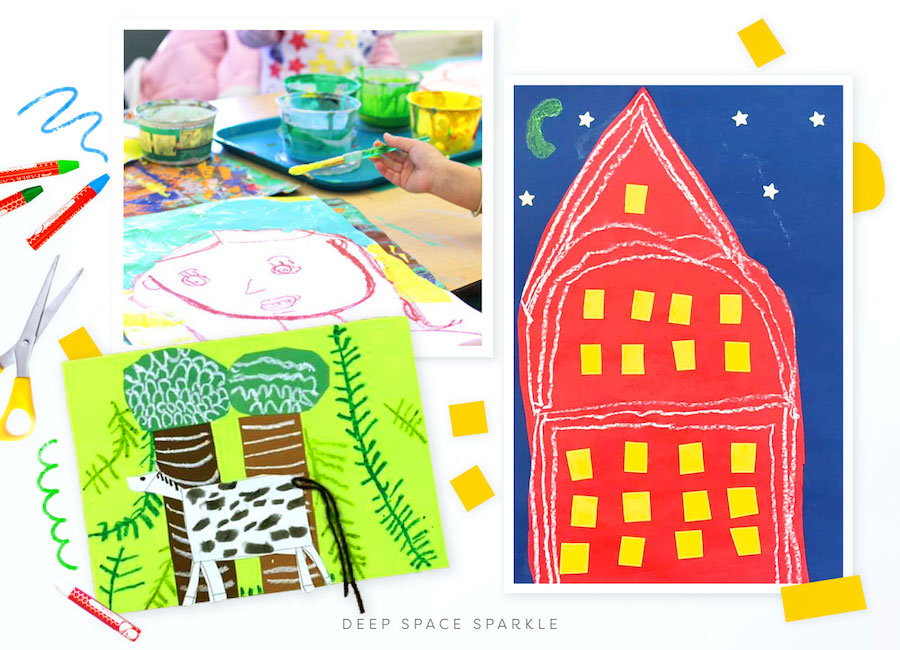 Fourth – Sixth Grade Art Techniques & Subjects
– Drawing & Line Drawing Lessons with Markers
– Watercolor Techniques (resist, salt, lifting, wet-on-wet, wet-on-dry)
– Tempera Painting (mixing paints/tints and tones
– Paper Cutting and Collage
– Form-Based lesson (ceramics)
– Art History (Artist, Culture)
– Oil Pastel Lesson
– Chalk Pastel Lesson
– Portraits (5th)
– Ceramic Tile Mural (6th)
– Modern Artists
– Colored Pencils & Charcoal
It's far easier for me to outline art techniques rather than any other method such as Principles of Art or Elements of Art. I write all my lessons down in whatever format I find the most useful and make sure that each class has at least one lesson devoted to each technique and subject listed above.
If I have a day full of multiple grade levels, I will often teach the same technique to all of them. I will change the subject matter and teaching style but the technique would be the same. For example, if I did a directed line drawing with my Kinders, I would pick an easy subject. For the older students, I would introduce a higher level of detail. That sort of thing. I never do the same lesson with different grade. Too boring.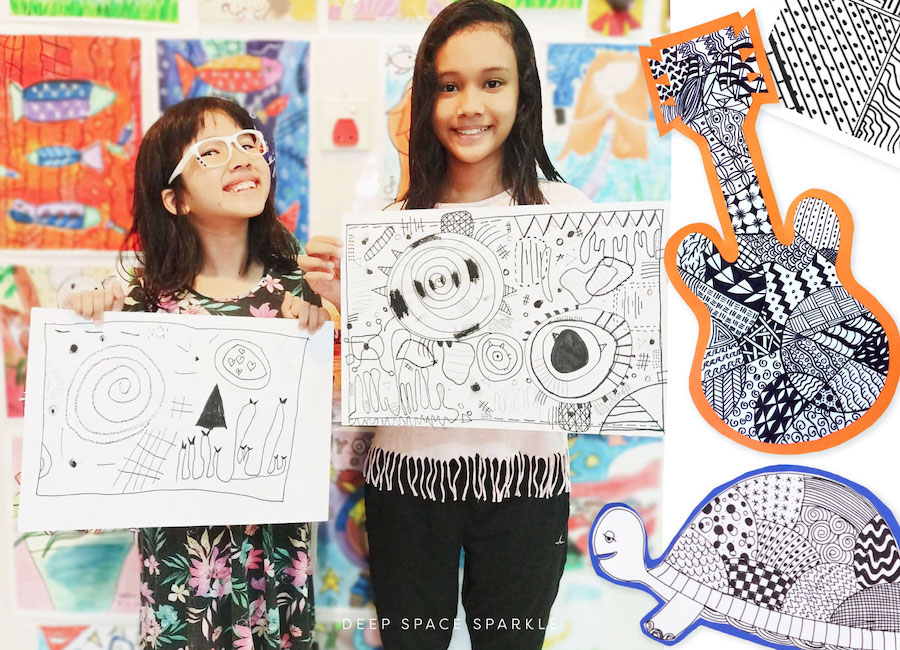 Art Themes and Styles
This is one area that is best left up to an individual teacher's passions. I've found it hard coming up with an age-appropriate art lesson for any of the renaissance artists (although I just recently got some great ideas from a question posted on Facebook). To me, the art is too detailed, too stuffy and has far too many naked bodies!
I do love ancient art, the modern masters, contemporary art, culturally significant art, architecture and basically blasts of color. Creating art lessons based on these areas is very easy for me and by using my checklist, I know that my students are learning everything that they should be.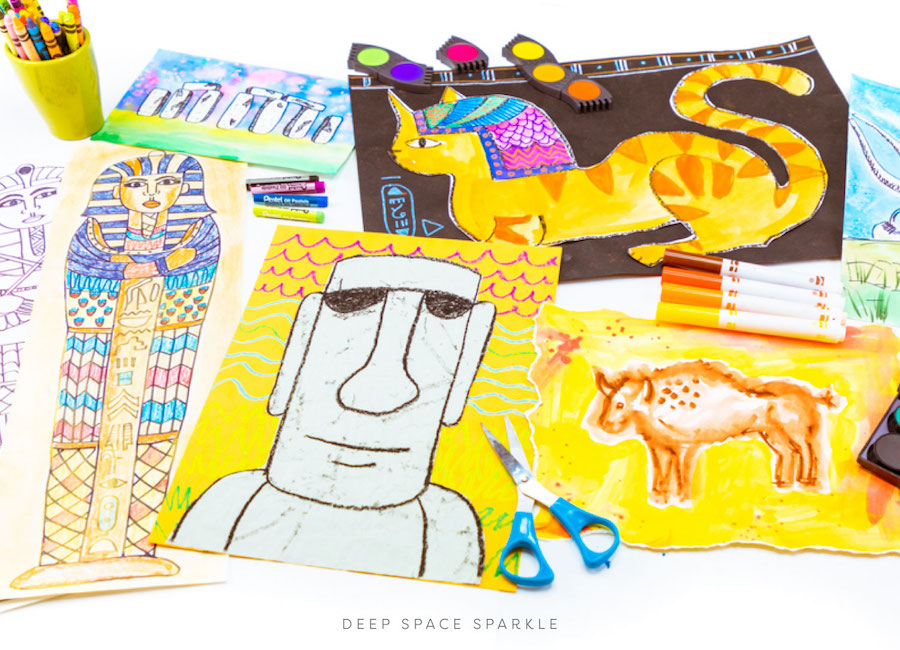 My suggestions for those of you who are struggling to develop a curriculum is to try a few different things. Find what inspires you and excites you to teach. Kids will respond to your enthusiasm. Stay away from anything too serious until you find what your style is. Every single element and art principal can be incorporated into almost any subject and technique. Just play and experiment.
Teaching Styles
If I could teach any grade level all week long, it would be kinders. They are so adorable and they listen so well.
I know. Seems contradictory, doesn't it? The kinder teachers at my school have done an incredible job with their charges. These little kiddos actually pay attention when I ring my bell. They are rapt with eagerness when embarking on a new lesson. This amount of interest is no small feat. Lots of challenges with different learning styles, attention spans and behavior readiness (is that even a "teacher term"?). I have to hand it to the teachers at Brandon. They are good.
As the children gather, I talk in a low voice, mostly because the excitement level is so off the charts when they arrive, and announce what they will be making. I try not to engage the kinders in questions like "have you ever made a snowman?" because the comments will truly go on forever and soon you will know about every family trip the child has ever taken. Although, if you're talkative like me, occasionally you too will get carried away and one question will leak out and you'll have question carnage to deal with.
Dealing and interacting with the children up close and personal seems to work well. I can easily address a child who blurts out inappropriately, I see who is paying attention and who is drifting. I can reign in the wigglers by having them sit close to me or stand up or sit down… whatever it takes to refocus them. I try to use engaging words and hand gestures so at the very least, they will look at me and wonder if all art teachers are this weird. I figure I have about 7-9 minutes before I lose the kids. I make every minute count.
Up Close and Personal
Having the children close, really allows you to monitor their reactions, to play up on what they respond to and temper what doesn't. The close proximity to the demonstration also seems to solidify in their minds the steps required to do the project. With all four kinder classes, very few children needed extra help with the intricate process of scratch-attach and scoring needed for the snowmen. And hardly anyone needed help with the painting. They were good to go, eager and proud of their creations. They loved the process. Mind you, the snowmen are a kind of fail-proof lesson, but still, few kids were frustrated or forgot what to do.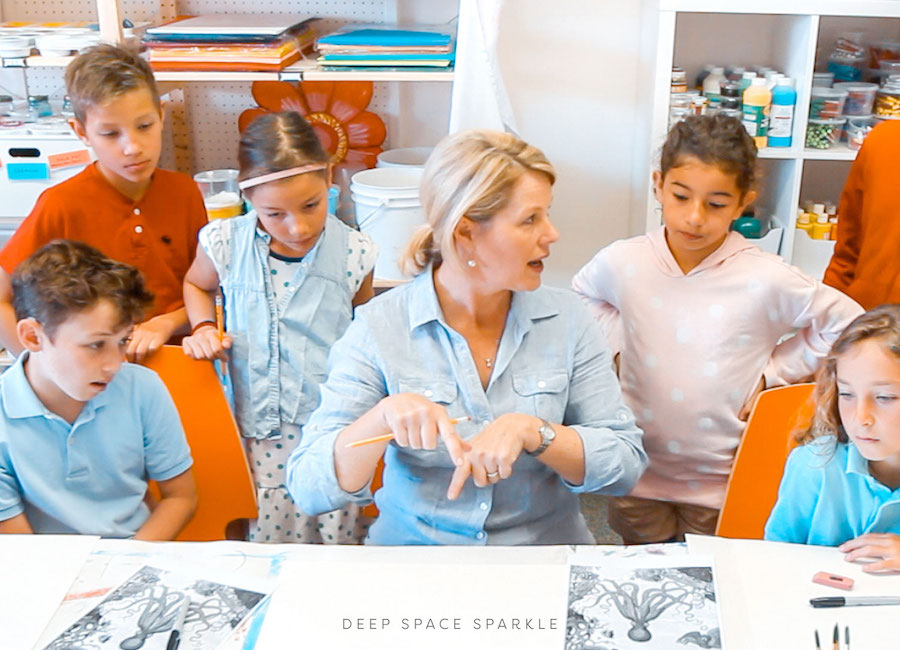 Now, here are my questions for you….
What works for you?
How do you handle a detailed project with little ones?
What works for the older students? Do your students stand as they create or must they sit?
How long do you spend on a demo?
Do you have to stick to a set art curriculum?
What are the biggest obstacles you face in creating your own art curriculum?
Download the Art Teacher's Toolkit Guide for success in selecting lessons, planing your curriculum, finding the best art supplies and more!
---
To hear more information on art curriculum's, teaching, teacher interviews and starting your own business, check out my podcast Art Made Easy to learn more.