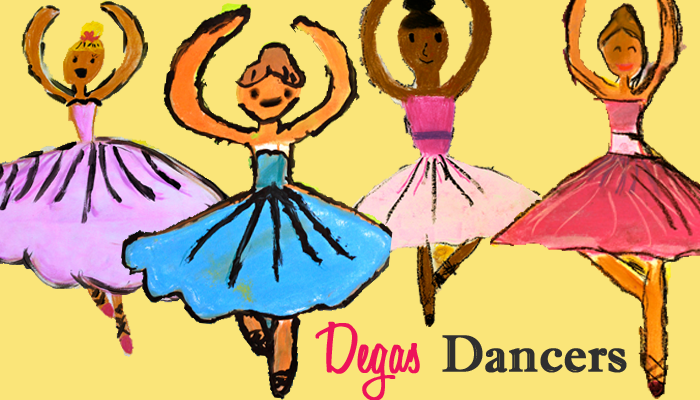 I've always been partial to drawing the human form. In fact, I really don't think I've ever had any interest in drawing anything else. From a young age, I only drew fashion models, gymnasts, figure skaters and the occasional ballerina. But drawing the human form takes practice.
Lots of it.
Rarely can a child whip out a perfect human body the first time around. With this in mind, I develop all my lessons on the human form with a bit of caution: focusing more on shapes and proportion rather than movement.
I've always adored Edgar Degas and his paintings of the Paris Opera House dancers. But like many of you, I wondered if I could put together a lesson that would appeal to both boys and girls. I know it's an outdated stereotype, but I still wondered how it would work.
After I studied the Dancer paintings and saw how technical they were, I knew that if I approached the dancers on a technical basis, all children could relate.
So without much focus on the ballerinas, I read Laurence Anholt's book, Degas and the Little Dancer, which was not only an emotional read but artistically engaging (Anholt used Degas paintings as inspiration for the illustrations in the story).
After the story and studying Degas's paintings, the children (all children) were enraptured. This is the key, I think. To focus on the emotion of the dancer and the artist as well as understand how the body is really just a series of simple shapes.
---
FIND DEGAS LESSON IN THE MONET AND THE IMPRESSIONISTS BUNDLE AVAILABLE NOW IN THE MEMBERS CLUB…CLICK BELOW…

This post contains affiliate links.