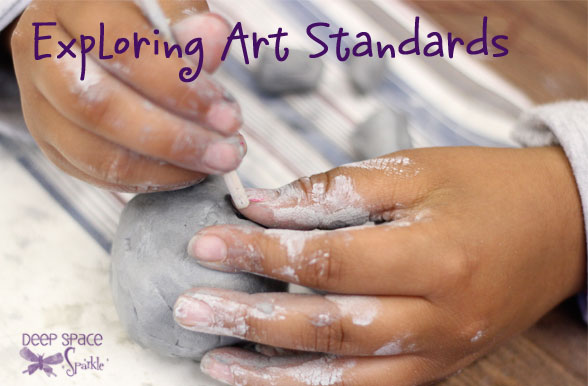 Earlier in the summer, I had the privilege of teaching an art instruction e-course to art teachers, home-school parents and classroom teachers from around the world. One of the best part of the e-course for me was the forum. Teachers expressed their concerns over tight schedules, asked for help with organization and contributed tips for better classroom management.
One of the underlying concerns was addressing the art standards. I've always shied away from standards because I am not required to teach them. I am a consultant hired by my school district to deliver an art program but the classroom teachers are the ones to impose the art standards.
Still, I consider it my job to ensure that children learn all the fundamentals of art but I don't use standards to develop my curriculum. DSS readers have asked me why I don't include standards in my art lessons. I have to be honest with you. While the standards do include valuable guidelines, they are verbose and don't hold my attention. That's the truth.
Let's take a look at California's first grade Visual Arts standards:
1.0 ARTISTIC PERCEPTION. Processing, Analyzing, and Responding to Sensory Information Through the Language and Skills Unique to the Visual Arts. Students perceive and respond to works of art, objects in nature, events, and the environment. They also use vocabulary of the visual arts to express their observations.
2.0 CREATIVE EXPRESSION. Creating, Performing, and Participating in the Visual Arts. Students apply artistic processes and skills, using a variety of media to communicate meaning and intent in original works of art.
3.0 HISTORICAL AND CULTURAL CONTEXT. Understanding the Historical Contributions and Cultural Dimensions of the Visual Arts. Students analyze the role and development of the visual arts in past and present cultures throughout the world, noting human diversity as it relates to the visual arts and artists.
4.0 AESTHETIC VALUING. Responding to, Analyzing, and Making Judgments About Works in the Visual Arts. Students analyze, assess, and derive meaning from works of art, including their own, according to the elements of art, the principles of design, and aesthetic qualities.
5.0 CONNECTIONS, RELATIONSHIPS, APPLICATIONS. Connecting and Applying What Is Learned in the Visual Arts to Other Art Forms and Subject Areas and to Careers.
I don't know about you, but I think these standards sound like a college syllabus for Introduction to Art 101. I realize that the verbiage is meant for the teacher, but no one can defend the tone of the standards. It feels overly sophisticated and simplified at the same time. I think if I were a new art teacher coming out of a credential art program and was asked to develop a curriculum based on standards, I would run away. Fast.
What I really think the standards are meant to say, is that we as art teachers, should provide art lessons rich in art elements, painting and drawing techniques, cultural, literature and historical connections, as well as engage their imaginations. Don't you think that should be at the top of the list?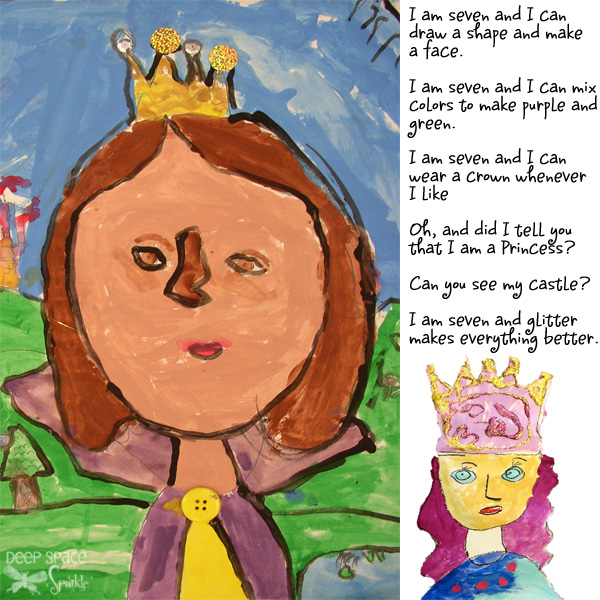 My standards
I'm tempted to provide some colorful commentary on each of the above standards, especially how they apply to seven year olds, but I think it best to keep honoring my instincts when it comes to teaching art to children. Here are a few of my art standards:
Should respond to their artwork with laughter and enthusiasm
Expected to squirm, giggle, get messy, paint on their hands and arms, doodle on every piece of paper they see and not stop painting when asked.
Will ooh and ahhh when they discover that by mixing blue and yellow paint, green paint will appear
Will learn how to draw by listening and observing
Expected to mix every single paint on the colorwheel together so they can discover the color of mud
Expected to stand up while painting or drawing or molding
Shall talk endlessly about their artwork to the point that they drive you crazy
Okay, now it's your turn. What would your standards include?
---
FIND ART LESSONS THAT WILL ENGAGE YOUR CLASS WITH FUN AND LEARNING. CLICK BELOW TO LEARN MORE ABOUT THE MEMBERS CLUB…