This is the tenth tutorial in our series CONNECTING WITH THE ELEMENTS – How to Teach the Elements & Principles of Art. This week we're featuring SPACE.
When I first started teaching art, I wasn't aware of the depth of what I was teaching through the subjects that I had chosen. I was mostly interested in how engaged students would be. I figured that if I could hold their attention with interesting subjects, stories and cool drawing techniques, then I was doing well.
It wasn't until years later that the Principal of the school shared how impressed she was with the rich vocabulary and art elements I was incorporating into a lesson.
Teaching children how to draw a barn was important to me because I grew up on a farm. Little did I realize that by drawing the barn and the silo, and adding fences and rolling hills, children were also learning a great deal about perspective and creating the illusion of SPACE.
---
DOWNLOAD
Click the image below to receive a free Deep Space Sparkle download. Add your name and email and we'll send it straight to you!
---
WHAT YOU'LL NEED:
12″ x 18″ white sulphite paper
Liquid tempera paint (red, white, black, brown, green, blue, yellow)
Black (or yellow) crayon or oil pastel
Small and medium all-purpose paintbrush
Black tempera paint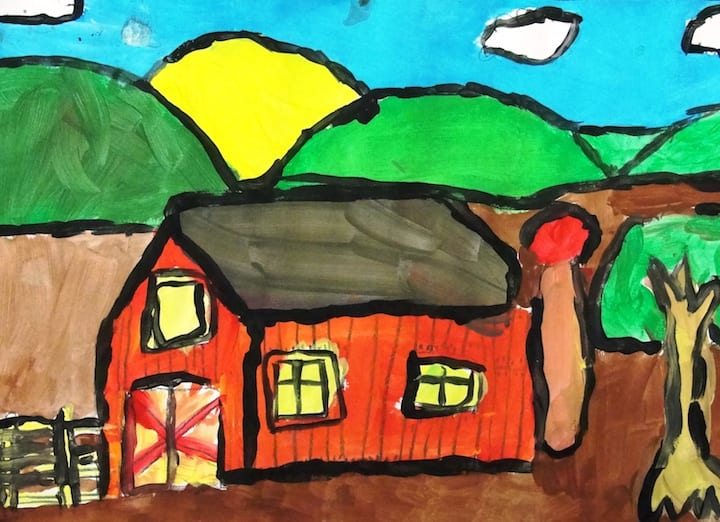 DRAWING THE BARN:
The Barn
If this is your first time drawing with an oil pastel or crayon without using a pencil, try using a light color crayon instead.
Near the bottom of the paper, draw a straight horizontal line. This should be as long as you want your barn to be.
Draw three VERTICAL lines: one for the two ends and one near the left or right side.
Draw the triangle roof, connecting the first two PERPENDICULAR LINES. Make an ANGLE line extending from the last vertical line.
Join the roof line. This is a basic structure for a house or barn.
Add a LOFT door above the main barn door. Add brackets to the door to make the door strong.
Add a HORIZON line, trees, fields, etc.
Add a silo.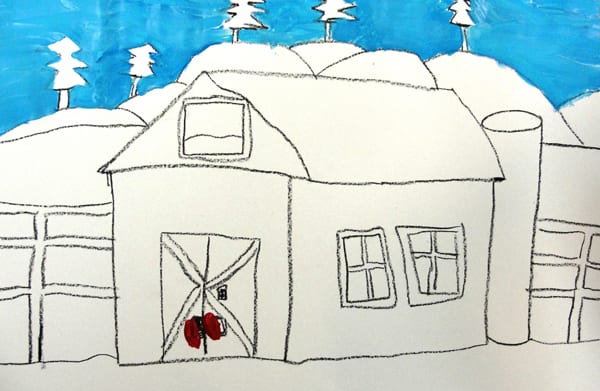 PAINTING THE BARN:
Liquid tempera paints are the best paints for this project as the paints will cover any unwanted crayon lines.
Since the children know the focus of this lesson is a barn, they will naturally want to paint this first. Provide a variety of colors and don't worry if more than a few children select a color other than red. Barns appear all over the country side in an abundance of colors, so try not to limit.
Have the students consider if they want a nighttime sky or a daytime sky. If it is a nighttime sky, perhaps the windows can be painted yellow to reflect a light inside. If it is daytime, perhaps the windows can be painted a light blue (blue + white + TINT) to reflect the sky.
After the children paint, no doubt it will be a bit messy. This is where a small paint brush and watered down black paint can help make the bright colors pop and the lines look strong.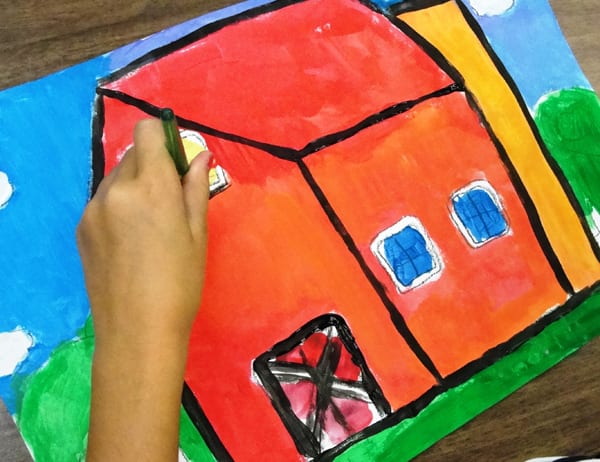 What is SPACE and why is it important?
Space is the element of art that refers to the area between and around objects. It can also refer to the feeling of depth. Since students have created 3D pieces when studying form, you can explain to them that those artworks are examples of actual or real space because you can walk around or see all around them. For lessons like this one, students learn that they can create the illusion of depth through overlapping and using simple HERE, NEAR and FAR perspective.
Click HERE to access all the current EPIC Curriculum lesson posts including FORM, LINE & PATTERN, BALANCE & more!