Simple. Cute. Fun. What more could you want from a first grade art lesson?  Last year I did a watercolor pig art project and couldn't resist doing it again. This time, however, I used tempera paints with a black outline. Not as fast as the simple watercolor resist, but more dynamic.
Art Supplies:
12″ x 18″ white sulphite paper
liquid tempera paints in yellow, green, blue, pink (mix red and white) and finally black.
medium brushes for painting
black oil pastel for drawing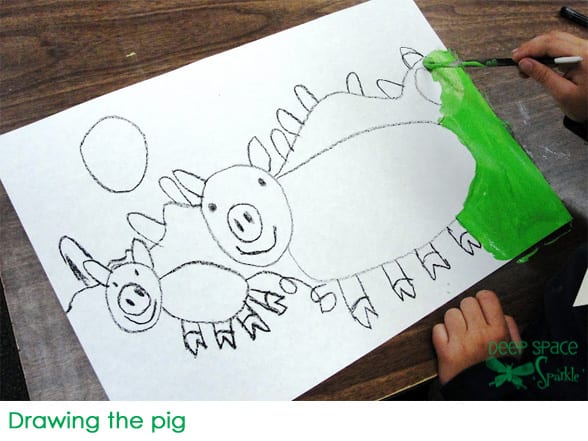 Start by drawing the pig with a black oil pastel. Towards the left hand side of the paper, draw a circle. This will be the snout. Draw a larger circle around the snout. Place to ears on top of the head.
Place oil pastel just below right ear and draw a big, curved line that extends to the other side of the paper and back around to the head. This is the big, fat body. Draw two straight lines for each leg and add an upside down letter "V" for the hooves. Draw four legs.
No need to add a curly tail or small details yet. We'll wait until after the pig is painted to do that.
Now draw a horizon line. Go behind the pig and make sure not to draw through the pig! Add fence posts a sun and anything else that you would like to add. Keep it simple, though as small areas are harder to paint!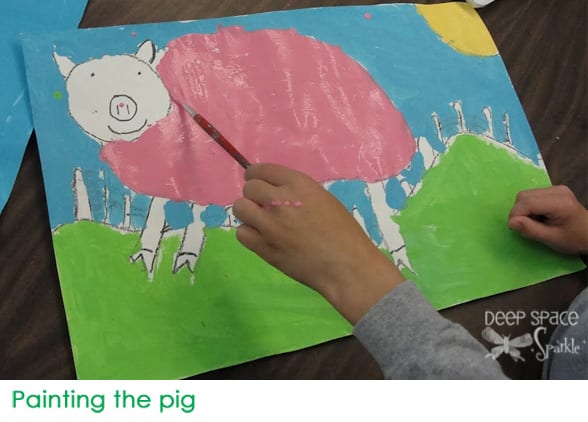 Paint background first with blue (sky), yellow (sun) and green (field) paints. Paint the pig but leave the fence posts unpainted. Once everything is dry, dip a small paint brush into black tempera paint (water it down a bit to make it smooth)and trace over the black oil pastel lines.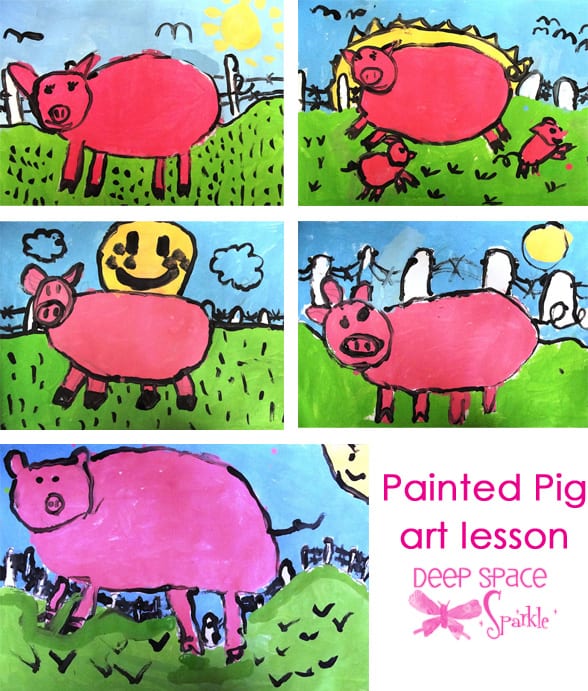 ---
Download this free lesson guide on our Chicken Little template for more art lesson inspiration!