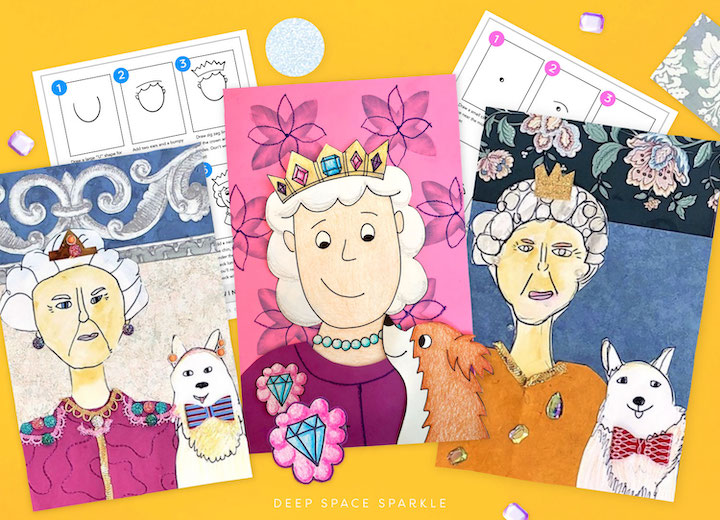 Having such a strong, consistent leader be present for my entire life has been a comfort. Queen Elizabeth II was such an unshakable pillar in an unsteady world.
This Canadian girl will miss her.
Paying tribute to the Queen was a daily activity for kid's growing up in a Commonwealth country. We sang God Save Our Queen each morning and for many people, catching a glimpse of the Queen during Royal Visits was not that uncommon.
In fact, little Neil (Mister Sparkle) presented the Queen with a bouquet of flowers during her visit to Prince Edward Island in the early 70's. No actual picture exists of this humbling experience, which seems rather sad, doesn't it?
As we reflect on Her Majesty's long and devoted service as our Queen, I wanted to share a project that was created by Amy Clay from the Deep Space Sparkle Creative Team.
The Queen, her Crown and her Corgi!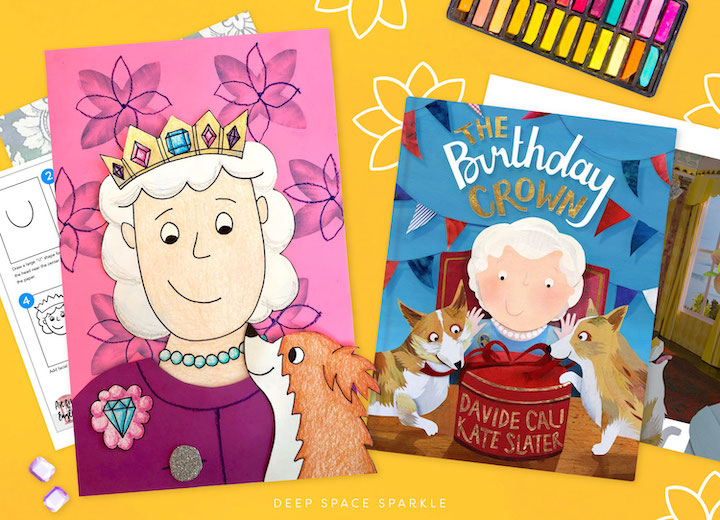 The project based on the book, The Birthday Crown by Davide Cali and Kate Slaters, was published in celebration of Queen Elizabeth II's 90th birthday.
The story follows the queen as she searches for the perfect crown to wear on her birthday. Several different people help the queen try to find a crown, but nothing seems quite right until her grandson makes a suggestion. This story is sweet and the illustrations are rich collages which will no doubt engage young readers.
I'd like to share this FREE project for you to download and create to celebrate the life of Queen Elizabeth II. I hope you can take time to create this project with your kids. I'd love to see your results so please share on Instagram and tag us @deepspacesparkle. We'd be honored to share your work in celebration of the Queen's long life of service.
Note: Members of The Sparklers' Club can find this lesson in the Art from England Bundle.
What you'll need to create The Queen's Portrait
– 12″ x 18″ white sulphite paper
– 12″ x 18″ colored sulphite paper
– 9″ x 12″ colored sulphite paper
– 4″ x 6″ piece of card stock
– Crayons
– Chalk pastels
– Black waterproof marker
– Scissors and glue
– Glitter paper (optional)
Creating the Background
The background for this project is based on drawing a simple shape, cutting it out and using that shape to create "wallpaper" for the background wall. It's a clever technique that will help children not only develop their cutting skills, but gives them absolute freedom in creating a wall paper background that they love.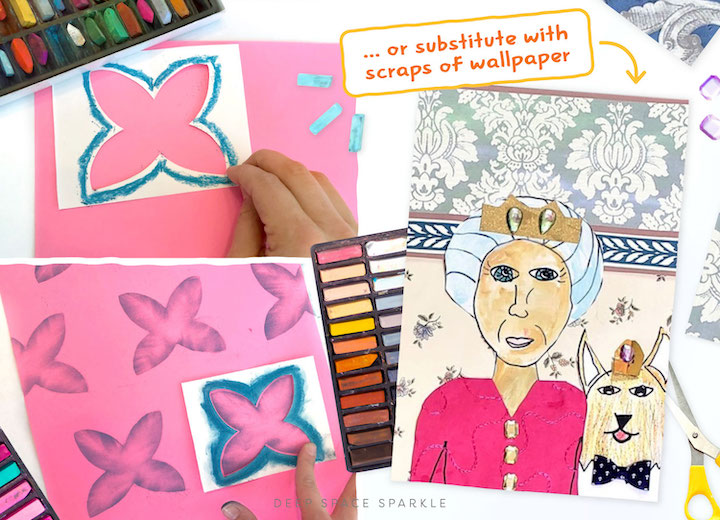 Some teachers in our membership used actual wallpaper in lieu of this step, which is absolutely genius. I mean, what art teacher isn't given a stack of wall paper books just because they would know exactly what to do with them, right?
Drawing the Queen and her Corgi
Follow the guided steps in the lesson plan handouts to draw the portrait, the crown and a corgi peeking up from below.
It's an easy step-by-step guide but feel free to use a portrait of Queen Elizabeth II to use as an observation piece.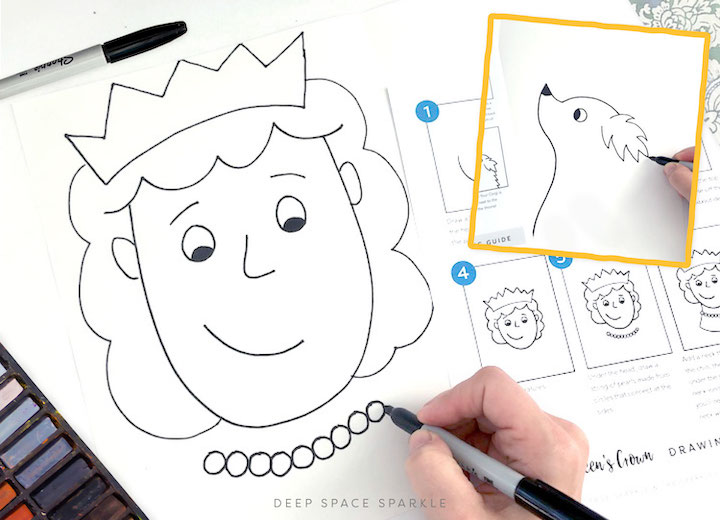 The Crown Jewels
One of the parts of this project that I love are the instructions on how to color the crown jewels to create dimension. The instructions are in the Lesson plan so download it by clicking the button above.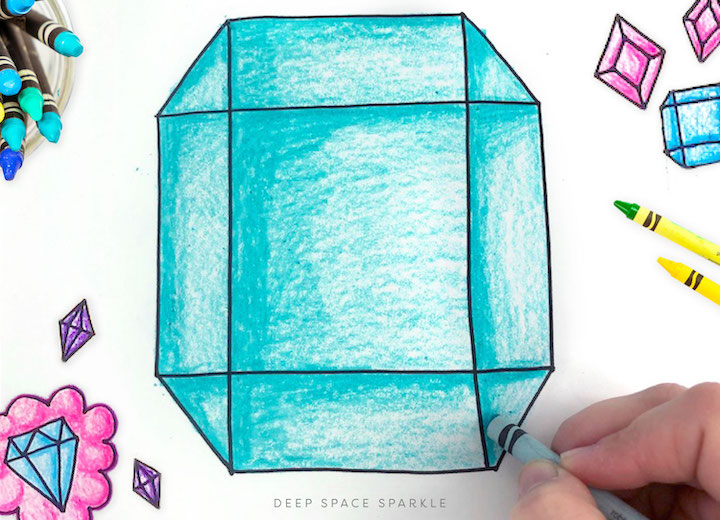 Putting all the pieces together…
I can't wait to see what your students create when they make decisions on the background, the unique versions of Queen Elizabeth and also the beautiful crown they place on her head. It would be lovely to write a reflection piece below the portrait and allow children to express their feelings over the passing of The Queen.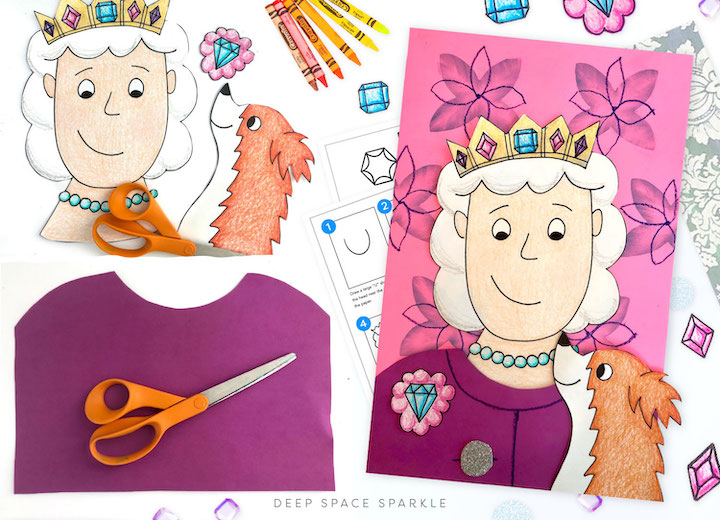 Don't forget to share your art with us @deepspacesparkle on Instagram. I truly would love to see all of your students' beautiful work dedicated to a very special woman.
If you are interested in learning more about The Sparklers Club click HERE to sign up for the waitlist and be informed about our next enrollment.
Here are some extra projects to try out with your students:
Celebration Crown | A Queen for a Day
Fairy Tale Royals Kings and Queen Art Project
Double Loading Painting Technique