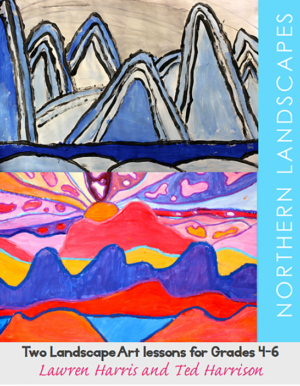 Ready for an arctic adventure? Venture north to the Yukon Territories and Northern Canada and explore the art of Ted Harrison and Lawren Harris. Many of my Californian students have only read about snow and have no understanding of frozen landscapes. The art of Harris and Harrison bring this stark landscape a bit closer to home.
About Lawren Harris: Dedicated to the preservation of Canada's landscapes, Harris pioneered a distinct painting style and was an influential member of Canada's Group of Seven. His abstract and severe landscapes are fun to draw and paint.
About Ted Harrison: Ted Harrison's paintings depict Yukon life and the beauty of the frozen landscape. The colors are completely opposite Harris and offer a glimpse into the rich lives of the Yukon residents.
The two lessons can be completed in two, 45-50 minute classes. Students will learn about atmospheric perspective, mixing tints and shades and understanding landscape perspective.
This packet is great for grade levels: 4-6
Product Description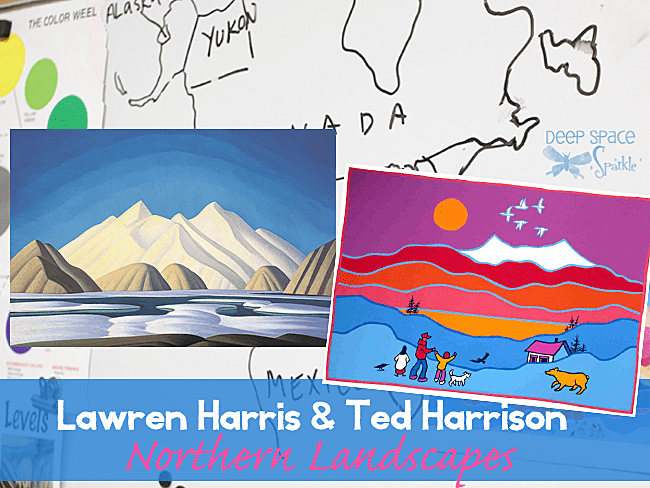 This 19-page PDF download includes:
Artist biographies 

Ted Harrison Lesson plan
Lawren Harris Lesson Plan
Tips for teaching tints and Shades
Prep and set-up tips
Student galleries
Art supply lists
5 Handouts reinforcing the iconic styles of both artists, plus tips for atmospheric perspective.
Read the post here.
How to Access your DIGITAL Lessons
By adding your email and password to our system, we can provide you with a history of all your purchased art lessons. This means you can access them anytime you wish through the "My DSS" button. Please note: Your "My DSS" password is unrelated to your e-course password
Once your payment goes through, you will be guided to a download link so you can see your lesson plan straight away. All lesson plans that you order will remain in your own personalized "DSS store" for access whenever and wherever you want so even if you didn't received the link via email, you can always access the lessons via "My DSS".
I like to print out my lesson plans and place in a lesson plan book, but if you are watchful of your ink supply, you may just want to print just the handouts. I've designed them in black and white so you can photocopy them easily and cheaply.