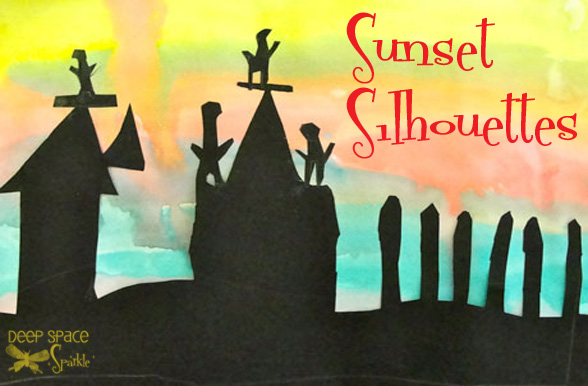 These stunning sunset silhouettes were created by third grade students. I must admit, that although many of my students found this project fun, many found it extremely challenging. I think a better age group would be fourth or fifth grade. If you have small classes, or if you are doing this project with small groups, any age group could do it. It just takes some explaining.
SUPPLIES:
– Red, yellow & blue watercolor
– Soft leaded pencil
– Sulphite paper
– Watercolor paper
– Scissors
STARTING THE SUNSET:
To start, we washed watercolor paint over regular white paper (no need to use watercolor paper here). I set out red, yellow and blue liquid watercolors and let them mix away. I did warn them about blending all three colors together. Some, of course, did this straight away and came up with a lovely muck color. At least their color curiosity is satisfied.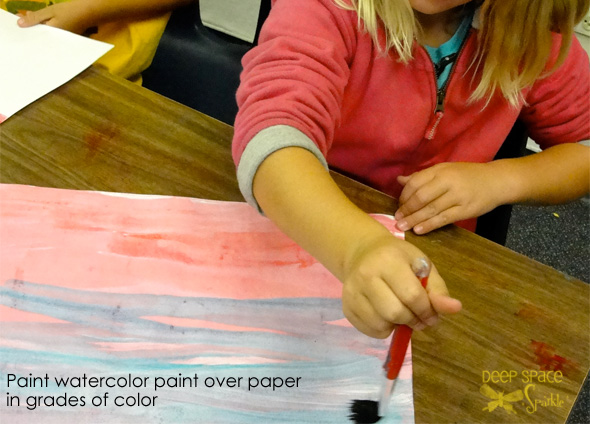 Set wet paper aside or put on the drying rack.
Now for the fun part. Using a soft-leaded pencil, draw a frame around the perimeter of a black piece of paper. Draw a simple scene inside the frame. It helps to have some parts of the scene touch the frame. I handed out a sample sheet to give the kids ideas.
Then with a white oil pastel or crayon, the children traced around the negative space. The negative space concept is really hard for some kids to grasp, so it might be necessary to change your dialog to "trace the sky" instead of "trace around the negative space".
Now comes the work…cutting. Cut along white oil pastel lines. If a child accidentally cuts through the frame, tape it or take the frame out altogether. Glue onto dry watercolor paper.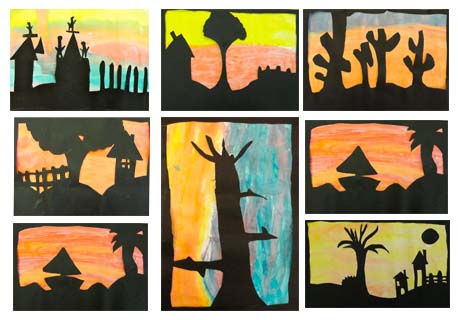 ---
ARE YOU A SPARKLER? These lessons and over 300 art lessons are available inside the Members Club. Access to videos, resources & trainings for one low monthly fee.
CLICK THE IMAGE TO SIGN UP FOR NOTIFICATION OF OUR NEXT ENROLLMENT