While it's just soooo tempting to take the foot off the pedal in your final few weeks, there is still lots of fun to be had in the art room. And if you are intentional, you can accomplish two things at once: cleaning up your art room for summer break while prepping for Fall.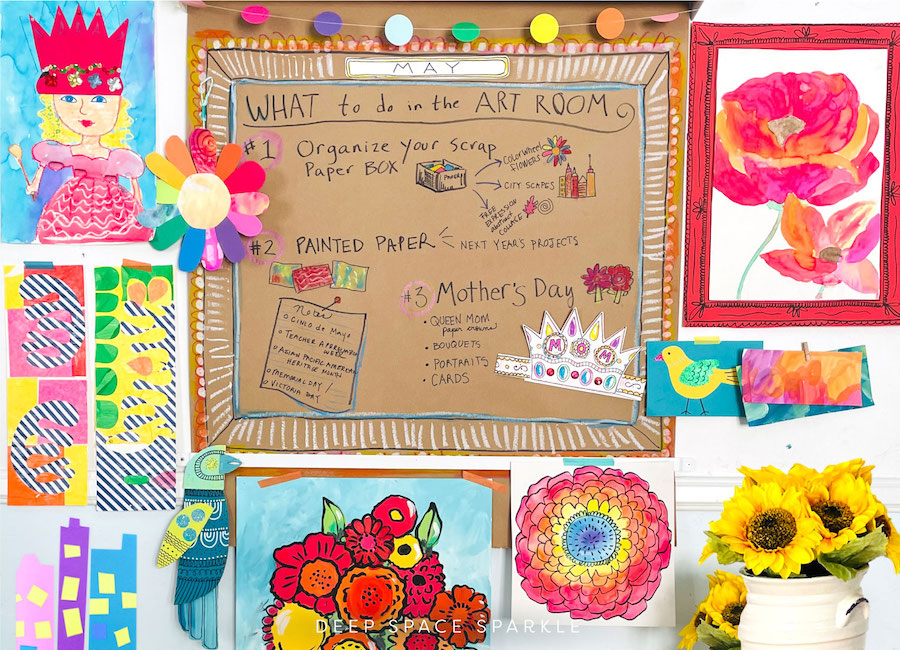 And while I'm firmly in the minimalist camp for clean-up, I hate to throw away those dredges of paints and all those scrap papers.
One of the best tips I ever received as an art teacher was from my friend, Laura Lohmann from Painted Paper Art. She always has her students create painted paper from left-over paints and large sheets of less-than-perfect papers.
And don't throw away the box of paper scraps, however much you are tempted. Having children use up the scraps in a few projects not only is great for Mother Earth but all that cutting increases fine motor skills.
Here are a few more projects that use up scraps of paper:
And if you've ever used large papers for messy mats, don't throw them away. Cut up the paint splattered messy mats into strips to use for next year's art projects (great for art borders!).
Mother's Day
Unless you've been working on a project for Mother's Day already, you might want to make something quick as time is running out. I love these paper crowns that require some card stock, a copy machine and markers. Easy peasy!
We created a calendar for you to download and use a reminder to think for special events in May…
Download May What To Do List below…
If you are looking for other May-Themed art activities, here are a few ideas to toss around…
Asian Pacific American Heritage Month
Teacher Appreciation Week May 2nd-6th
And last but not least…. Let's take a moment to celebrate our May Birthday Artists who have given the art world so much beauty….
Sparkle on,
Patty