Kandinsky Art Lesson for kids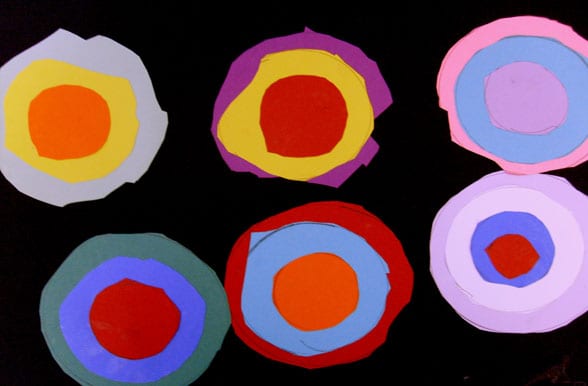 This is a terrific lesson to teach the fundamentals of kindergarten curriculum basics: Cutting and Pasting! I discovered this lesson over at the Artsonia website. Camelback Desert School in Arizona provided the original lesson of which I altered very little. The kids are literally tracing, cutting and gluing. There is nothing else involved and what good practice it is.
What you'll need: 12″ x 18″ black paper, colored paper scraps, scissors, glue, pencils and various plastic cups, lids or containers (to trace the concentric circles).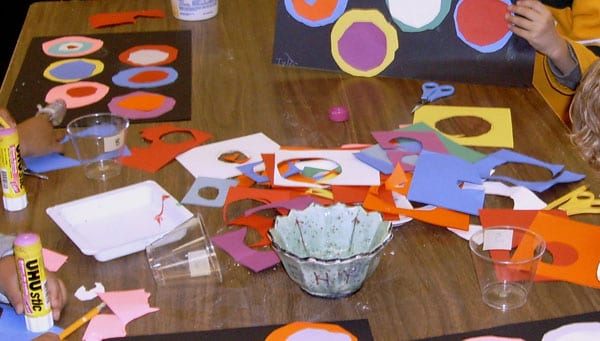 Hand out a sheet of black construction paper. Tip: If you have only a little time to do this project, consider making the paper size small than the regular 12″ x 18″. It'll go much faster and the effect will be the same.
Despite the lesson being quite easy, the set-up requires a bit of time. Every student needs a glue stick, pair of scissors & pencil. Easy. But to reduce the amount of paper waste with this project(we all know that the kids will cut the tiniest circle from the middle of the largest piece of paper), you'll need to provide paper in stages.
Here's what I did: Give each student a plastic container with a 5″ diameter (yoghurt, salsa, sour cream containers), then have them trace and cut out 6 circles. Provide paper that is just the size for the container. Glue the cicrcles onto the black paper.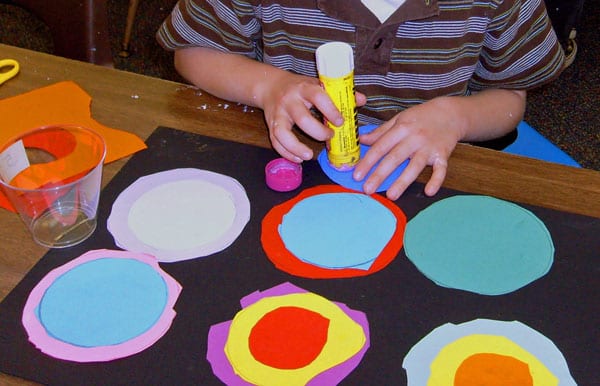 Do the same but use a small plastic cup and smaller pieces of paper. Have them cut out 6 medium sized circles. Glue the medium circles to the large circles. Tip: talk about contrasting colors or else you'll have the yellow medium circles glued to yellow large circles. I suspect for this age it's all about matching things up!
Repeat steps, but this time, the kids can use the scraps of paper from steps one and two to make smaller and smaller circles.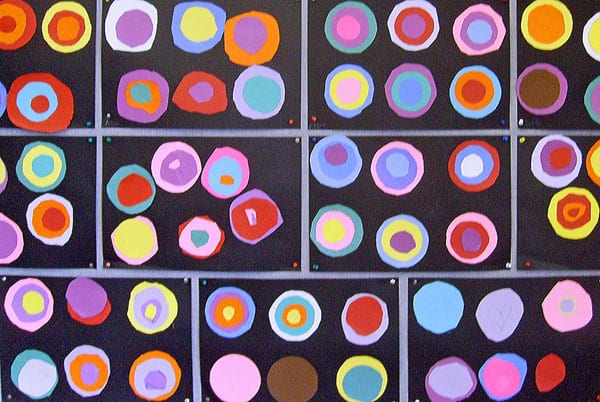 I love how they all look placed side-by-side on the wall. So colorful!
Related posts:
Kandinsky Inspired Art Project