Looking for a fast art project to do with your students? This cute Christmas car is quick (two @ 45-minute sessions) and full of art techniques: symmetrical drawing, tints, reflections and perspective. Make sure to use a black oil pastel and not a black crayon when drawing the car or else the lines may not transfer.
FACEBOOK LIVE DRAWING TUTORIAL
Quick & Easy Tutorial:
WHAT YOU'LL NEED:
– 12" x 18" white drawing paper
– Cake Tempera Paint (I like Faber-Castell's Connector Paints)
– Black oil pastel (not crayon)
– Medium round tip brush
– Metallic and/or colored oil pastels (optional)
---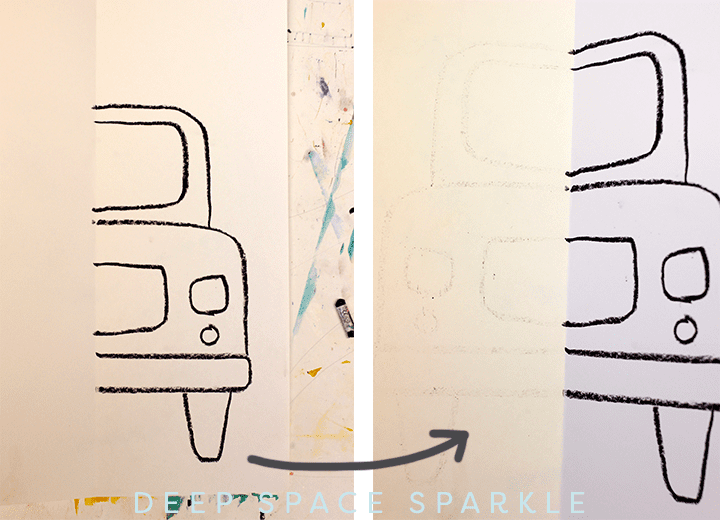 DRAWING STEPS
Fold paper in half vertically. Use a black oil pastel to draw. It will transfer its color better than a crayon.
On one side of the paper, draw a narrow rectangle. This is the fender.
Below the rectangle, draw a wheel. It is shaped like a slightly curved rectangle.
Draw a circle for the head light.
Draw a rounded corner rectangle for the grill.
Draw the side of the car.
Draw the roof of the car.
TRACING STEPS
Fold paper over and press with palm of hand. Rub back side of paper to transfer black oil pastel markings to the opposite side. Open up paper to reveal faint tracing. Trace over lines with oil pastel.
---
GET YOUR FREE DRAWING HANDOUT BY CLICKING THIS IMAGE

---
PAINTING STEPS
Use cake tempera paints to paint a background and the details on the car. Cake tempera is much like watercolor paints but are more vibrant and intense. I like them better for this project because the paint will not cover up the lines like liquid tempera will.
Select ONE color of paint and mix with white. This creates a TINT.
The tint allows the details in the car to stand out. While children should choose their own color, discuss what colors will work with the drawing so that the Christmas car will be the focus.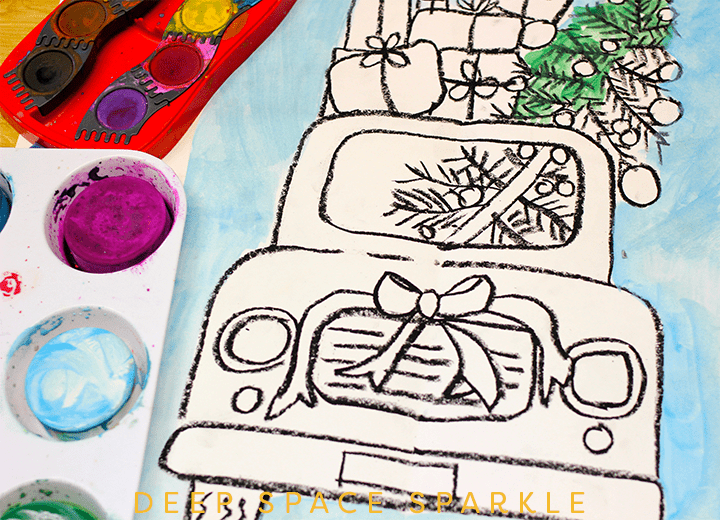 Once the background is complete, the children can begin painting the car, tree and decorations.
This is the time to let children go wild! Pick their own colors, dream up a fancy car color and add festive details to the top of the roof.
Once the tempera paint has dried, it helps to trace over any lines that are hard to see. This is also a great time to use colored oil pastels to add details. I used metallic gold and silver pastels to add stripes on the gift packaging.
Children may want to add a string of Christmas lights, etc.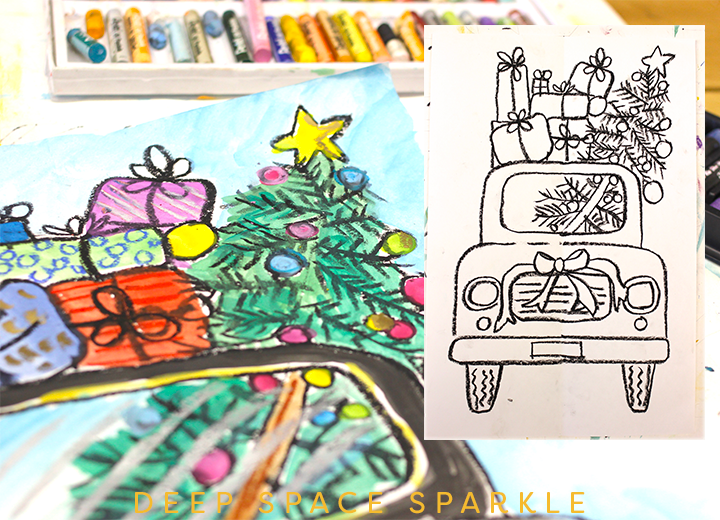 I can't wait to see each of your students personalized Christmas car!
Share your results on the DSS Facebook Group or if you are a Sparkler, the private Sparkler Facebook Group.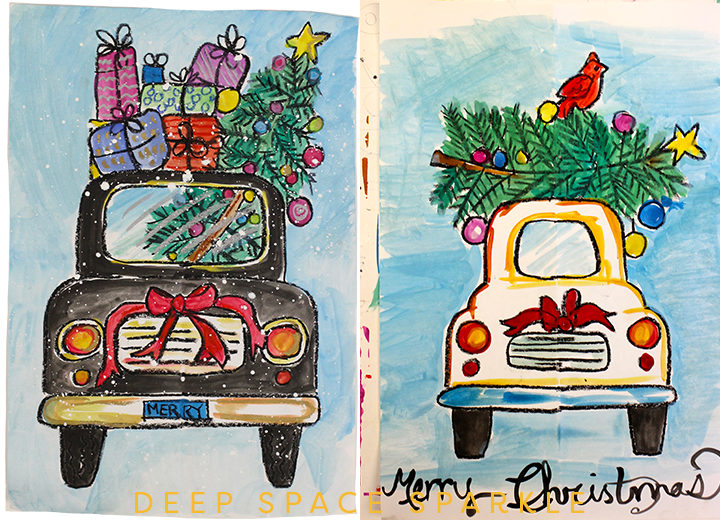 ---
GET YOUR FREE DRAWING HANDOUT BY CLICKING THIS IMAGE

Enjoyed this Holiday art lesson? Here are a few more holiday lessons to also check out:
Mola-Inspired Holiday Stockings