There is something wonderful about dipping a paintbrush into a pot of color and seeing a picture appear. Add an extra flair by allowing the paint to dry and adding layers of colorful patterns with crayons.
This Holiday Folk Art Santa is the perfect subject for this layering style. Grab some liquid tempera paint (I use Crayola Artista tempera paints as well as Faber-Castell) and some construction paper crayons and let's get started!
Watch the art tutorial video below…
Subscribe to my YouTube Channel HERE.
Download this handy drawing guide before you get started:
Step One: Drawing the Santa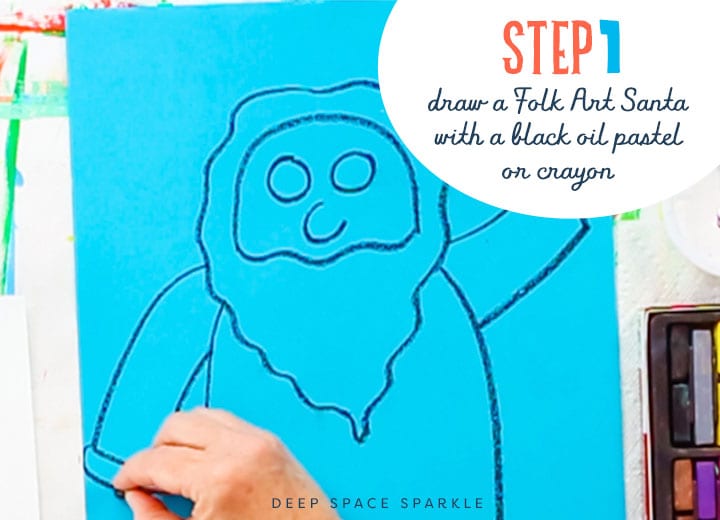 On a sheet of 12″ x 18″ blue or colored sulphite paper, draw a Folk Art Santa with a black oil pastel or crayon.
Use the Folk Art Santa drawing guide (scroll up to access PDF, or scroll to the bottom of the page) for instructions on how to draw this deceptively simple Santa.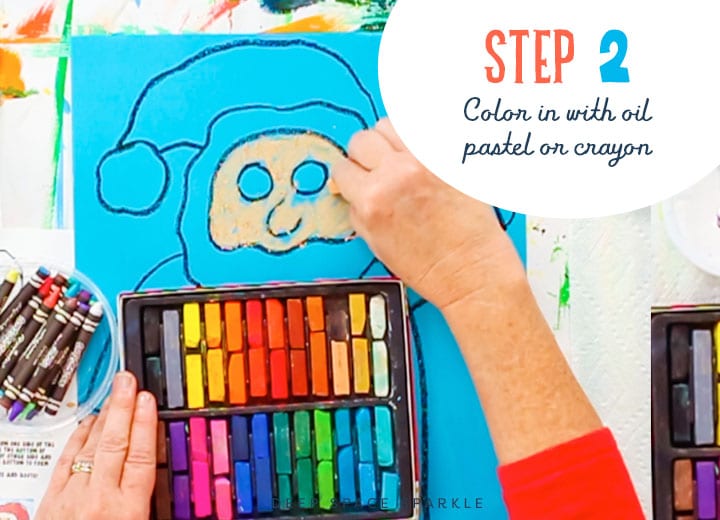 Next, fill a paint palette with the following colors of paint:
Red, White, Blue, Purple, Flesh
Give each child a medium round brush or a medium flat brush.
Dip paintbrush into flesh color and paint face. Clean brush on placemat instead of water. Dip into white paint and paint beard.
Paint the background next. Dip brush into blue or purple and then into white. This is called double loading your brush. Learn about double-loading technique here.
Brush the paint all over the background and around the Santa.
Teacher Tip: Keep the brush dry and move in different directions. The background paper should poke through in places.
Clean brush on placemat instead of water. This helps to keep colors vibrant. Dip brush in red and paint Santa's jacket and hat.
Allow painting to dry before moving onto next step.
Final Steps: Adding the Folk Art Decorations
Color in the boots and mitts with the black oil pastel or crayon.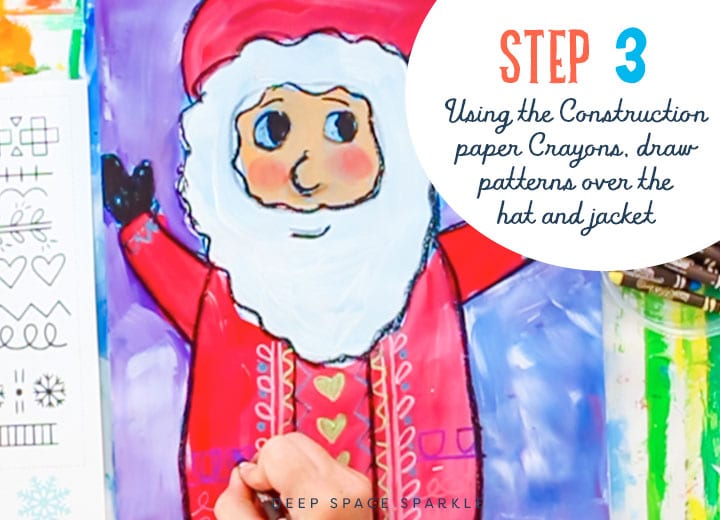 Using the Construction paper Crayons, draw patterns over the hat and jacket. Refer to the Pattern Handout in November's Freebie pack for ideas.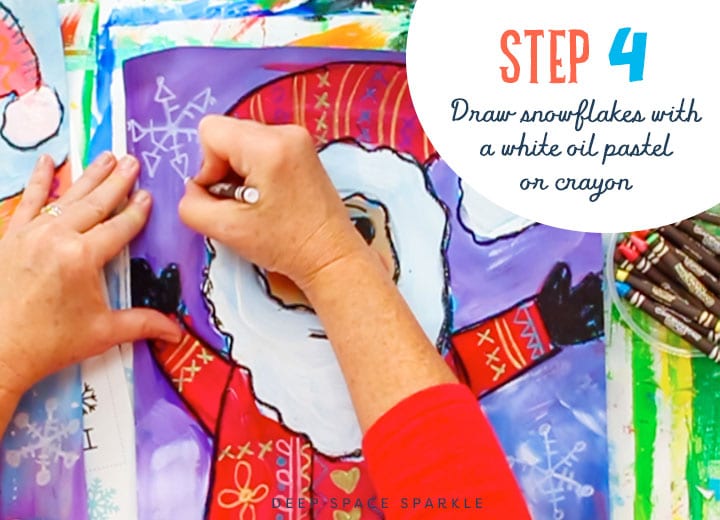 Add Santa's face (eyes, nose and a mouth over his beard), trace over paint-covered lines with black oil pastel and for an extra touch, draw snowflakes with a white oil pastel or crayon.
I'd love to see what your students have created!
Click the yellow box below to receive the free DOWNLOAD for the November Art Pack. Add your name and email and we'll send it to you! (NOTE: We recommend downloading the freebie using Chrome or Safari)